Many companies are beginning to develop and deploy their own employee apps for communication and engagement. But creating a robust and attractive employee app is only half the battle. You must be able to extract deep insights and analytics from your employee app platform. These employee app analytics can help you refine your content streams inside of your employee app platform and deliver on relevancy, usefulness, and bottom-line impact.
Having a singular employee app platform that can deploy tactics while crunching and analyzing data so that you can understand your workforce better, will save costs and time as well. Robust employee communication platforms, such as HubEngage, provide companies of all sizes with mobile apps for employees. They also offer deep employee app analytics into the efficacy of their content streams and engagement metrics. This will be the standard for employee communication groups moving forward.
For example, if you can push a pulse survey, tie-in points and rewards into that survey, and also solicit two-way feedback with storytelling and content sharing, liking on social channels, and more, you've just checked the box on many employee communication and engagement tactics all at the same time. Employee app platforms such as HubEngage can achieve this. By giving you access to an employee engagement toolbox, you can deploy tactics directly to the employee mobile app platform so that your employees get them instantly and you get the employee app analytics and engagement metrics very quickly as well.
Employee mobile app platforms such as HubEngage give you the big picture with deep employee app analytics and metrics fast: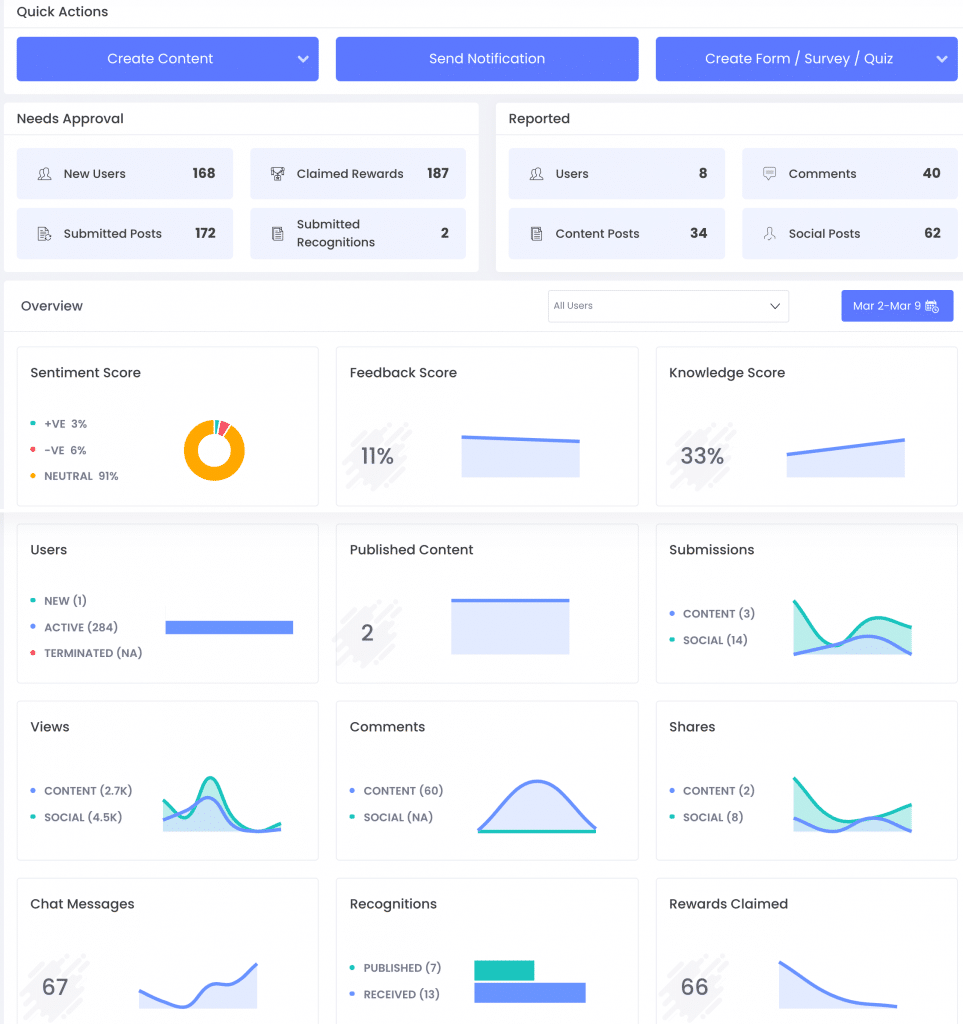 Here are a few quick tips when determining the correct employee app platform for your enterprise:
Three items to look for: Features, Analytics and Re-Targeting! Consider employee app communication platforms that give you a comprehensive engagement toolset first, and then give you the employee app analytics so that you could understand your workforce better, and then take it a step further and provide automatic re-targeting so that you can then have an intelligent employee communications platform that responds and adapts to the needs of your changing workforce constantly. This is very important when you have large decentralized workforces with many different roles and responsibilities across a global geographic landscape.
Open APIs and Web-hooks. Make sure your employee communication platform is open to integrating with other legacy systems. Can it pull data from other places such as SharePoint, learning management systems (LMS), rewards, and recognition vendor fulfillment? Does it provide APIs and web-hooks to instantly give your employee access to other content and other systems via the same mobile employee app? These are common questions we hear all the time, and integration challenges we solve every day for our customers.
Reporting Tools. When you use smart intelligent employee mobile app platforms such as hub engage, you will quickly gather lots of data which will be automatically sliced and diced and crunched for you so that you get the big picture fast. You also have access to deep reporting tools which let you get very granular based on your need and insight request. Platforms like this are helping their employee communications, HR, internal marketing, and corporate affairs customers become data technologists, versus just traditional communicators. Just like shopper marketing and external-based consumer advertising has gone the way of database decision-making, the exact same is happening internally to employee communication groups.
So, what are you doing with all your employee app analytics? Are you connecting the dots in terms of incoming data? Do you want to see how comprehensive mobile-based employee app platforms such as HubEngage are changing the rules of the game? Learn more and see how you can transform your employee communication efforts to be ahead of the curve.