Employee communications app comparison
Designed by employee engagement gurus. Built by mobile technology experts.
hubEngage was designed from the ground up by equal parts mobile technology and employee engagement experts. This combination takes a well-thought out approach to solving the employee engagement using best in class mobile technology. Beware of offerings that are merely a "skinned" white label application, or a re-purposed external comms solution.

Take a look at our employee communications app comparison and see the difference.
Don't take our word for it. Hear it straight from current customers who have successfully implemented a employee communications app using hubEngage.
VIEW MORE TESTIMONIALS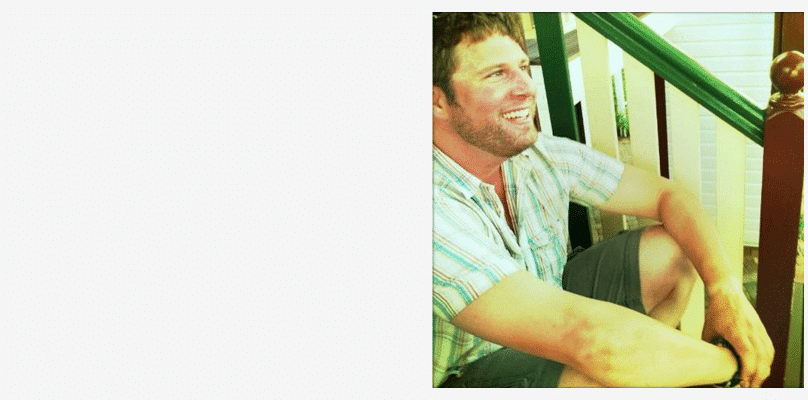 Brandon Lee

Retail Training &
Engagement

Smartwool/VF
Corporation

We were looking for an app based solution to help us have better communication with our retailers nationwide and after vetting numerous competitors, we landed with hubEngage. Based on their proven experience and ability to accommodate our "inexperienced" requests during the sandbox phase, we quickly knew we had made the right decision.

Their platform is incredibly well thought out, the back-end provides easy access for countless tasks and their client service for any "out of the box" ideas we come up with is fantastic.

Our retailers couldn't be happier with the app and we couldn't be happier with our decision in choosing hubEngage.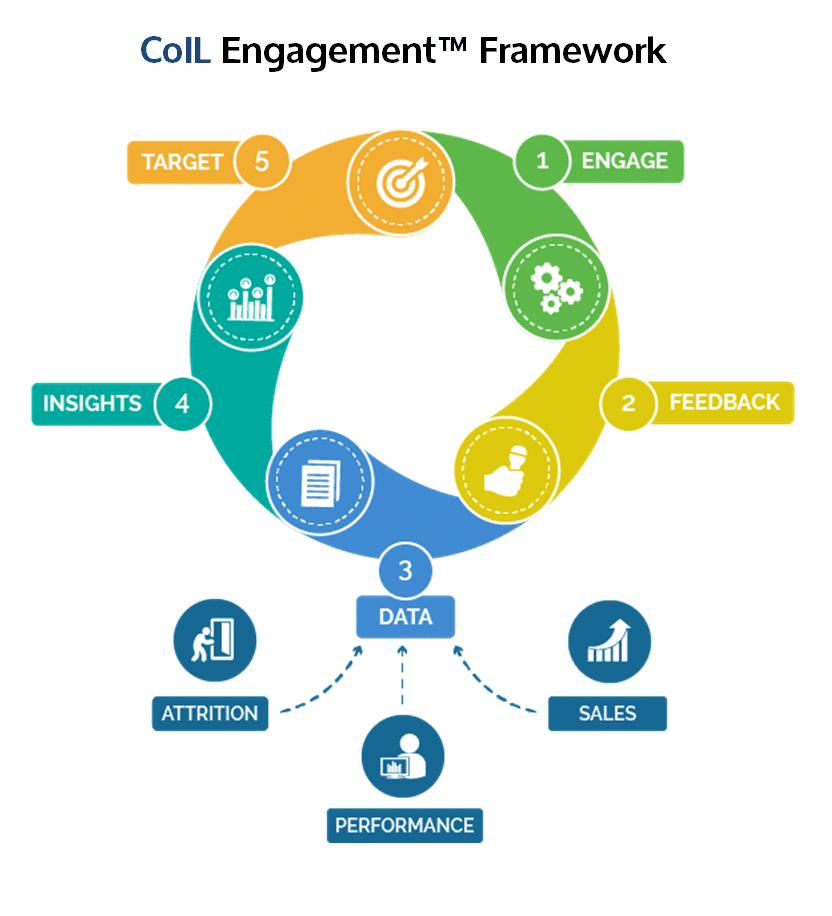 It's not just about pushing content.
It's about getting engagement.
hubEngage's framework is not only about easily creating and managing employee apps, but also moving the needle on employee engagement.

Our model engages users in automated feature cycles giving you detailed analytics on metrics such as sales, attrition and performance, that gives insights on how to target employees with better content in the future.

Consider this important distinction in your employee communications app comparison.
Intelligent employee apps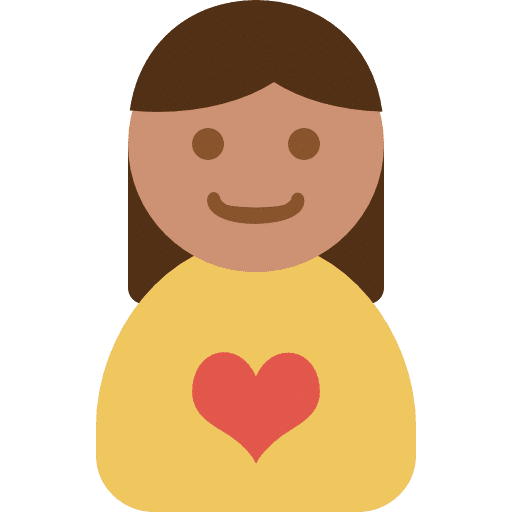 Don't just create a static, one-way, one-size-fits-all push content app.

Build a smarter app that engages employees in two-way communication with insights and feedback mechanisms to deliver thought provoking insights to understand them better, so that you can serve them better.

By leveraging our CoIL Engagement™ Framework, you can:
Easily create powerful, useful apps for your workforce, packed with all the communications features you need to create engagement fast
Use deep analytics and insights to help understand your workforce better, allowing you to keep your finger on the pulse of the people
Measure people performance, reduce attrition, gauge employee engagement and increase retention and satisfaction leading to an outstanding workforce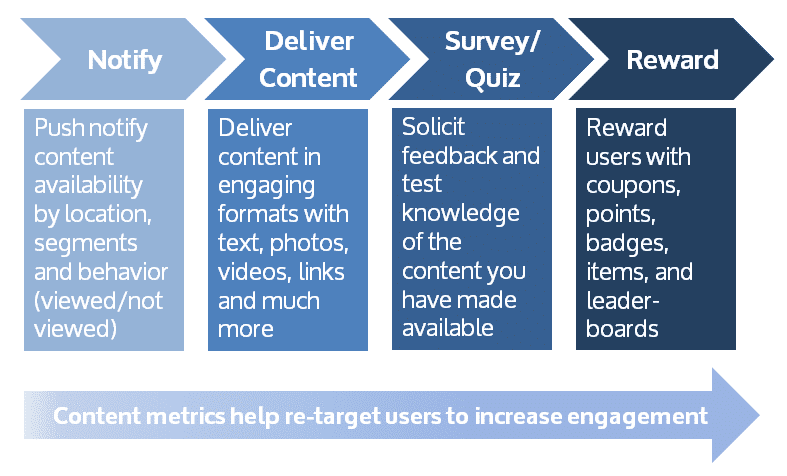 Automated Engagement Campaigns
hubEngage let's you beautifully link features into automated engagement campaigns that deliver powerful results.

Create an action-based campaign that takes your content and puts it in a automatic cycle to inform, educate, test knowledge and reward.

Use content metrics to re-target users in a cycle that delivers on increasing relevancy.
HR, internal communications and even marketing departments create tactics every day in order to get people engaged. Letters, emails, surveys, posters, videos, training modules, announcements, speeches, and gamification are all part of an employee engagement strategy.

Most companies typically use one-way distribution channels to get all this content out. Channels such as emails, intranets, events/meetings, speeches, and even print. It's hard to know if the messages make impact, hitting that engagement sweet spot. Not to mention, managing all those channels is cost and time consuming.

Ask yourself, are your current communications and distribution channels:
Delivering content in a convenient and shareable way that creates social buzz easily?
Providing individual relevancy to what people are doing right now and where their exact location?
Personalizing content for each employee based on who they are and what they specifically do?
Providing instant feedback and analytics on content and the pulse of your culture?
Rewarding enough to providing intrinsic motivation—meaning does it make people want to learn, versus have to learn with incentives and recognition?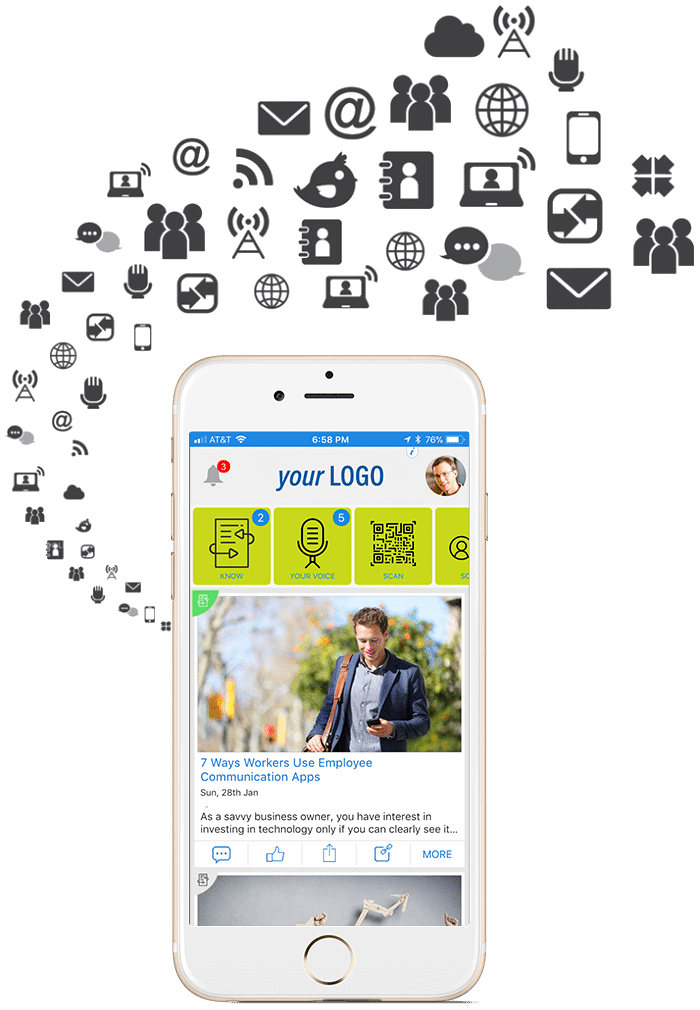 SaaS apps vs. white label apps
To build or to license? It's a big question for many companies.

Agile enterprises are all moving to flexible, scaleable SaaS models for their technology needs. The benefits of cost, time and manpower savings are tremendous to the changing needs of today's modern corporation. This is very important in any employee communications app comparison.

hubEngage's platform was created by a blend of technology and employee engagement experts. Our team has designed, built and maintained gamified white-labeled web and mobile platforms inside major corporations. What we found was that they can cost a lot of money to build and a lot of manpower to manage.

That's why our scaleable, unique, proprietary tool set is specifically designed, tested and proven to increase engagement while being extremely cost effective as a Software-As-A-Service (SaaS) solution.