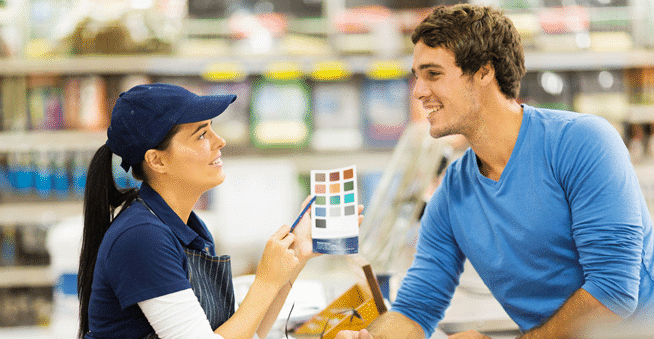 Customer service employee apps build loyalty
Customer service employee apps are becoming more and more popular inside of organizations of all different sizes. It's widely excepted that in order to deliver an exceptional customer service experience, your employees have to be educated and well-trained. This is where customer service employee apps can make a large impact in the short run, while providing tremendous value in the long run.
Every company, no matter what it's business, is constantly talking chasing the ideal customer experience. After all, it all boils down to your customers being happy. Like the great retailer Sam Walton of Walmart one said, "There is only one boss. The customer. And he can fire everybody in the company from the chairman on down, simply by spending his money somewhere else."
One powerful approach that many companies are taking advantage of today, is creating an exceptional customer experience through their own employees. Your employees are the ambassadors of your brand. They are the ones who will communicate and instill your corporate brand values in every day actions that translate into a positive customer experience. So how do you effectively recruit, train, and grow your employees so that they deliver on an exceptional customer experience every day? Using tools such as customer service employee apps is a great way to push the needle forward.
By creating customer service employee apps, you can inform, motivate, inspire and reward your employees for delivering a great customer experience. By having in-app tactics such as training through shareable content such as videos, news, info sheets, multimedia messaging, storytelling and much more, companies can quickly communicate vital information just-in-time to create a memorable customer experience.
Think about it…
How many times have you been inside a retail store where you might have had a question on a product or service, and the retail associate just didn't know the answer?
Have you ever been on a flight and the cabin crew just didn't know how to deal with a particular situation?
Have you ever been to an amusement park and felt lost or couldn't find something?
These are all common customer experiences that we have all felt at one point or another. And these are all experiences that can be made better by training employees using customer service employee apps.
Make sure that your customer service employee apps have a two-way feedback mechanism built into it. For example, a storytelling feature is very powerful. This can be a great way to solicit best practice stories and positive customer experiences from one employee, and then transfer that knowledge to many others. Companies can moderate the content that comes inbound into customer service employee apps, weave in any relevant corporate messaging or leave it as is, and publish it back into a searchable in-app archive. The content can not only text, but also photos and videos, so that the experience becomes visual and self explanatory in nature. This is a very powerful and popular tactic to increase customer service using an employee app platform.
Here's an example of storytelling inside customer service employee apps:
The companies that use two-way feedback mechanisms, such as storytelling, inside their own customer service employee apps are even gamifying the experience by rewarding the employee with points that can be redeemed for prizes, badges and recognition. This helps create engagement in the storytelling tactic by providing incentive and intrinsic motivation to participate. It take a very small amount of time before you see a peer-to-peer effect begin and the stories start to flow.
Do you want to see an example of customer service employee apps? Check out hubEngage.com and see how you can quickly create your own customer service employee apps with all the features you are looking for in order to create a better customer experience. Start a free demo trial of customer service employee apps today and test out features such as storytelling and more, that helps drive engagement through a positive employee mindset, ultimately creating a better customer experience.