Everything you need to create brand advocacy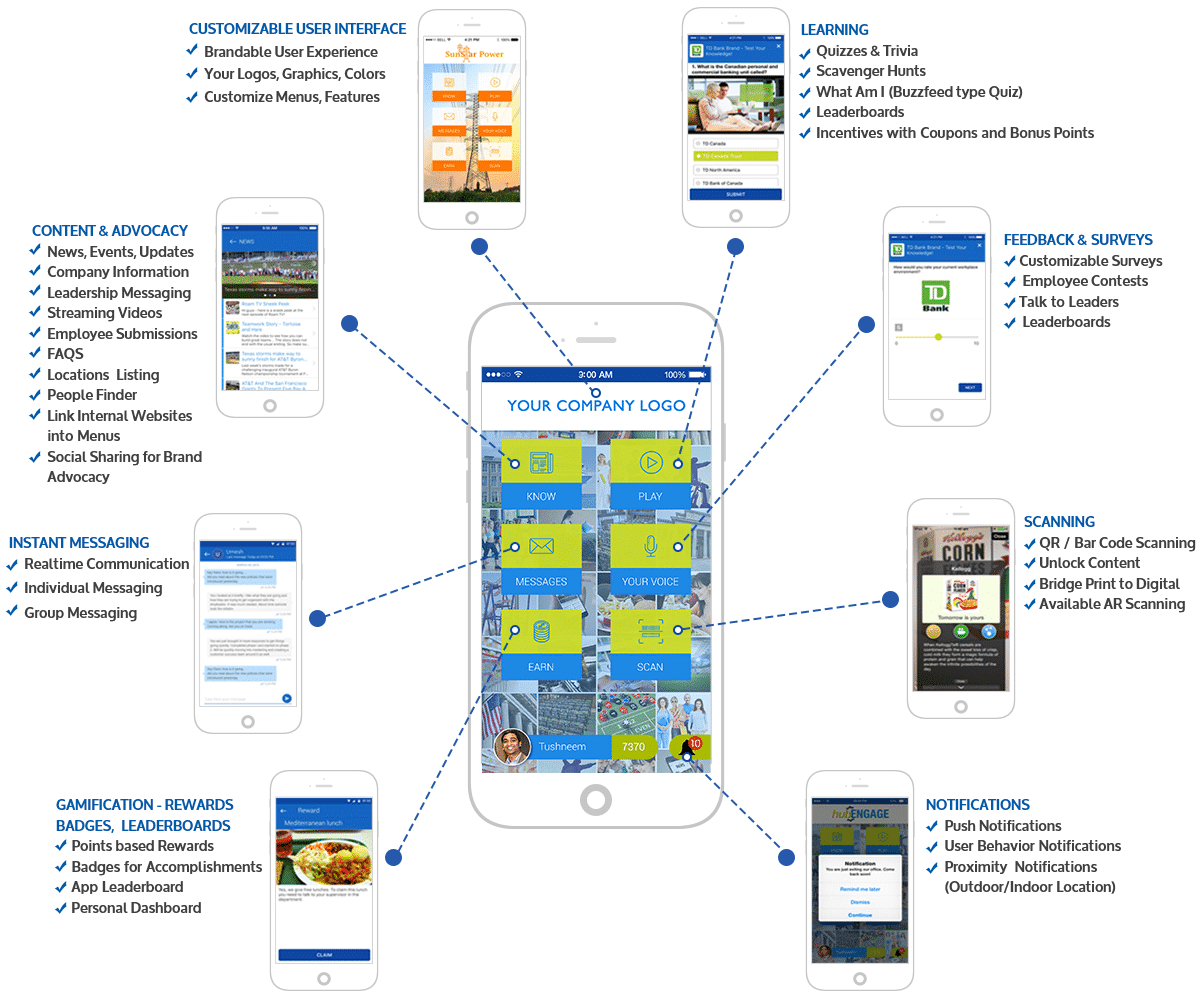 Whether you are pushing news, streaming video content, triggering surveys, adding gamification, collecting stories or creating learning and development programs, hubEngage does it all.

Start small with a few tactics, or Turn on Engagement™ and go big creating fully immersive experiences. Our employee engagement software lets you pick and deploy tactics instantly that can be part of an effective employee engagement strategy.

Custom design your employee app with your brand identity (colors, fonts, logos), or use our industry vertical pre-designed templates with your logo, add content and tactics and you're on your way to engagement bliss.

.
Make sense of your data with deep analytics that give you the big picture fast. Understand what content gets through and what doesn't, so you can stop, start and continue when deciding what to push to different audiences.

With hubEngage's analytics panel, we give you insights so you can make smarter communications decisions and not waste precious time and budget on content that's not getting through.

.
Insightful analytics & metrics
Manage app tactics and monitor performance from our easy-to-use dashboard. Easily program your fun and engaging content streams, schedule campaigns, view analytics, pull reports, use tools like audience segmentation and geolocation preference, plus much more.

Mission control never looked this good.

.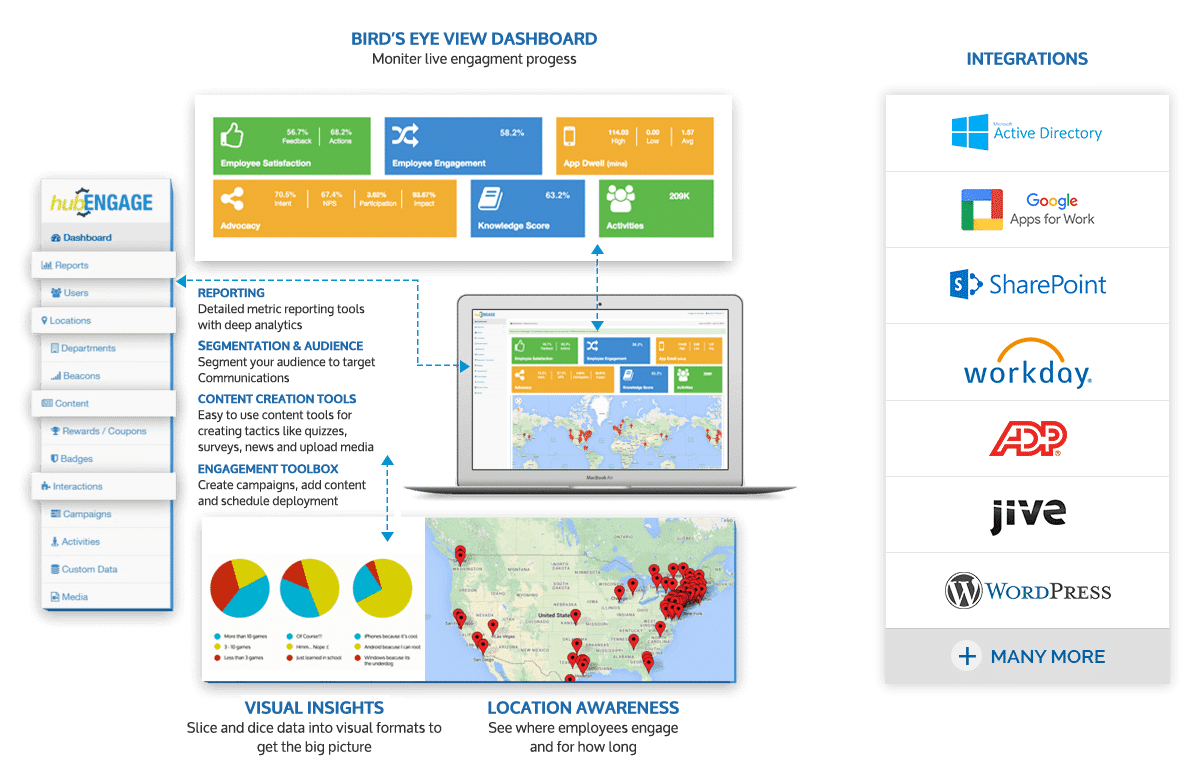 hubEngage was designed to meet the needs of today's modern mobile enterprise employee engagement and communications needs, packed with best practice tactics and superior technologies to power it.

As a result, our platform offers several more features than other employee mobile app platforms, at a much lower price, to make it easy to get started faster. See all the different features below to understand hubEngage's value proposition.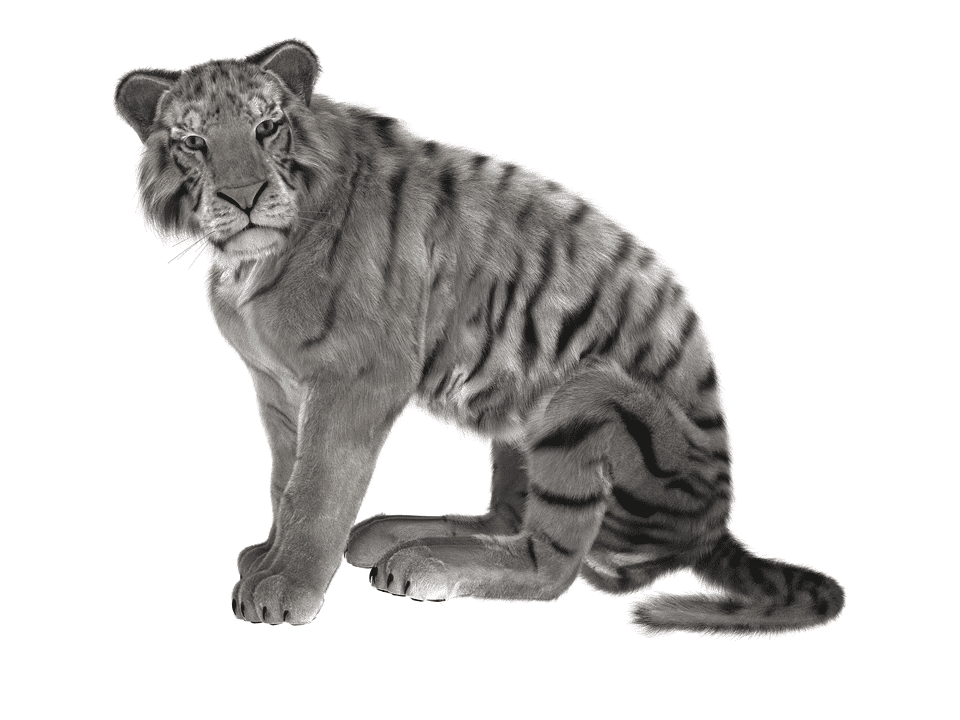 Branded Native Apps & Web
(iOS and Android)

Employee Content Submission

Buzzfeed Quizzes (What Am I?)

Content Targeting Based on Dynamic User Segments

Multimedia Content Publishing

Instant Messaging
(Individual and Group)
Gamification and Leaderboards

User Behavior Notifications

iBeacon Indoor
Location Notifications

Geofence Outdoor
Location Notifications

QR and Bar Code Content Scanning
Brand Advocacy
(Social Sharing Tools)
Real-time and Detailed Analytics
External System Integration with Webhooks