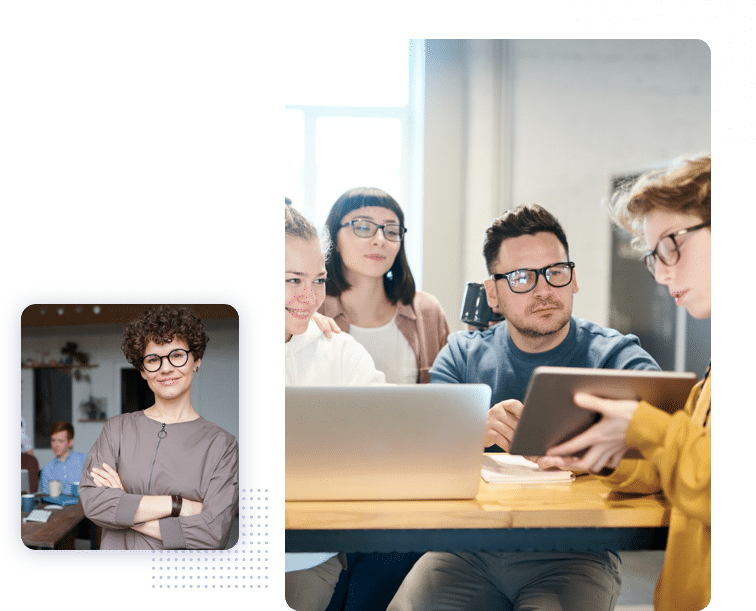 Custom Build Your Employee Survey Platform
In an Officevibe survey, 21% of employees say that they are unsatisfied with the frequency that they meet with their managers for a feedback session.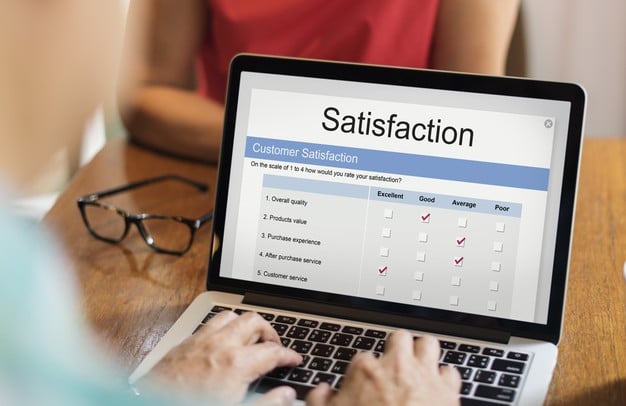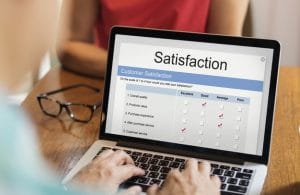 The employment ecosystem depends on the positive relationship between the employee and upper management. Employees tend to be less productive when they are dissatisfied with their employment situation. As a manager, how can you help alleviate the lack of communication and dissatisfaction in the workplace? All roads lead to using employee engagement software and a robust employee survey platform.
What is Employee Engagement Software?
Employee engagement software is a software program that incorporates a variety of strategies to motivate workers while driving loyalty and productivity. Employee engagement software is a popular tool used in human resources, often marketed as software as a service subscription (SaaS). Employers who are worried that their employees may be disengaged, spending too much time surfing the internet, on their smartphone, or otherwise actively seeking alternative employment could benefit from such software.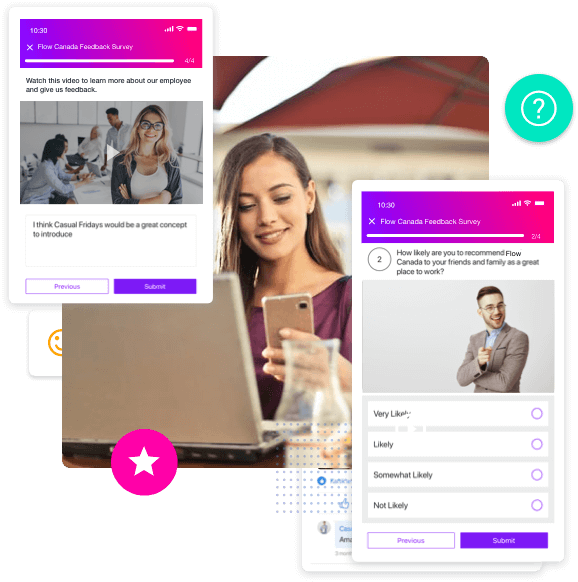 Other functions of this type of software may include dedicated platforms for:
When looking at an employee engagement software, you want one that allows you the total package or the ability to choose a la carte. Find the exact software and selections that meet your desired needs. Talk to an employee engagement software expert to find out more about what you need for your specific industry.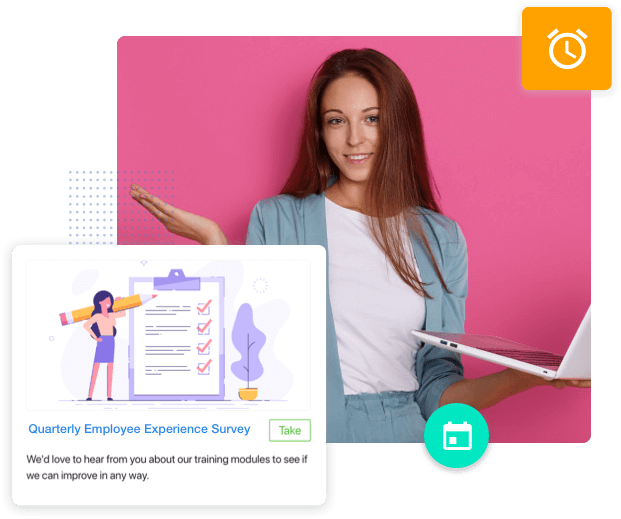 What Is An Employee Survey Platform?
An employee survey platform is a tool within employee engagement software that can help you gain insight from your employees creatively. You can create, distribute, and measure survey results, all from one platform. Employee surveys can help engage employee conversations with upper levels of management and is compatible with various types of smart devices. Surveys can be custom-built by you, allowing you to ask the questions or get the opinions you want and need.
Why You Need Employee Engagement Software
Employee engagement software is an informal way for you to poll your employees to encourage engagement.  The software can help organizations solicit and track feedback, recognize employees' achievements, and promote positive activity within the organization. Organizations may use these strictly for feedback purposes or replace the traditional review process through the employee engagement software solution.
Need to know if your employees are satisfied? You can create a survey for that.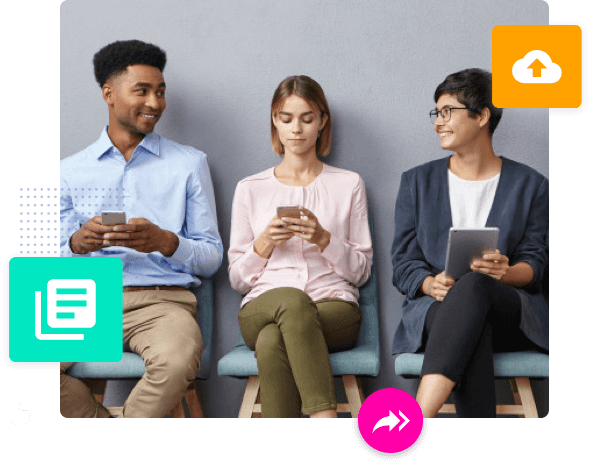 Advantages of Using Surveys and Employee Engagement Software
There are advantages to using employee engagement software to distribute surveys to your employees. As a manager, you may not have a lot of time to devote to handling human resources or tasks associated with it. What can integrating these types of resources do for your business?
Increase your employee engagement: Using employee engagement software can help you increase communication with your employees. You can use these platforms to help with employee interactions, provide a space to collaborate to find solutions, and overall gesture to help make your employees feel like they are a part of the bigger picture.
Give your employees a voice: These types of software give your employees their seats at the table. As a total solution, these platforms offer support, encouragement, and the ability to coach new hires. Know what your employees think and allow them to express their thoughts and ideas. In group settings, employees often feel like they are not able to speak up. The idea of speaking to management face-to-face may be intimidating. Use the software and surveys as the middle man.
Improve the entire onboarding process: New employees can feel intimidated in a new setting. You are giving them a lot to learn and the added pressure of getting to know the environment and team. Getting feedback from the new hires can help to make them feel like they belong on the team and provide a better experience for the next new hire.
Your retention rates improve: When you incorporate software like this, you are setting yourself up to better employee retention rates.Most people leave their jobs because they do not feel heard. They also leave because they feel as though they have not been recognized in their position. Gaining feedback from these employees who feel like they have not been listened to can help keep them in their position.
Increasing productivity: Employees who are actively engaged are productive. When people know their value, they work harder. When they feel more engaged, they will likely be more invested in the business and role. Other products also help include your employees in exclusive business matters, letting them feel as though they are in your confidence.
Handling the engagement of your employees can seem like a daunting task. Still, with the right employee engagement software, it can be simple. Let your subscription service help you handle the different tasks to keep your employees productive and engaged.
How to Distribute Employee Surveys Through Software
Understandably, you might still be on the fence about using an employee engagement software solution. One thing you should be aware of is the effectiveness of using surveys in the workplace. Surveys are formal in an informal way. Surveys make it possible for your employees to "tell" you how they feel without actually telling you how they feel. How can you get these surveys to your employees and ensure they take them seriously?
Push Notification, Email, QR Scan
When you work with a provider that handles employee engagement software, you unlock an opportunity to communicate with your employees in ways that they prefer.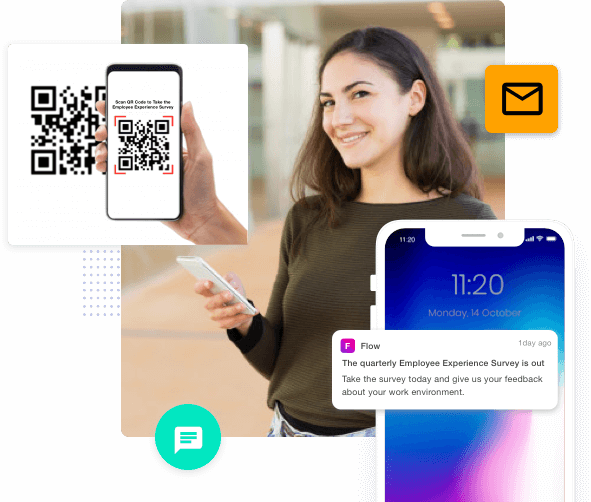 After you create a survey, you can notify your employees that it is ready by sending out push notifications, emails, or allow them to use a QR code to scan and complete the survey. You can also set up reminders within the software to notify the employees periodically that there is a survey to be completed, and it will remind them until it is completed. While it can be easy to ignore a text or unsubscribe from an email, there is one irrefutable way to ensure your employees fill out the surveys – reward them for doing so!
Incentivizing Employee Participation
One sure way of getting participation from your employees is to provide them with rewards for their completion. With each survey, you can assign a point value for completion. As points accumulate for each employee, they can cash them in for various rewards. You can also create urgency by rewarding the first few people who complete the survey with special rewards.
Are you worried that you will get skewed results from the information you get from the surveys because you incentivize them? How do you know when you should add an incentive to your survey and when you shouldn't?
Creating the proper plan when using surveys is necessary so that your employees aren't saying what they think you want to hear. There is a fine line that must be walked along when incentivizing your surveys.
Determine What Kind of Incentive the Survey Needs
Not all surveys are created equally. A short ten-question survey won't be worth as much as a 20-question survey or a 50-question survey. You have to know what will pique your employees' interest, making them want to do the survey without it being a detriment to yourself or your company.
Decide What Types of Incentives You Will Offer
There are two types of incentives that you can offer your employees – monetary and non-monetary incentives. Monetary incentives include things such as gift cards or cash. The non-monetary incentives would be things like free products or exclusive offers. These incentives are just perks that make doing the surveys worthwhile.
How Will You Deliver These Surveys?
One of the best ways to deliver your surveys to your employees is to use an employee survey platform through an employee engagement software service. Your service provider will be able to help you determine what ways you want to deliver these surveys. Push notifications, email, and QR codes are common access points.
Using Comprehensive Analytics
Do you know what you want to gain from using employee engagement software? There are many different segments to one software program platform, but when using it for employee engagement, there is nothing better than using surveys. You can gain insight from your employees in a useful analytical form.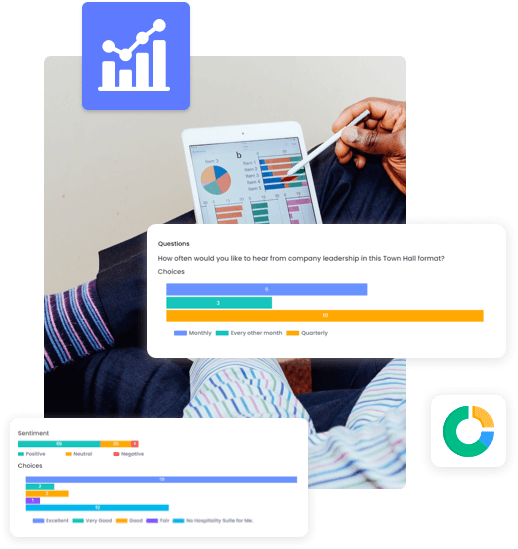 Your employee engagement software takes the answers from your participants and puts them in a report form. You gain better insight into the overall picture instead of picking through individualized surveys – patterns in responses become clearer when viewed via report.
You can use these reports to help you decide how you want to address situations that may be causing employees to feel less engaged while at work. Is there something that would make the experience of working in your company better? Use the information that you gain to make the necessary changes within your business structure, rectifying those things that send your employees fleeing to competitors.
HubEngage Employee Engagement Software
When you need employee engagement software that can help facilitate an employee survey platform – you need HubEngage. HubEngage is a different type of employee engagement software. Founded in 2014, we have been a consistent leader in the SaaS employee experience space. Through our platform, we allow managers and business owners to improve the employee experience through effective and affordable tools.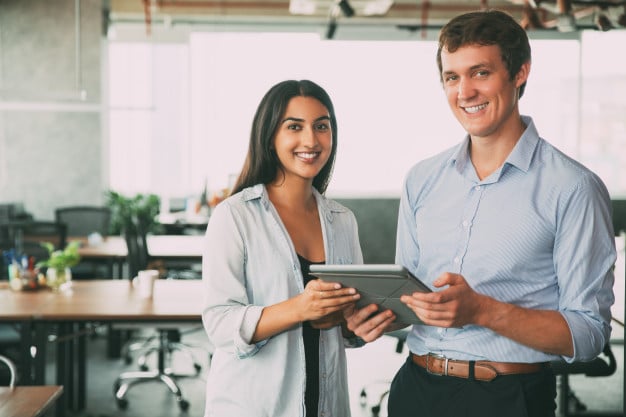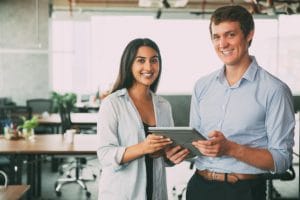 To ensure you only get the best in employee engagement software, we have invested advanced research and development into creating our employee engagement software. We believe that by solving internal communication problems, we create more value and increase ROI for our customers.
Through HubEngage, you can link multiple SaaS platforms or pick and choose what your company needs. We give you a personalized tour of how the various products can benefit your business, not just employment environments as a whole. We bring employee engagement back to your business through higher levels of communication – in ways your employees want.
HubEngage Employee Survey Platform
As a part of the SaaS platform, HubEngage offers you a unique solution to keep your employees engaged. Through the HubEngage Employee Survey Platform, you can change the way you handle your employees' dissatisfaction in the workplace. We make it easy for you to learn what your employees think about their current work situation.
HubEngage provides you with one platform to do it all – create surveys, launch them, and review analytics
Easily check-in with employees with short surveys or create a more in-depth and comprehensive survey
Surveys are available in any format, including open-ended, multiple choices, ranking, rating, signature capture. You also have the ability to allow document uploads, videos, and images.
Automate your surveys so that you never forget to send one – send them weekly, monthly, quarterly, or annually.
If you have users that are not on the HubEngage platform, you can delegate supervisors to administer surveys to employees on their devices, resulting in 100% coverage.
Looking to incentivize your employee surveys? HubEngage makes it possible to add points to your surveys, allowing employees to accumulate and trade them in for rewards. Delegate to incentivize only the first few completed to drive urgency.
Send out your HubEngage survey via push notification, email, or QR code. You can include periodic reminders to the employees reminding them to complete the survey.
Gain insight with comprehensive analytics. Automatically get feedback scores, sentiment analysis, NPS scores, and more through the employee survey platform. You can see the top and bottom five issues, allowing you to focus on what your employees are focusing on.
The HubEngage Experience
If you have a communication problem within your business or corporation, HubEngage has your solution. Choose one platform or choose them all. Each one is designed to aid a communication need within a specific segment. The best part? We are available to you on all of your digital channels, including applications for iOS, Android, Web/Intranets, and Digital Displays.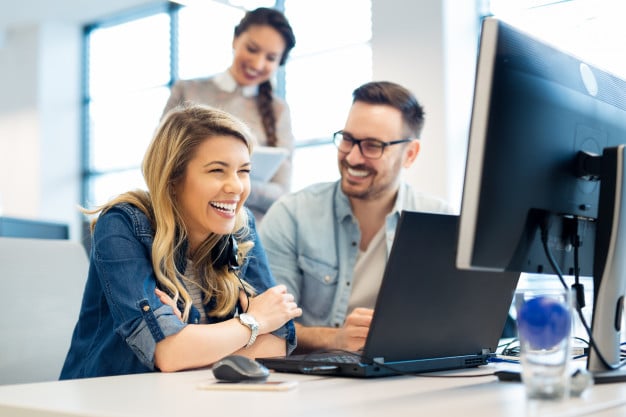 HubEngage offers:
Total Employee Experience Platform (all of the below)
HubEngage also specifically caters to these industries:
The chances are high that HubEngage has a solution for your business, no matter the industry. Don't let a lack of communication be what causes a lack of employee retention. Gain insight from your employees through HubEngage.
Change How Your Company Runs with Employee Engagement Software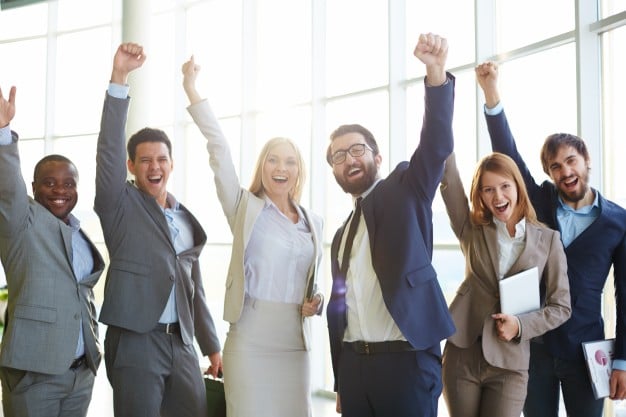 You likely pour your heart and soul into your business, so you want it to succeed. Part of being successful is surrounding yourself with employees and staff that you can trust. One of the biggest threats to a cohesive working environment is the lack of communication.
Not only does the lack of communication deteriorate the relationship among employees, it often results in miscommunication – meaning that there is information misconstrued. You owe it to yourself to learn how your employees feel about their work environment and what they need for it to be better. You can't fix problems you don't know exist, and you may not be able to find out they exist unless you ask.
If you are interested in seeing what HubEngage can do for you and your business, request your demo today. During your guided on-screen tour of HubEngage, you will be introduced to the entire platform. Pricing and deployment package options will be discussed during your demo. Don't wait to find out more about increasing your employee engagement, do it before your retention rates decrease more. Schedule your demo today!
Trusted worldwide:
In our customer's voice
"HubEngage is always looking for the cutting edge things to do, are open to every idea, and are ready to implement in the next couple weeks or months. The customization is nice to have. We have a great personal relationship with a quick response rate for any issue."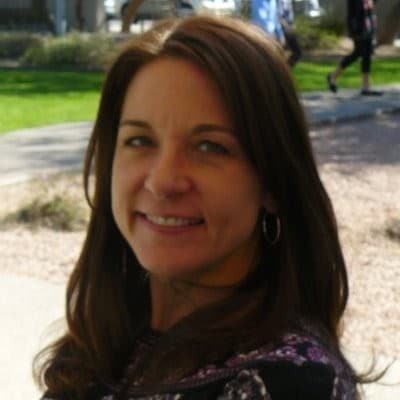 Alexis Strizich, Business Systems Project Manager
M-Culinary Concepts


"We know that each associate can have a huge impact on the overall guest experience and ultimately on the property's bottom line. Regular users of the app have better cultural awareness and help to drive hotel profitability. After all, happy, engaged team members create happy, engaged guests and a healthy bottom line."
Lizz Chambers, Vice President
Associate Engagement | Newport Hospitality Group, Inc.

"After evaluating a number of competitors, we chose hubEngage based on the quality of their user experience. They have been extraordinarily responsive to all of our questions (and we have a lot of them!). They take the time to walk us through everything."
Digital Marketing
Great Dane Trailers

"Their platform is incredibly well thought out, the back-end provides easy access for countless tasks, and their client service for any "out of the box" ideas we come up with is fantastic. Our retailers couldn't be happier with the app and we couldn't be happier with our decision in choosing hubEngage."
Brandon Lee
Retail Training & Engagement | Smartwool / VF Corporation

"The hubEngage app has been a wonderful engagement tool for our company. Not only is it easy to navigate, but it's also easy to measure the results of our initiatives and goals via the comprehensive reporting dashboard."
Sarah Schaffstall
Marketing and Sales | Pengate Handling Systems, Inc.

"With MyESA, our associates can learn more about the company they work for and how they can grow as part of it. We also believe that this app allows each of our associates to be ambassadors for Extended Stay America and is a great tool that will help us attract new associates."
Sid Levy
VP of Talent Management & Associate Engagement | Extended Stay America