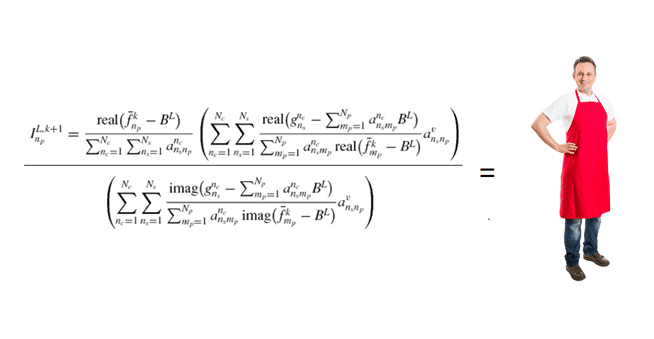 Are you making sense of all your employee communication data?
Every day, companies of all different shapes and sizes deploy all sorts of employee engagement and communication tactics, such as surveys, company news, games and more. To do this, they will employ several different platforms and systems to achieve their goals. They will use one platform for surveys (Survey Monkey for example),  another platform for learning and training modules, another platform for rewards and recognition, another platform just to push out news and important company updates, etc., etc. In doing so, it becomes very cumbersome to manage all these platforms, time-consuming, costly and taxing on staffing resources.  Furthermore, something very few companies actually do, connecting all the data from these different platforms to understand their workforce better and extract useful insights in order to refine and re-imagine future content development becomes a challenge.
So, how can companies make better sense of their incoming employee data from their legacy systems and one-off tactic service providers? And how can smaller and midsize companies also execute on tactics that may seem out of reach, but do it in a fashion that is efficient, affordable and doesn't drain or require heavy staffing resources?
To answer this, let's discuss the current situation in employee communications:
The advent of mobile is completely changing the employee communications landscape. Companies of all shapes and sizes are rapidly embracing employee mobile app platforms such as hubEngage, over their older legacy platforms, aging intranets and moving away from one off tactic providers. The secret weapon inside every employee's pocket these days is the smart phone. Whether Android or iOS, there are a plethora of smart phone device options that have flooded the mobile market and allowed employees of all demographic and income levels to take advantage of. Data plans are becoming more and more inexpensive and unlimited in many cases, not to mention Wi-Fi is becoming fast available in almost every venue. This has propelled the mobile phone to be that mini-computer in everyone's pocket and this boost in technology accessible to everyone has created a stir in employee communications strategy.
Over the next year we will see companies of all sizes race to create mobile app employee engagement platforms for company communications and even entertainment. To put this into context, let me share a quick story. We recently presented hubEngage to one of the "Big Three" auto manufacturers in Detroit. One of the Vice Presidents of Employee Communications remarked to us, that outside of work their employees (whether in management positions or hourly, unionized employees on the assembly line) use amazing collaboration tools such as Facebook, Instagram, WhatsApp and countless others to communicate and stay engaged with life. But when they come to work every day inside of their organization, they suddenly go back to primitive channels such as email, Internet, and even age-old print channels. And somehow that's been okay for all these years.
But what they are finding is, now their employee base is migrating to public social channels, the same ones that they interact with outside of work for their own personal social means, and creating groups and posting information about internal communications and discussing events, policy and much more. This is quite alarming for senior management. Not only do they lose control of the conversation when employees start to create their own communication channels, but they lose a very strategic opportunity to weave in their own specific messaging into the fabric of the employee dialogue. They are missing out on an effective way to be a part of the dialogue and suggest new initiatives, policies, news and helpful information that will help their employees be the best at their jobs, increasing efficiency and lowering costs.
How does this effect employee communications data?
If you're like most companies, you're using one service provider for surveys, another for rewards and recognition, another for messaging and communication and so forth. And maybe you are able to see some high-level analytics from those service providers in terms of engagement. But the key is, and this is very important, is that you need to be able to blend data from all these tactics in order to extract key insights and conclusions faster and more cost-effectively. When you have a singular platform that can combine many of your existing tactics into one database that can crunch and analyze data so that you can understand your workforce better, you will save costs and time as well. Robust employee communication platforms, such as hubEngage, which provide companies of all sizes with mobile apps for employees and also deep analytics into the efficacy of their content streams and engagement metrics, will be the standard for employee communication groups moving forward.
For example if you can push a pulse survey, tie-in points and rewards into that survey, and also solicit two-way feedback with storytelling and content sharing, liking on social channels and more, you've just checked the box on many employee communication and engagement tactics all at the same time. Employee mobile app platforms such as hubEngage can achieve this. By giving you access to an employee engagement toolbox, you can deploy tactics directly to the employee mobile app platform so that your employees get them instantly and you get the engagement metrics very quickly as well.
Employee mobile app platforms such as hubEngage give you the big picture with deep analytics and metrics fast: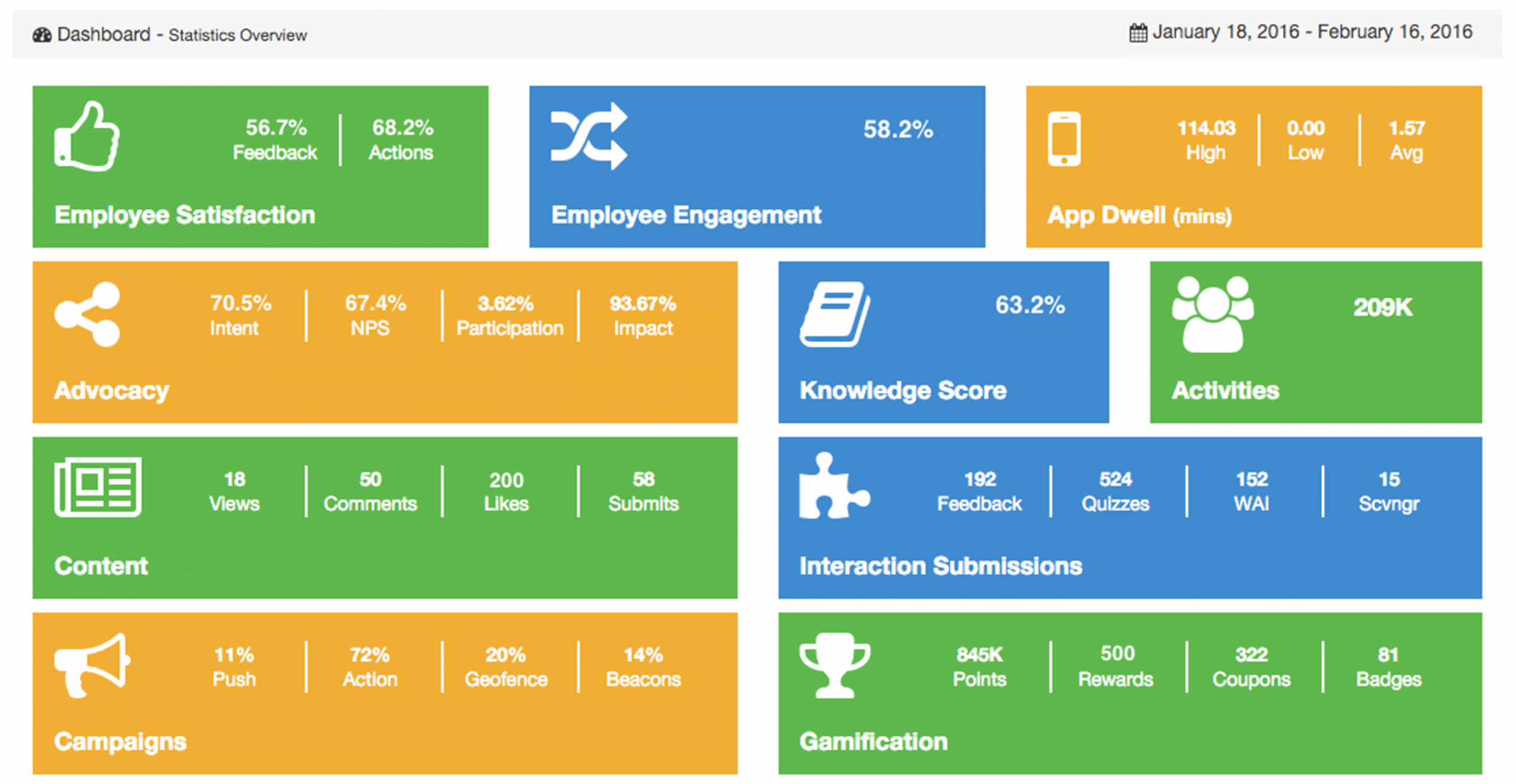 Here are a few quick tips when determining the correct employee app platform for your enterprise:
Three items to look for: Features, Analytics and Re-Targeting! Consider employee mobile app communication platforms that give you a comprehensive engagement tool set first, and then give you the analytics so that you could understand your workforce better, and then take it a step further and provide automatic retargeting so that you can then have an intelligent employee communications platform that responds and adapts to the needs of your changing workforce constantly. This is very important when you have large decentralized workforces with many different roles and responsibilities across a global geographic landscape.
Open APIs and Web-hooks. Make sure your employee communication platform is open to integrating with other legacy systems. Can it pull data from other places such as SharePoint, learning management systems (LMS), rewards and recognition vendors\fulfillment? Does it provide APIs and web-hooks to instantly give your employee access to other content and other systems via the same mobile employee app? These are common questions we hear all the time, and integration challenges we solve every day for our customers.
Reporting Tools. When you use smart intelligent employee mobile app platforms such as hub engage, you will quickly gather lots of data which will be automatically sliced and diced and crunched for you so that you get the big picture fast. You also have access to deep reporting tools which let you get very granular based on your need and insight request. Platforms like this are helping their employee communications, HR, internal marketing and corporate affairs customers become data technologist versus just traditional communicators. Just like shopper marketing and external based consumer advertising has gone the way database decision-making, the exact same is happening internally to employee communication groups.
So, what are you doing with all the data from your legacy systems and one off tactic providers? Are you connecting the dots in terms of incoming data? Do you want to see how comprehensive mobile-based employee app platforms such as hubEngage are changing the rules of the game? Click here to learn more and see how you can transform your employee communication efforts to be ahead of the curve.