Employees win. You win.
The number one challenge for any casino is to create an outstanding guest experience. That starts with your people, who are the first touch points for any successful guest experience.  Casinos & resorts have to create amazing experiences that not only dazzle guests, but reward and keep them coming back for more. That's why your employer brand, communications and culture has to be top notch, in order to attract, retain and grow the best talent. No matter what size or theme your property is, whether it's a smaller, standalone "convenience casino" or a larger themed casino incorporated into a Las Vegas style mega-resort, you need to communicate in
a fast, easy and convenient fashion that keeps employees informed, engaged and rewarded
. Your employees are hardly ever in the same place at the same time. They are on the go and that's where an employee mobile app from hubEngage can help. Don't just simply take the content on your intranet and mobilize it, creating a static one-way content driven app. With mobile, you can use tools such as employee audience segmentation and precise location to send them relevant news, updates, and much more.
Employee mobile apps can be a great way to communicate to your people, but make sure you are:
Pushing the right content, to the right employees, at the right time, based on location and their individual role
Receiving instant feedback from employees on a regular basis, so you continuously gain insights
Delivering content pre, during and post workday, in a fun and engaging format that creates social buzz
Incentivizing them to "want to learn" with the right rewards and recognition, while cross selling and up selling attractions and services to guests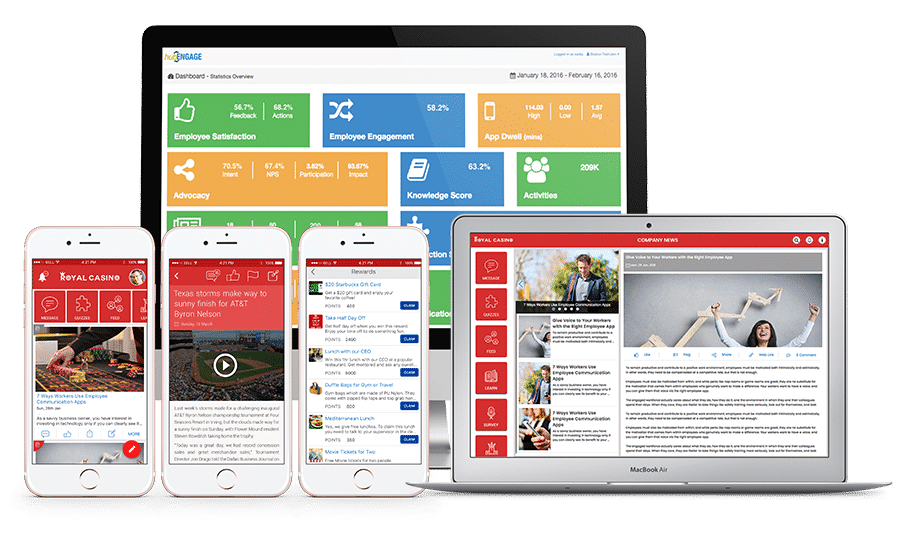 Effective employee engagement examples for casinos
Confident, educated workforce.
Casinos can communicate in an easy to manage platform across multiple devices, while
improving the guest experience
using hubEngage's mobile engagement engine. Leverage our
CoIL Engagement™
framework, using features such as proximity location via geofencing, low-energy Bluetooth beacons, employee segmentation and content by individual user behavioral KPIs, feedback tools, gamification, and analytics to push all sorts of relevant content, communications, news, training, discounts, promotional campaigns and much more. Your message gets across to the
right employee
, at the
right place
, at the
right time,
so you're hyper-targeting your communications content, not guessing. Because hubEngage works off an intelligent engagement engine, each employee's unique behaviors and location always make the content delivery stream relevant and useful.
Connect employees with the day's news, streaming videos, policies, procedures, surveys, gamification, rewards, recognition, employee benefits, instant messaging and much more. You can even monetize your employee app by
cross-selling and up selling vendor services that you provide your guests. The experience doesn't just start and end during the workday.
Give employees the total experience, pre, during and post visit
with gamification, incentives, videos, information and more. Push coupons, discounts and incentives to attract and retain top talent. After work, keep the dialogue going with survey feedback, coupons and social sharing, turning your people into an instant viral marketing channel. Get real-time analytics on who's doing what, to create heat maps on what's trending. There's so much we've packed into a single app platform that can make a huge difference in your casino employee's work experience.
With a hubEngage powered app casino employees can…
Receive push notifications for daily events, news, updates, schedules, services and more
Find locations with casino and property wayfinding maps
Get relevant content based on location and role in company
Interact with other employees and leadership via messaging, gamification, feedback surveys, story telling, social sharing
Play while they learn with quizzes, surveys, scavenger hunts and more
Share experiences and rewards/recognition on social channels
Participate in out-of-venue interactions and incentives
Watch streaming videos and other educational, informative content
Much, much more!
Available built-in features
Use our free mobile app template, specifically designed for casino employees, quickly customizable with your brand and content.

Already have an app? No problem, snap on our SDK to any existing app to add all of our employee engagement features.