Return on involvement.
Communicating to government employees, both local and federal in an efficient way that is fun, engaging and rewarding is a challenge. Cities, town, municipalities, federal and local governments are always trying to get people informed and involved and their first resource is always the people that make up government. Communicating news, events, important updates, programs , services, benefits and much more is essential to make government effective, serving the people. In fact, President Barack Obama recently issued a memo titled "
Digital Government: Building a 21st Century Platform to Better Serve the American People
". Among other things, the memo requires federal government agencies to make at least two public services available on mobile devices. A mobile app for government employees can be one of these public services.
Mobile apps for employees can be a great asset to cities and local governments, but they must:
Push the right content, to the right employees people, at the right time, based on location and role in the government
Receive instant feedback from employees and even government contractors on a regular basis, so you continuously gain insights
Deliver content pre, during and post workday, in a fun and engaging format that creates social buzz
Incentivizes them to "want to get information" versus "have to get information" with the right rewards and recognition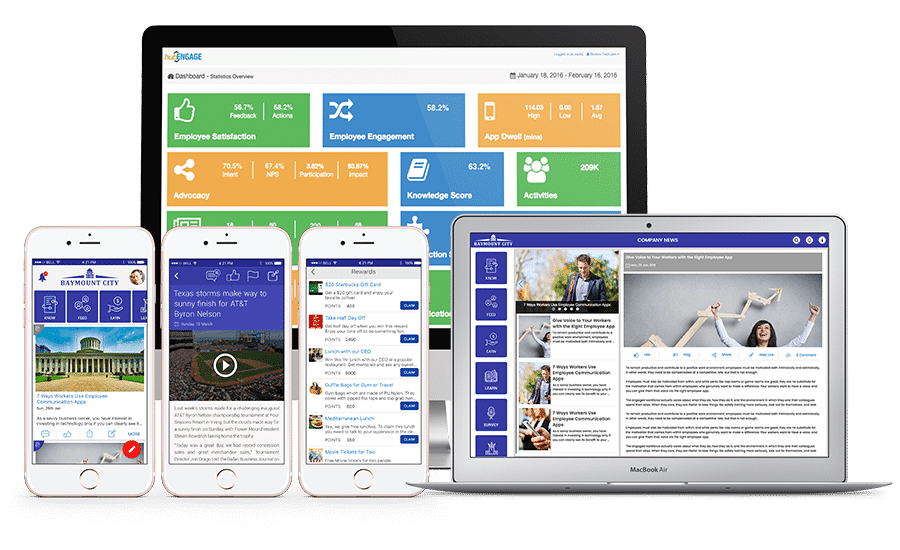 Effective employee engagement examples for government
Confident, educated workforce.
Empower your workforce base with a mobile app for government employees powered by hubEngage.  Using our intelligent
CoIL Engagement™
mobile engagement engine, push news updates, important information, events, ways to get involved in your local community and much more to users based on relevancy by individual behavioral KPIs, geographic location and segmentation based on their role in government. Your message gets across to the
right employee
, at the
right place
, at the
right time,
so you're hyper-targeting, not guessing. Connect elected leaders with government employees so that they
get real time feedback and ideas from the people on how to improve public service
. Provide various media content and gamification on the historical significance and value of the services you provide everyday. Highlight history, importance and the future of your agency.  There's so much you can do with hubEngage's city app solution,
creating a positive return on involvement
!
With a hubEngage powered app government employees can…
Learn more about government services, information and important updates
Find landmarks, other offices and more with mapping
Connect with local businesses and government services, receive discounts and coupons
Connect with elected officials and leadership
Interact with other employees via gamification leader board (badges, points)
Share experiences and photos on social channels
Report problems, issues with government services or facilities
Be informed, aware and part of the dialogue on current issues and events
Participate in special initiatives such as green, recycling and other outreach
Watch streaming videos and exclusive historic content
Receive relevant content via location based technology and employee segmentation
Use interactive tools such as augmented reality to scan objects or photos
Give feedback to local leadership on how to improve government
Much, much more
Available built-in features
Use our free mobile app template, specifically designed for government employees, quickly customizable with your brand and content.

Already have an app? No problem, snap on our SDK to any existing app to add all of our employee engagement features.