Exercise communication.
Attracting and retaining fitness staff is no easy exercise. When members choose a fitness center that makes sense for them, they're looking for more than physical activity;
they're looking for a total experience
. That's where an employee mobile app for communications and engagement  from hubEngage can help your staff deliver on that total member experience. Like members, your employees are always on the go, seldom in any one place all the time. They
rely on their mobile devices
, whether they are iPhones, Android phones, iPods, iPads or tablets for news, updates, important information, communications and media content at all times. From the second they arrive to work, they are looking at their mobile devices to stay in touch. Creating a gym and fitness center employee mobile app can empower employees to provide a better customer experience to the people they interact with every moment of the day. With a gym and fitness center employee mobile app from hubEngage, you can:
Push the right content, to the right workers, at the right time, based on segmentation, location and individual behaviors
Receive instant feedback from employees on a regular basis, so you continuously gain insights
Deliver content pre, during and post workday, in a fun and engaging format that creates social buzz
Incentivize employees to "want to get information" versus "have to get information" with the right rewards and recognition, while promoting, cross selling and up selling services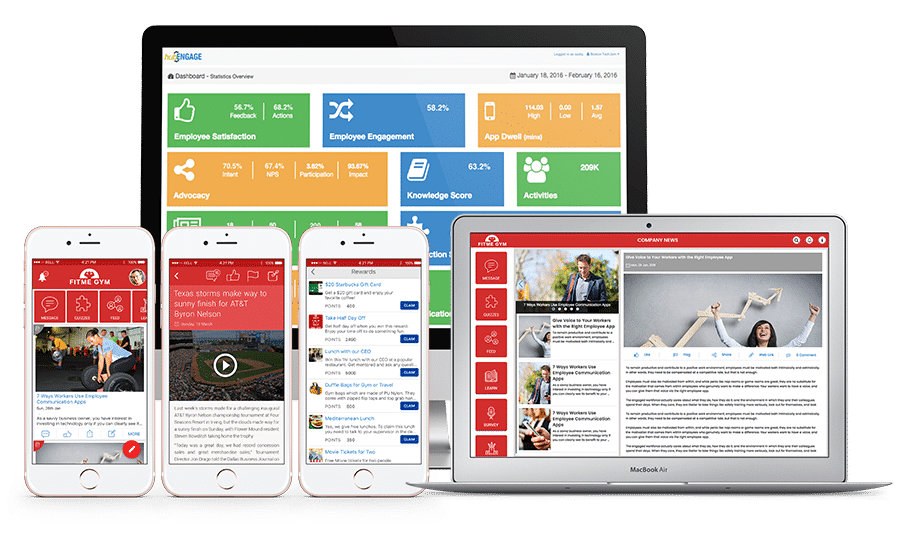 Effective mobile employee engagement tactics for gyms & fitness centers
Confident, educated workforce.
The employee mobile app solution from hubEngage lets fitness centers and gyms communicate in a fun and easy to manage platform across multiple devices, while engaging, connecting and incentivizing employees across multiple functions, from front desk to instructors, coaches and many more. By leveraging our
CoIL Engagement™
framework, using features such as proximity location via geofencing, low-energy Bluetooth beacons, segmentation by individual user behavioral KPIs, feedback tools, gamification, and analytics you can create the intrinsic motivators that lead to an outstanding experience. Don't just digitize your existing web content. hubEngage starts the dialogue and fosters two-way communication, while you push all sorts of relevant content such as employee news, security updates, maps, location information, schedules, weather as well as incentives such as coupons and discounts based on in-door mapping locations. Trigger in-app notifications based on location so that your message gets across to the
right employee
, at the
right place
, at the
right time
, so you're hyper-targeting, not guessing. 
Turn gym and fitness center employees into a instant brand ambassadors and a marketing channel
for your venue, making it the round trip destination of choice for members and a top place to work for employees.
With a hubEngage powered app, gym and fitness center employees can…
Receive push notifications for important updates, announcements and weather
Check class schedules, crowd levels, personal training and reserve spots
Find locations with wayfinding maps (locations, classes, amenities, etc.)
Get coupons/discounts and loyalty programs
Interact with other employees via instant messaging, gamification, sharing stories
Play while they learn with quizzes, surveys, "health knowledge" sessions, and scavenger hunts
Share experiences, rewards and perks on social channels
Participate in out-of venue interactions and incentives
Watch streaming videos, get health advice and seasonal content
Receive relevant content via location based technology and employee segmentation
Much, much more!
Available built-in features
Use our free mobile app template, specifically designed for gym and fitness center service employees, quickly customizable with your brand and content.

Already have an app? No problem, snap on our SDK to any existing app to add all of our employee engagement features.