The premier employee communications platform for the hospitality industry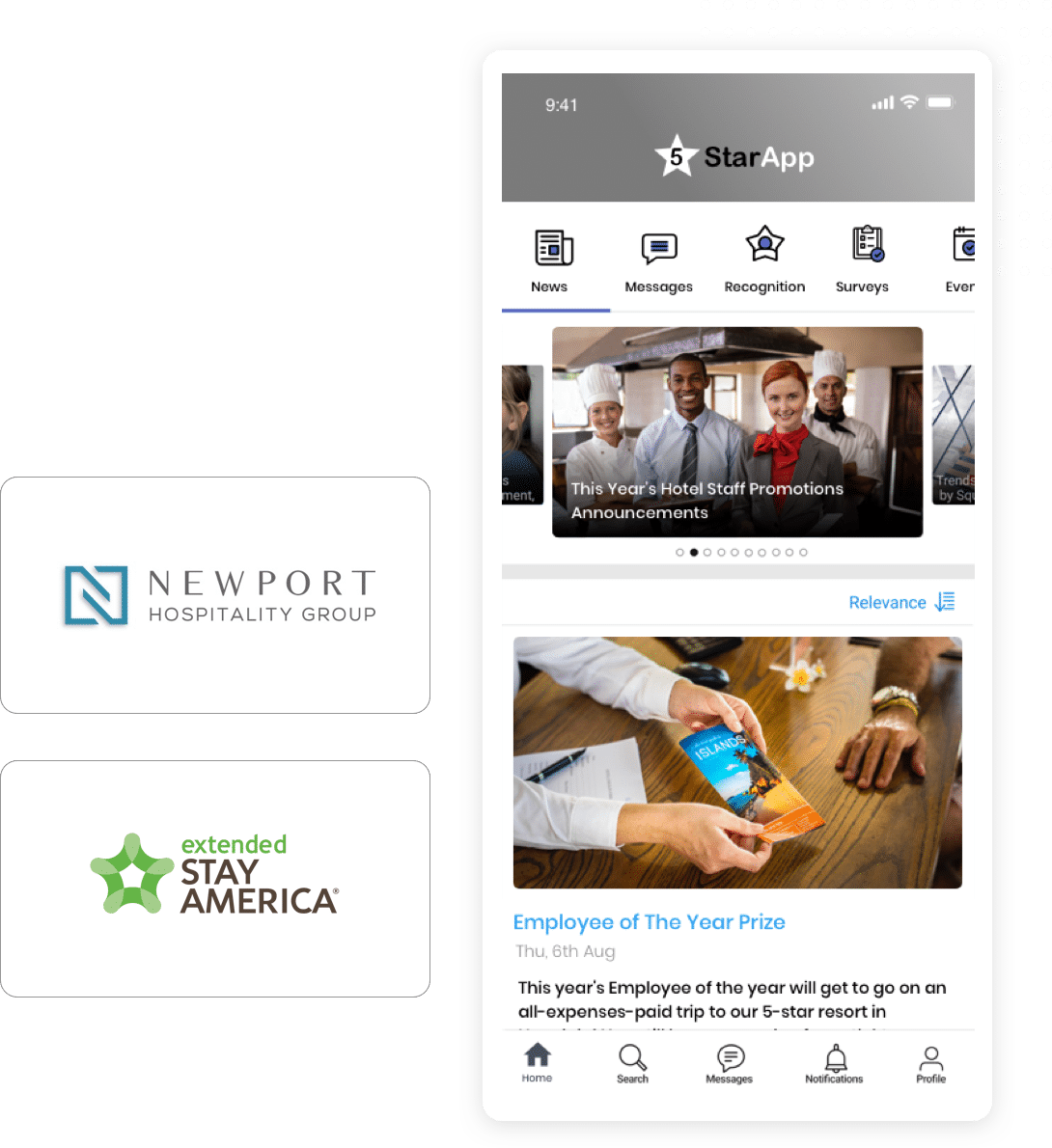 HubEngage has the solutions needed by hospitality companies 
Streamline communications, get feedback and motivate your employees.

Leverage intelligent automation, advanced segmentation, deep analytics, optional gamification, and integrated gift cards.

Reach 100% of your workforce wherever they are through mobile apps, web, email, and digital displays on our platform.

Publish content once and distribute it to employees and associates in 14 international languages.
Why do hospitality companies need an employee app like HubEngage?
As the hospitality industry continues to grow, so do the needs of businesses within the sector. Companies must ensure that their employees are well-connected, organized, and happy in order to maintain a successful business. This is where HubEngage comes in. This employee nurturing app provides a unified employee experience that helps you increase employee bonding and happiness. The employee app also saves about 20x times for your app manager. Take a closer look at how HubEngage helps you better engage with your employees and associates.
What is HubEngage and how does it impact business productivity?
HubEngage is an all-in-one employee engagement platform designed for businesses of all sizes. It offers separate modules such as communications, engagement, instant messaging, surveys, forms, quizzes, and a secure social platform. The app makes onboarding new staff absolutely effortless. And you can create rewards and recognition programs in a flash and tailor them to any recipient or targeted group.
You can also send instant messages and track employee participation, performance, and behavior to every message or post. All within one easy-to-use platform that has no parallel. HubEngage also allows your staff to easily connect with other employees across locations and departments. You can share resources, discuss work issues, and collaborate on projects in one unified app. In addition, HubEngage saves time for an App Manager by providing easy access to reports on employee engagement levels and productivity data in real-time.
How does an employee app help manage dispersed workforces?
HubEngage is an invaluable tool for the hospitality sector due to its ability to foster stronger connections between employees. And because it increases employee job satisfaction, it also improves customer happiness, which is critical to hospitality companies.  With its extensive features like employee engagement, recognition, and analytics, your employees will remain motivated and productive on the job. Additionally, its user-friendly interface makes it easy for your staff to communicate with peers across different locations without switching apps. This helps keep all your employees and associates up to date on new product announcements or changes to existing processes.
Finally, it enables you to easily measure employee awareness and happiness levels through surveys, custom forms, and engaging quizzes. With such in-debt analysis, you can make better decisions about training initiatives and incentives needed to further motivate your teams. By identifying areas where additional support may be needed, you can improve the overall customer experience. You can also foster better career growth opportunities and better communication channels between managers and staff members. In short, HubEngage is a modern intranet that unites your teams regardless of their geographical distance from each other.
Boosting employee engagement for the hospitality industry
Vice President of Team Member Engagement, Newport Hospitality Group
shares her view on how an employee engagement platform helped them improve their employer-employee bonding.
Want to transform your engagement?
Book your 15 minute meeting today!
We are here to help you transform employee engagement in your organization. If you are interested in implementing one of our software solutions, or you simply need some engagement advice or tactics, let's talk!
Pick the solutions you need to engage
HubEngage's employee engagement platform allows for companies of all sizes to solve for their unique needs from communications to recognitions to employee feedback.
Pick one or pick all based on your need.
Engage across multiple channels
Our multichannel approach with mobile apps, web-based intranet, emails, text messaging and digital displays helps you reach and engage 100% of your employee population anytime, anywhere.
Every day, HubEngage empowers hospitality companies, worldwide, to engage with their employees in a way that drives real business results.
Learn more about how HubEngage is helping hospitality companies get better engagement through advanced communications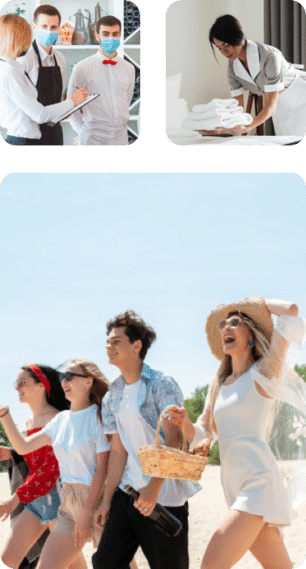 Let's get your employees connected and engaged.