Create a fun culture with an enterprise
Social Network
platform
A simple social network platform for the enterprise to build a fun and open employee culture. Fully branded, quick to deploy with available native mobile Apps. 
Allow employees to post updates, share media and participate in conversations. Create private or public channels based on interests, function or other criteria for in-depth discussions.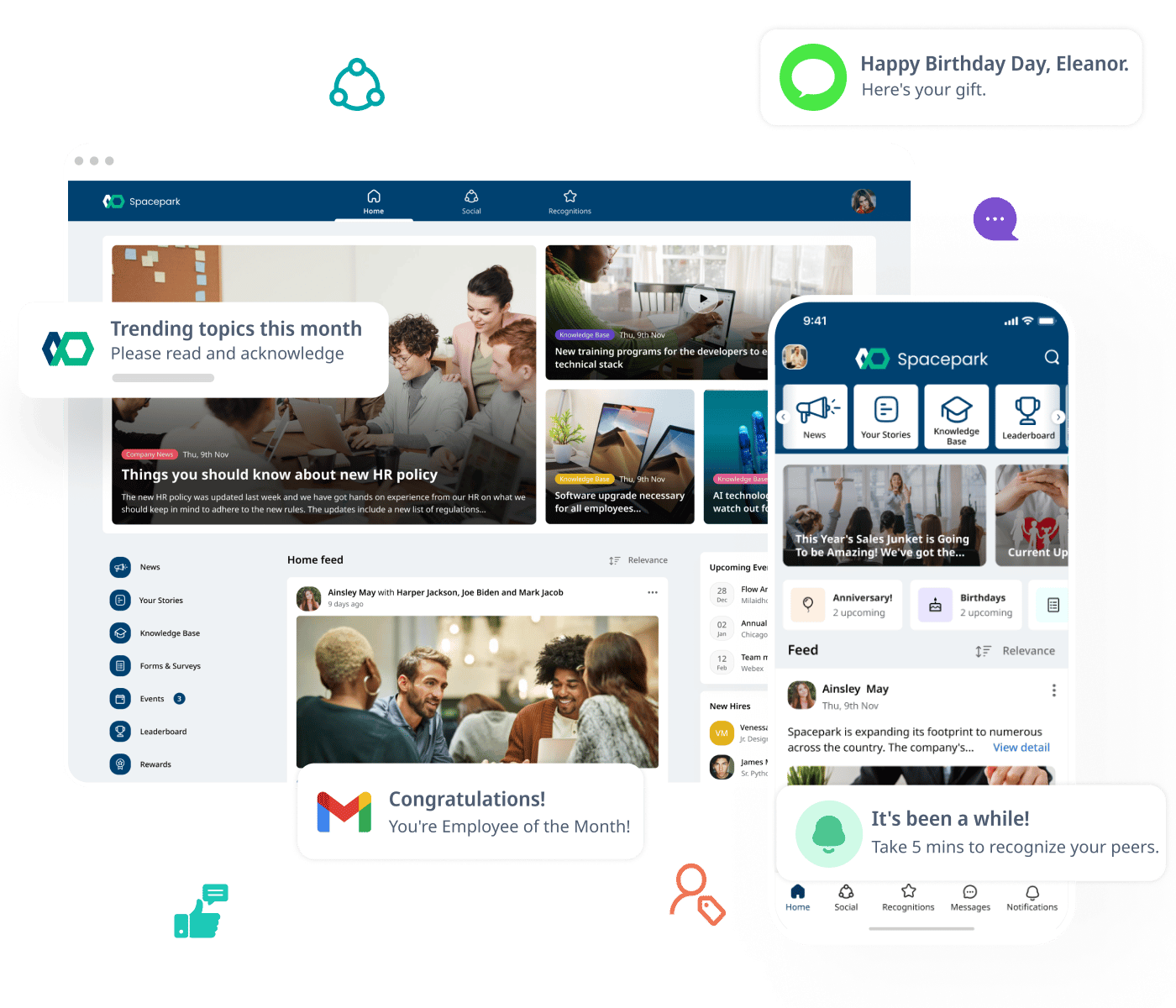 Unlike other enterprise social platforms which are an exact replica of Facebook, HubEngage's social platform has the right balance of features and controls to keep the environment professional while making it fun for employees to share and interact.
With add-on hubs for surveys, recognition and messaging, and channels like text messaging, emails and digital displays, HubEngage social platform is all you need to drive engagement in your workplace.
HubEngage's enterprise social network platform is super simple to deploy and manage. We want to make sure you are focused on engaging your employees and not on maintaining the software.
Our social platform is hosted in the cloud, configurable and secure requiring absolutely no involvement of your IT teams. 
Our social network platform creates a fun, open and collaborative employee culture in your organization within months, completely transforming your organization. Once deployed, you will see tremendous results just like all our other customers.
Our enterprise social network platform boasts high adoption. With our streamlined process you can be up and running within days – plus, our native mobile Apps, emails, text messaging and digital displays help enroll all of your employees in a snap.
Unlike other enterprise social platforms which are replicas of Facebook, our platform is designed to improve employee culture. With add-on hubs and channels, you get all the tools necessary to engage and measure – no additional software required.
When employees are able to share and voice opinions – it changes how they feel about their organization. Our social platform is the only platform that layers on gamification encouraging employees to participate – getting points that can be redeemed for gift cards.
Ultimately our social network platform helps drive employee engagement. It creates more transparency and increases collaboration among employees while giving insights to employers on what their employees care about and feel.
Our multichannel approach with mobile apps, web-based intranet, emails, text messaging and digital displays helps you reach and engage 100% of your employee population anytime, anywhere.
The HubEngage employee communication tool allows each of our associates to be great ambassadors for Extended Stay America. It is a great tool that is helping us attract new associates.
The HubEngage employee software is incredibly well thought out. The tech has easy access to countless tasks, and their client service for any "out of the box" ideas we come up with, is fantastic. Our retailers couldn't be happier with the app.
We were able to be aggressive and launch in about six weeks and from there the engagement with us for any issues, helping us get menus and content populated–it's been a great experience
Learn more about employee social platform