One
Employee App
to connect and engage your teams
Deploy one App for employee communications, social, employee recognition and team messaging. Connect 100% of your employees anywhere, anytime.
Get your communications through the last mile. Ensure your employees are informed and heard. Improve your employee productivity and reduce attrition.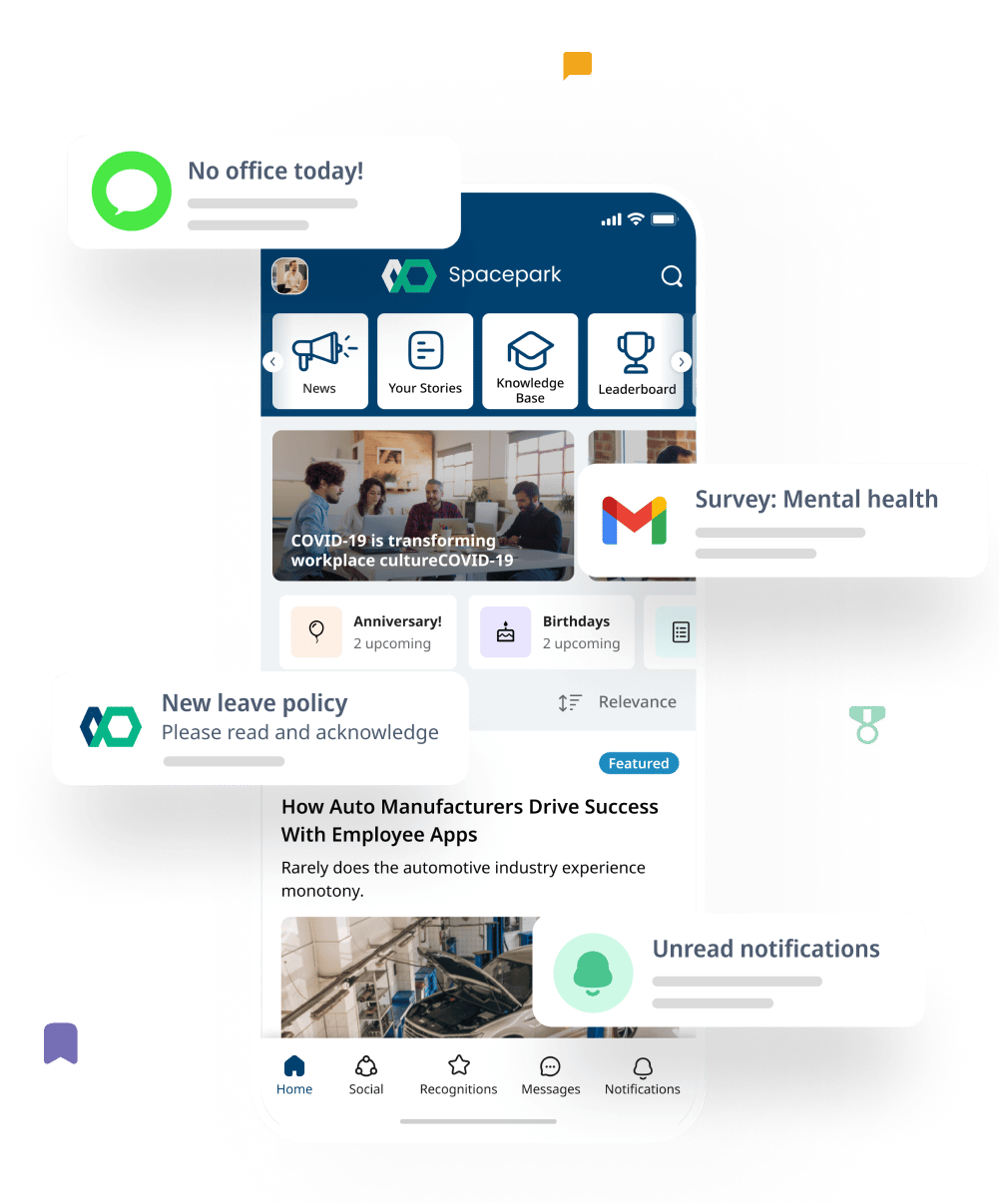 HubEngage employee App is fully branded to your organization with your logo, colors and menus.  With built-in gamification, you can ensure that your employees participate and use the employee Apps to the fullest .
Security is at the core of our platform – you get a high level of compliance with ISO 270001, SOC2, HIPAA and GDPR.  Easily sync logins and data with available SSO and integrations into most HRIS and payroll systems.
HubEngage's employee App consolidates your employee communication app, employee recognition app, social engagement app and instant messaging app into one unified App for employee engagement. Not only does this save your organization time and money by 5X, but employees have to install only one App instead of installing 5+ Apps on their phones.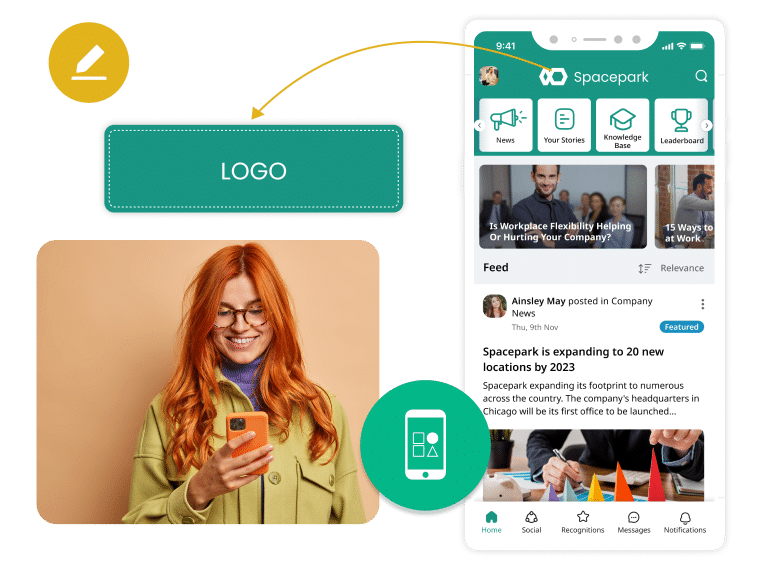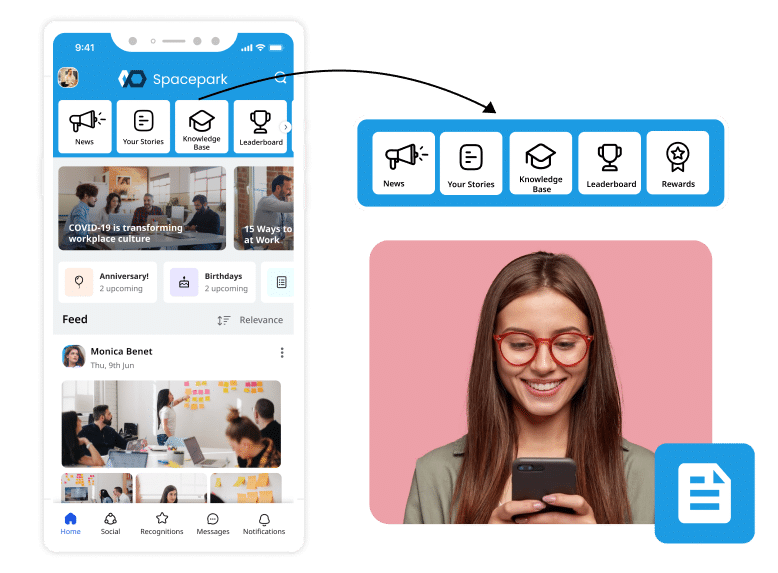 Deploy the HubEngage employee App as your top-down employee communication app with all the necessary communication features to keep your employees informed and productive – including custom menus, personalization, engaging content, document repository, push notifications, gamification with points / gift cards and more. See all the features available with the employee communication platform.
Add on the employee recognition hub to transform your employee App into an engaging employee recognition app. In addition to core employee communications, recognize employees for their achievements, allow employees to appreciate each other, celebrate milestones like work anniversaries and birthdays. See all the features with the employee recognition platform.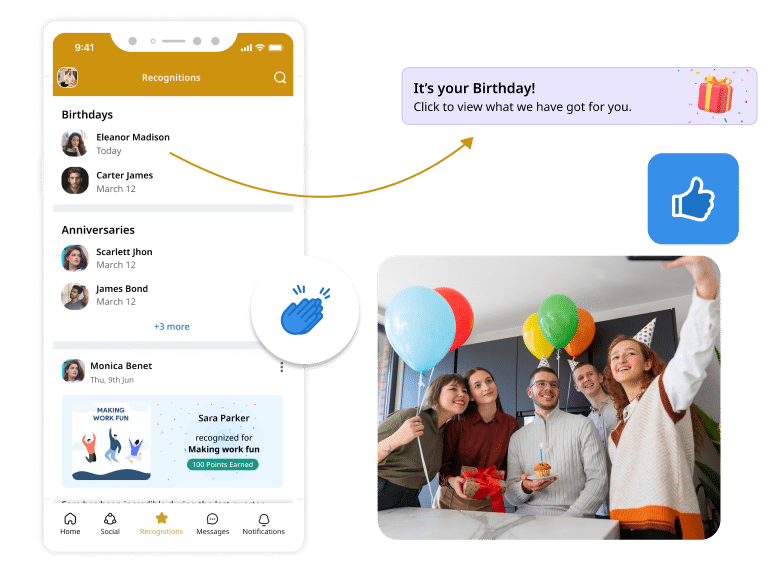 Use the employee surveys hub available as part of our core communications platform to get the pulse of your employees from time to time. Publish quick pulse surveys or comprehensive employee engagement surveys using pre-built templates. Get summarized results with topics to focus on and sentiment scores. See all the features available in the employee survey platform.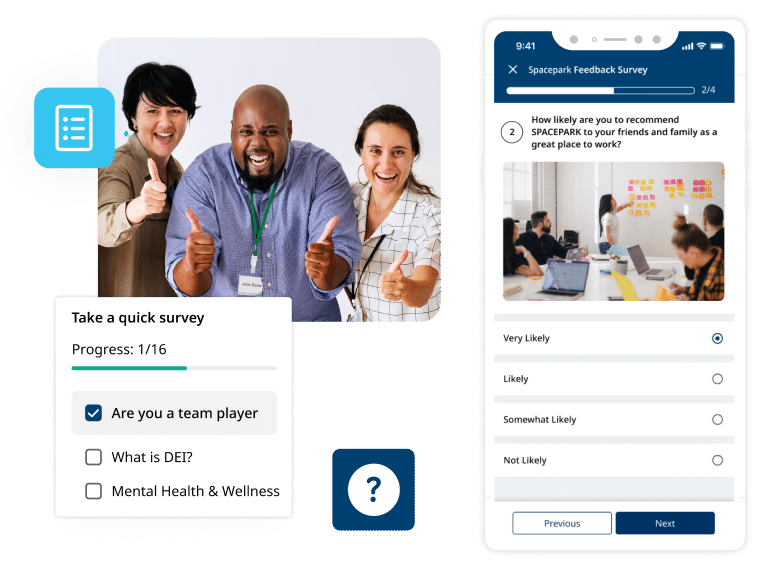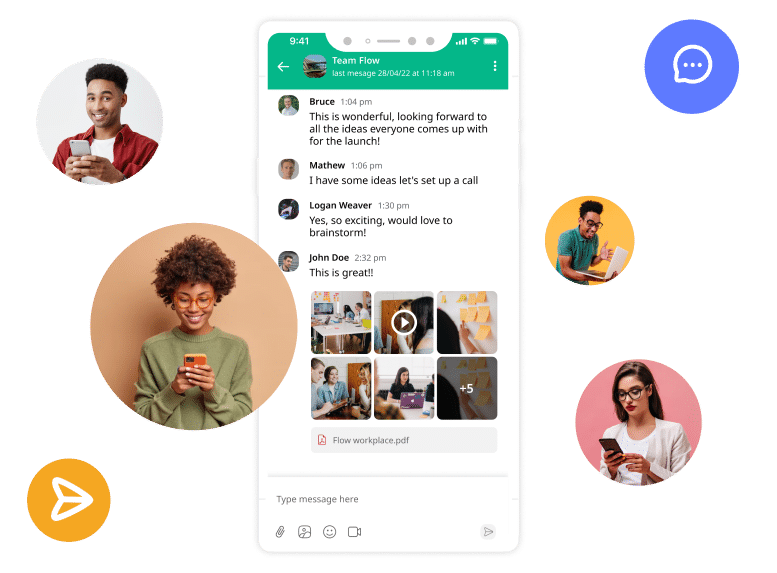 With our instant messaging module, enable team communication in your employee app. Enable employees to securely message each other, share documents and communicate in groups. See all the features available in the employee App with the instant messaging chat platform.
Our all-in-one employee app is designed to transform your organization's productivity and workforce happiness quotient in a flash. Connect all your employees from different locations and see them bond with the organization and brand like never before. From App adoption to mass engagement to deep behavioral insights, you will see amazing results with HubEngage.
Our all-in-one employee app has achieved tremendous adoption rates with workforces across the world. You can connect with your existing systems with seamless data integration. And our streamlined processes make app downloads and set-up easy and hassle-free even for non-tech users. You can leverage channels such as email, SMS, and digital displays to ensure every member of your extended teams may join easily.
Drive employee productivity by giving your users access to a full suite of resources within a fully customized employee app. Streamline your company updates, regulate policy announcements, document sharing, product catalogs, support material, and workplace safety and quality assurance guidelines. Also share easy links to other internal platforms in your organization through this all-in-one employee app.
Your all-in-one employee app is designed to strike the perfect balance between working and making it a stress-free process. Leverage push surveys and get instant and verified employee feedback. Effortlessly recognize employees for milestones such as birthdays, anniversaries, or even new hires! And gamify the whole experience with points for every user action. Rewards and gift cards are available exclusively within the app.
Take employee engagement to a whole new level with your all-in-one employee app. With personalized menus and customization options, you can create several unique experiences tailored to your organization.  So, why settle for a generic one-size-fits-all solution, when you can leverage higher results on your own branded native app? With HubEngage, you can reap the rewards of better employee morale and increased happiness in as little as 6 months.
Employee Apps are awesome but you can do more. Extend your reach and drive even more engagement by pushing the same communications through other channels like a Modern Intranet, Emails, Text Messaging and Digital Displays. Click on each of the channels below to learn more.
We were able to be aggressive and launch in about six weeks and from there the engagement with us for any issues, helping us get menus and content populated–it's been a great experience
Having the employee app, using HubEngage, has been a huge improvement in the company's culture and has improved communication as well. We have received a lot of feedback from employees saying that they absolutely love that we have the app.
There were a couple of times that we were breaking what the platform was meant to do–HubEngage did not look at it as a static product, here you have it–now go make the best of it. It's that type of partnership that goes along with the technology that really strengthens the buy in from our side, that the team supporting us at HubEngage wanted us to see what we've envisioned in our heads. You don't get that as much with companies we've worked with in the past. That was one of the reasons we chose HubEngage and stayed.