Reach Your Workforce Anytime, Anywhere, With An Employee App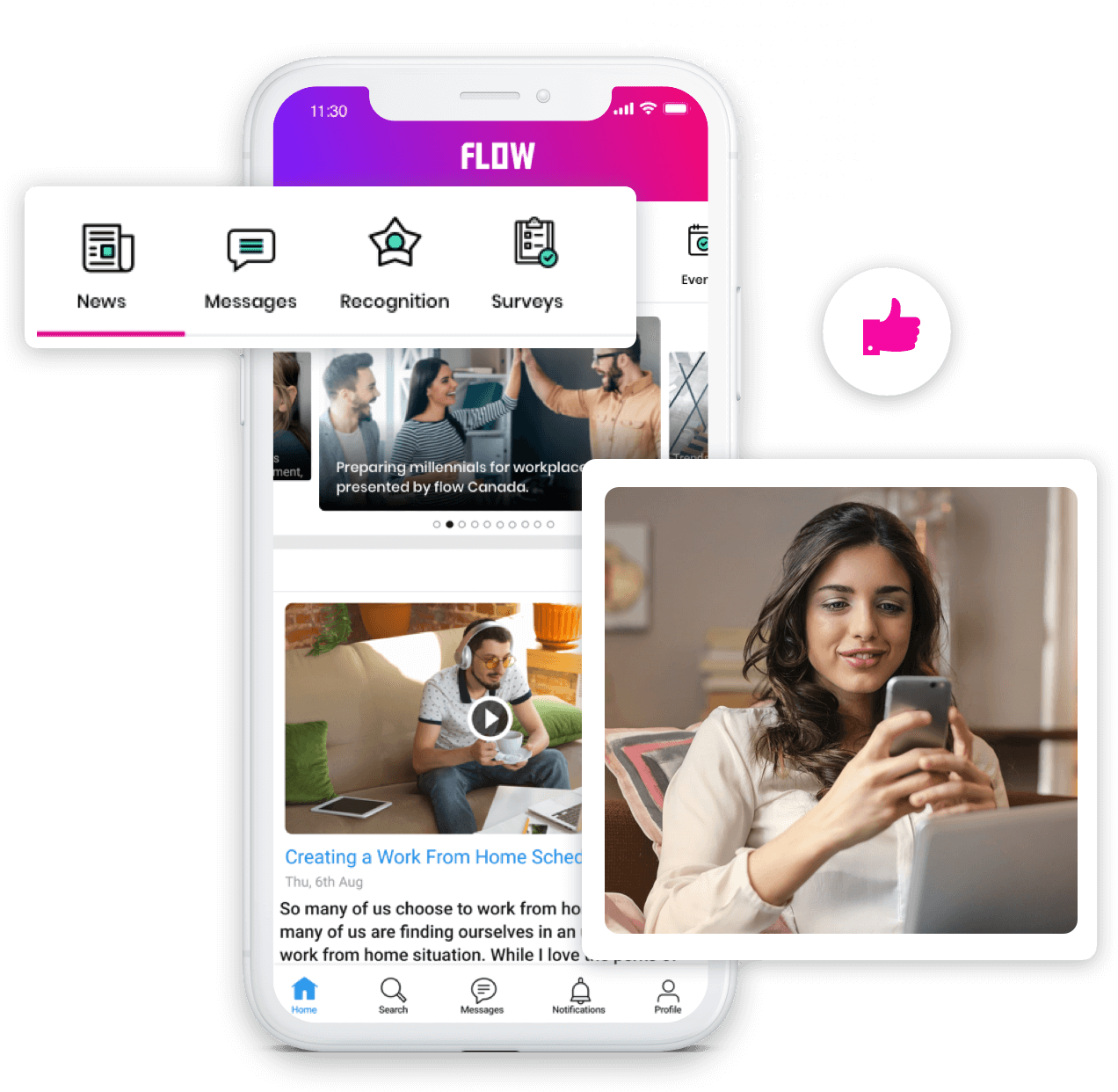 93% of the Global Workforce Uses a Smartphone for Work Every Day
                                                                                       – Samsung 
With the majority of employees resorting to their mobile devices for information, HubEngage's employee communication mobile apps for iOS and Android ensure that all your content, communication, and company news gets delivered right into the palms of every employees' hands. Push notifications make sure important content gets attention. Use smart tech to improve employee communication.
With flexible deployment options, branded designs, and best practices user interfaces, your employee mobile app will be seamless and easy to access, making the entire workplace communication experience informative, fun, and rewarding as well.
Optimize Your Employee Experience with Flexible Design Options
Design and maintain the look of all your employee communications mobile apps.
Push Notification Options
Use flexible, customizable push notifications to get your content noticed and employees engaged.
It's as easy as creating your content and sending an instant push notification or scheduling notifications on the employee app over time.
You can even run a push notification campaign from your employee mobile app to engage employees who have not interacted with the content yet, so the messaging gets through.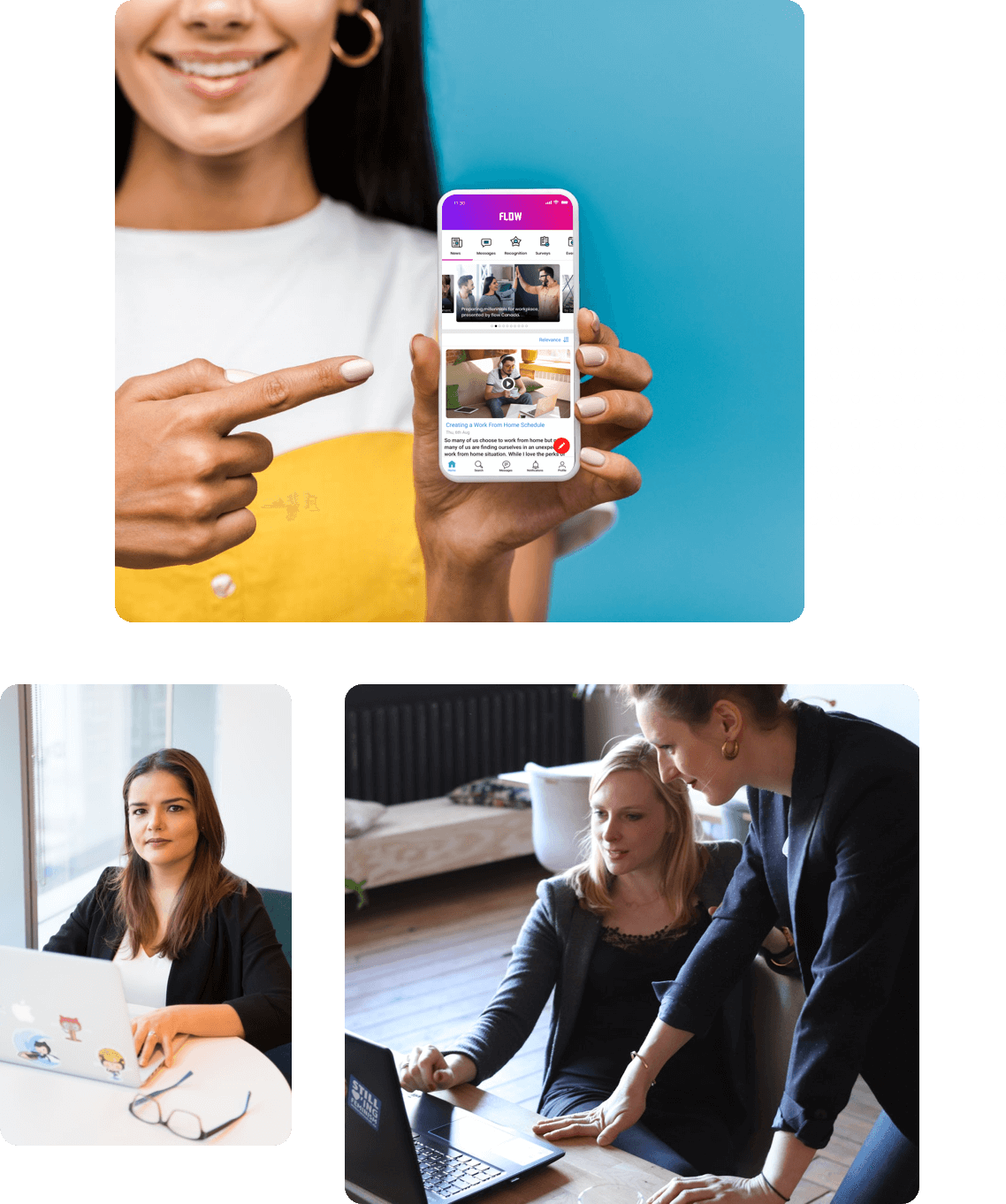 Learn More About The Employee Mobile App
Reach Everyone Everywhere
Let's get your employees connected and engaged.

Employee App Advantages
Still on the fence about the benefits of a mobile employee app for your business? Think about it this way: 93% of the world's workforce uses mobile phones for work every day. Even in places with strict "no-tech" rules in the workplace, employees still feel more comfortable having their mobile phones close by.
The HubEngage employee app has worked wonders for businesses from various industries, benefiting both employers and employees. Our clients enjoy the following benefits from using an employee app to communicate and engage with their workforce, and it's about time you start enjoying them too.
Keep Your Workforce Engaged with an Employee App
You hear the term "employee engagement" all the time, but what does it mean? Simply put, employees who are engaged feel enthusiastic and passionate about their work and the company they work for, as opposed to just waiting for the clock to hit 5 pm each day.
Engaged employees perform better and are more excited about the company succeeding. Employee apps give your workforce the connection they need to feel like they are genuinely a part of the company.
Improve Office Culture Through Positive Communication in an Employee App
Great office culture has often been compared to a boat, where all the members are rowing in the same direction. It is believed that if a company has a healthy work culture, all members of the organization, regardless of rank, are unified in vision, goals, and ideals. 
Having a central hub for communication where every member is accessible helps employees connect with each other better. Workforce engagement is all about developing relationships with your employees by connecting with them on an individual level. Additionally, workforce engagement is also about your employees developing relationships with each other and an employee app gives them the platform to do so. Within the application you can even distribute employee surveys.
Keep Employees Updated on Company Matters
Let's be honest – reading company emails (and other outdated forms of internal communication) can sometimes be a drag. Disseminating information throughout your entire workforce has always been difficult— unless you have a good, modern solution, like an employee app.
Mobile employee apps provide an easy way to notify your remote or frontline employees about the latest news, announcements, and policy changes quickly via their smartphones. And since this communications hub can be customized to fit your company's organization, you can send company content to targeted audiences and notify them when new content is live and available on the employee app. 
Encourage Continuous Project Momentum
Accessible and instant communications are integral to a smooth and continuous project flow. Task turnover, delegation, and succession are made more accessible when each team member is connected to one another with employee mobile apps. Internal company communication is vital. You don't have to suffer through long waiting times waiting for a team member to reply to your message or to confirm receipt of their tasks. Via a company app, even deskless workers can finish their task, and hand it over to the next person and have peace of mind knowing they have it covered.
Support A Hybrid Work Model And  Remote Workplace
The modern workplace has evolved from the traditional workplace we know of from decades ago. Now, employees are a mixture of office workers on their desks, field agents on the move, and work-from-home employees who could be working from their laptops from across the globe. If running around the office floor while looking for a particular employee was the fastest form of communication ages ago, this won't work in today's modern workforce.
Mobile communication apps have been adapted to support the modern working conditions to ensure that slow and rigid internal communication options do not bog down your employees. If work setups can be flexible and adaptive, so should your tools and resources, and employee app.
Keep Communications Clean Under One Channel
Email is great – it has ensured the survival and growth of many businesses over the years, but when it comes to internal communications, and the evolution of today's workforce, you need a communications platform that can reach employees more quickly. Written memos, bulletin boards, emails, and phone calls – while having several communication channels mean there's something for everyone, too many channels increase the risk of something getting ignored or unread. With the employee app you ensure an official communications channel that is most used and easily accessible by team members. All's well when a company communicates well.
The HubEngage Difference
With a mobile employee communications platform, you can easily manage remote teams, improve internal communications, improve employee training, and bridge the gap between management and the rest of your team. With so many employee communications apps in the market, why choose HubEngage as your employee app? 
Excellent After-Sales Support
We don't leave you in limbo once the deal is done. We know that even the most user-friendly app needs time for training and integration. Our team of experts will be by your side from setting up the employee app right through to execution of your engagement and communications strategy. We're always here to answer your questions or guide you through the app's many features.
Extensive Online Knowledgebase
Want to learn more in your own time? Or maybe you just want to keep up-to-date with the latest in employee communications trends. Our blog has all the resources you need from guides, the latest trends, and even helpful tips in employee engagement and company culture.
User-Friendly Interface
We want your employees to feel at ease with this new technology. People generally tend to shun changes, thinking it's additional work on their part. Our mobile app can keep up with the most tech-savvy employees but is simple enough to accommodate those who are not well-versed in new technology. Quick loading times, accessible menus, and easy navigation make the app a joy to have around.
Customized Employee Experience
We know that each member of your organization plays a unique role in the growth and development of your business, which is why our employee app gives users the ability to customize it according to their needs and preferences. Users can personalize app notifications on their own mobile device so that their user experience aligns with what they are used to.