Interactive
Digital Signage
for Corporate Communications
Engage your employees and create a fun workplace. Recognize employees and celebrate milestones. Set up with a smart TV and a cloud-based Digital Signage Platform – No complicated hardware needed.
Complement your Intranet, Emails, Employee Apps with engaging digital signage. Amplify your reach and increase the impact of your internal communications.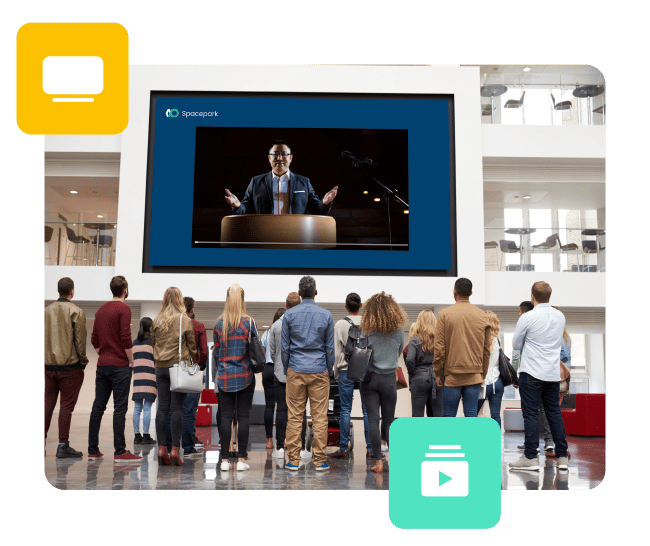 Unable to get your internal communications through or using those old fashioned employee communication boards? It's time to switch to the digital signage platform specifically designed for employee communications in the modern workplace.
With no complicated hardware required, all you need is a smart TV or an Android stick to set up the digital signage. Our secure cloud hosted software allows you to manage displays and target content to any display from wherever you are.
Setting up our digital signage platform for corporate communications is as easy as 1-2-3. No complicated or expensive hardware required!
Already have an Android TV or Fire TV? Download HubEngage Display App from Google Play or Amazon App Store to login. Else connect an Android Stick or our proprietary device (see FAQ) to your Smart TV and get started.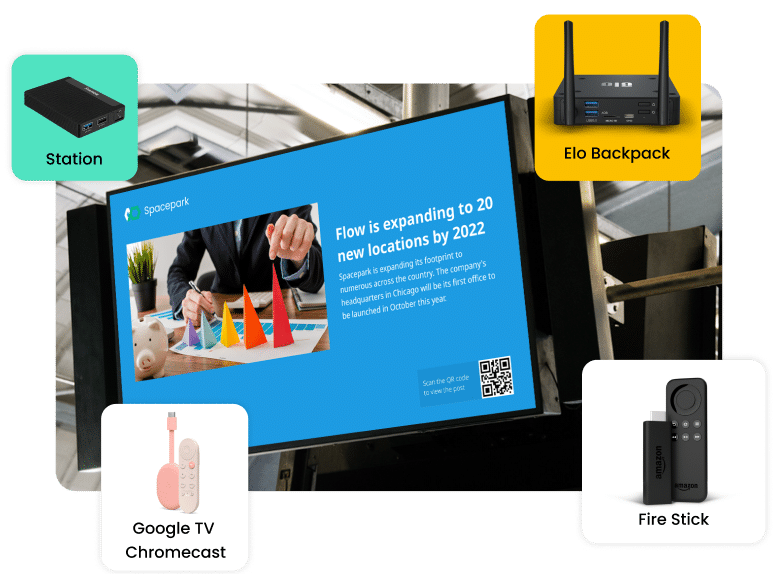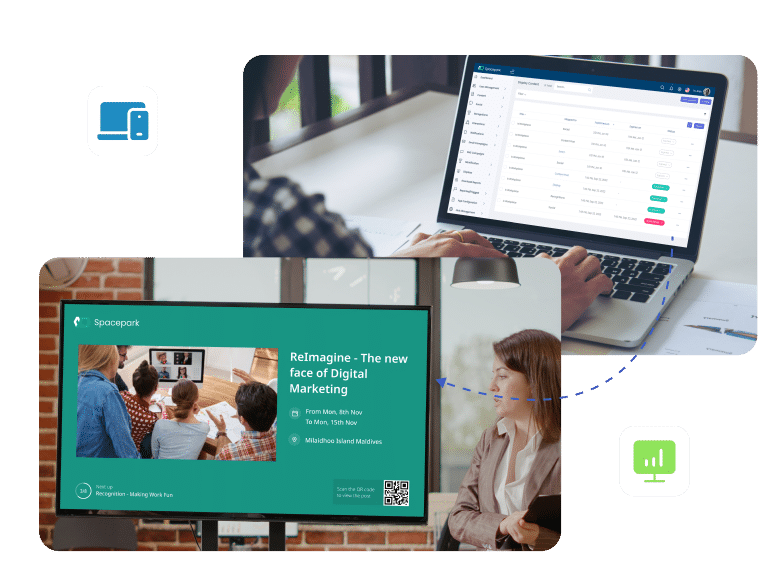 No software to install, no need to be in your office to manage, no IT needed! Our cloud hosted software for digital signage makes it easy to manage your displays and publish content from anywhere, anytime. App updates are pushed to your TVs automatically by HubEngage.
Through our easy to use admin portal, publish different types of employee communications to the digital signage including updates, events, surveys and more. Add beautiful images, videos, media galleries to your content to make it engaging. If you already have content published on our employee communications platform, then just click a button to push it to the displays.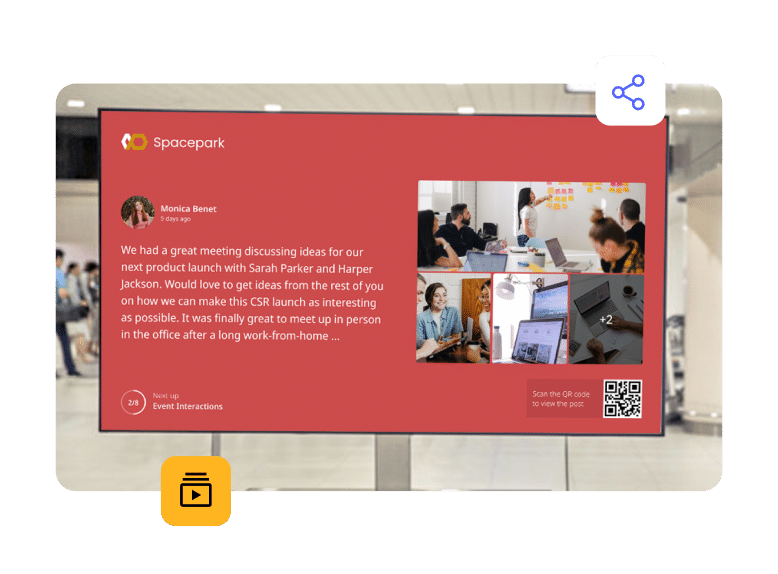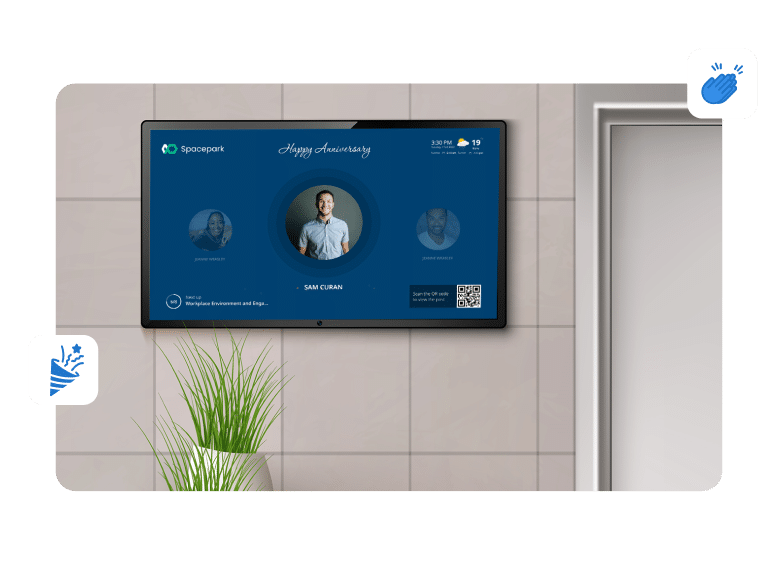 Tired of manually creating slides for Birthdays, Work Anniversaries and welcoming new hires? Get rid of your legacy employee recognition display boards and automate with our digital signage platform. Our software can sync with your HRIS or Payroll systems to get the hire dates and birth dates of employees to automatically display greetings on the signage.
Every piece of communication that you display on the digital signage gets a unique QR code. Employees can scan this QR code on the screen to take further action like reading more details about the announcement, watching a video, RSVPing to an event, taking a survey and more. Make your digital signage super interactive!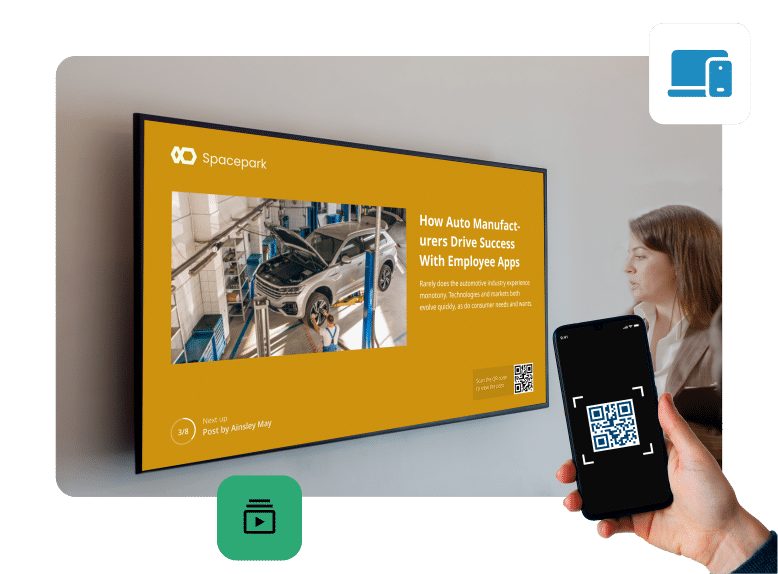 While our Digital Signage platform allows you to push communications to your employees in an unobtrusive way, you can extend your reach and drive even more engagement by pushing the same communications through other channels like Intranet, Mobile Apps, Email Newsletters and Text Messaging.
We were able to be aggressive and launch in about six weeks and from there the engagement with us for any issues, helping us get menus and content populated–it's been a great experience
Having the employee app, using HubEngage, has been a huge improvement in the company's culture and has improved communication as well. We have received a lot of feedback from employees saying that they absolutely love that we have the app.
There were a couple of times that we were breaking what the platform was meant to do–HubEngage did not look at it as a static product, here you have it–now go make the best of it. It's that type of partnership that goes along with the technology that really strengthens the buy in from our side, that the team supporting us at HubEngage wanted us to see what we've envisioned in our heads. You don't get that as much with companies we've worked with in the past. That was one of the reasons we chose HubEngage and stayed.