AI Bot
for Enterprise Search and Knowledge Discovery
Enable ChatGPT like Search for your employees. Sync data from multiple sources and provide easy to understand answers based on relevance. Connect all your platforms so your users can take all actions from one place.
Use it standalone or embed into your existing applications. Get deep insights into what your employees are looking for. Fully secure and encrypted.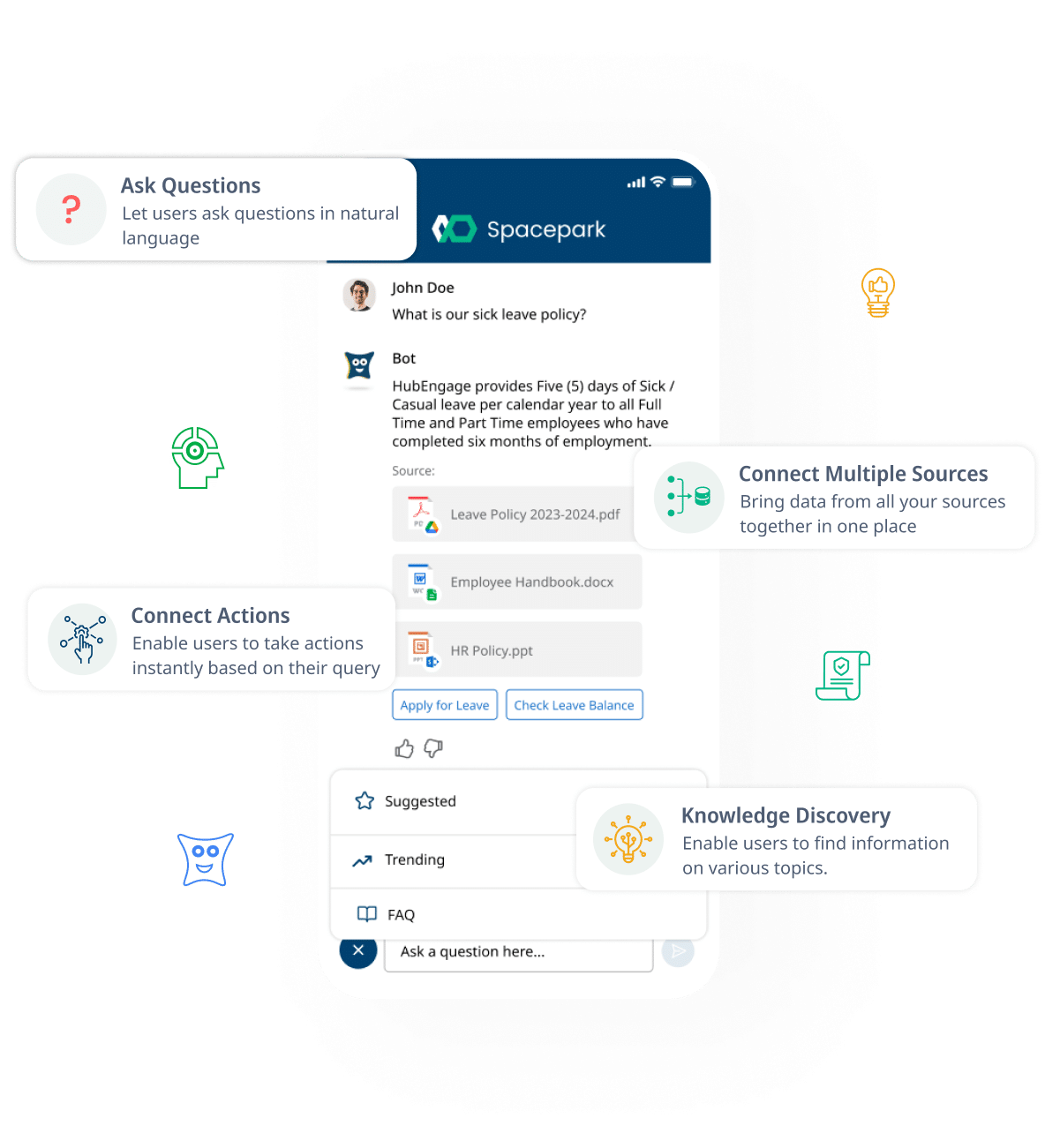 Unlike most ChatGPT based AI search apps HubEngage's AI Search Bot is designed for the enterprise. Our AI Search Bot is easy to deploy. It can be used as a standalone search and knowledge discovery App or plugged in to any of your existing platforms or Apps. It is hosted in the cloud, secure and integrates seamlessly with your internal systems. No IT required.
With our AI Search, employees can ask questions just like they ask a human and get relevant answers back along with attribution to the sources that were used to form the answer. Users can ask follow up questions and expand on conversations as well.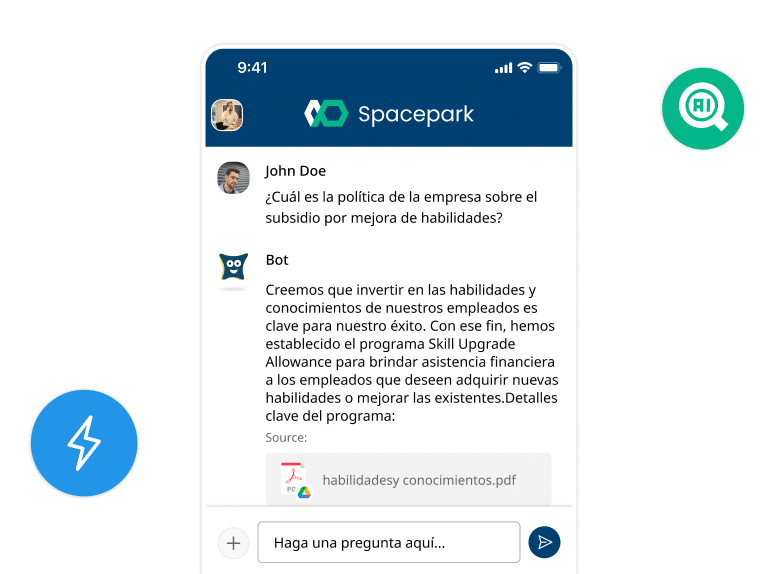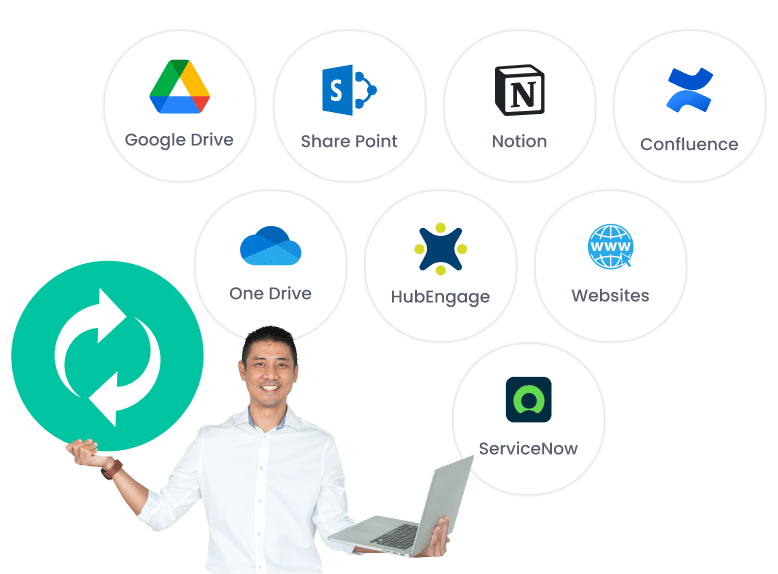 Sync all your data sources into HubEngage – Document repositories (Google Drive, SharePoint, OneDrive), LMS, Knowledge Bases, Support Sites, Help Desks, Websites and more. Our AI search can automatically scan through all your data and present relevant answers combining information from multiple sources.
We understand that in an enterprise not every employee has access to every document. Our AI search has security and relevance built-in to provide the most accurate answer to employees based on documents they have access to. You can manage information access from our easy to use Admin Portal.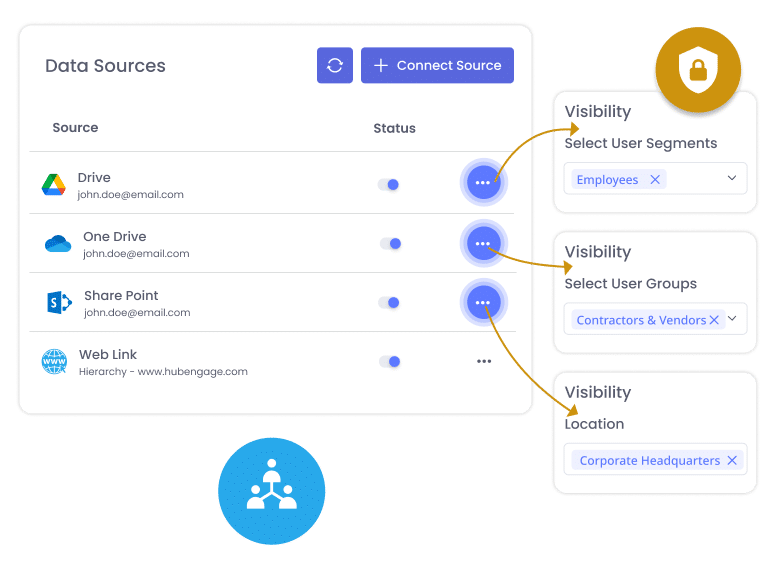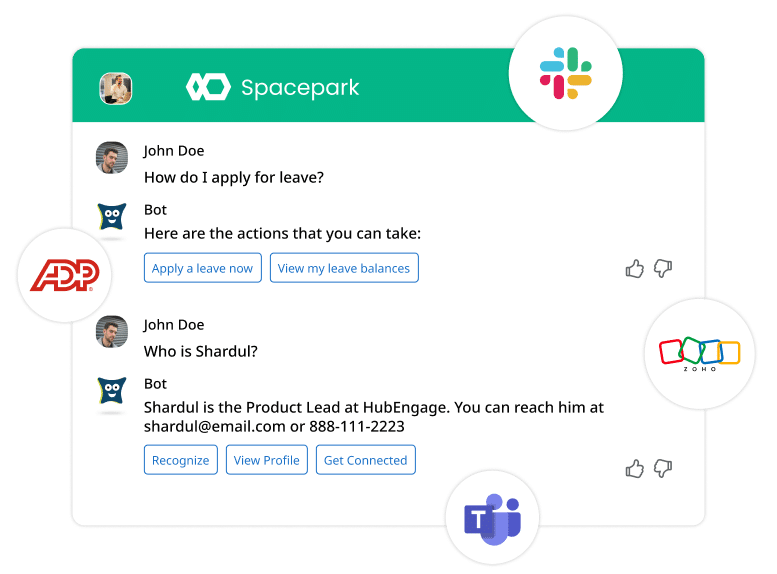 Eliminate the need for your employees to access multiple platforms and increase productivity. Our AI Search can not only provide relevant answers but also lets employee take actions like applying for a leave, filing a ticket, submitting a form, viewing a colleagues profile or messaging a team member.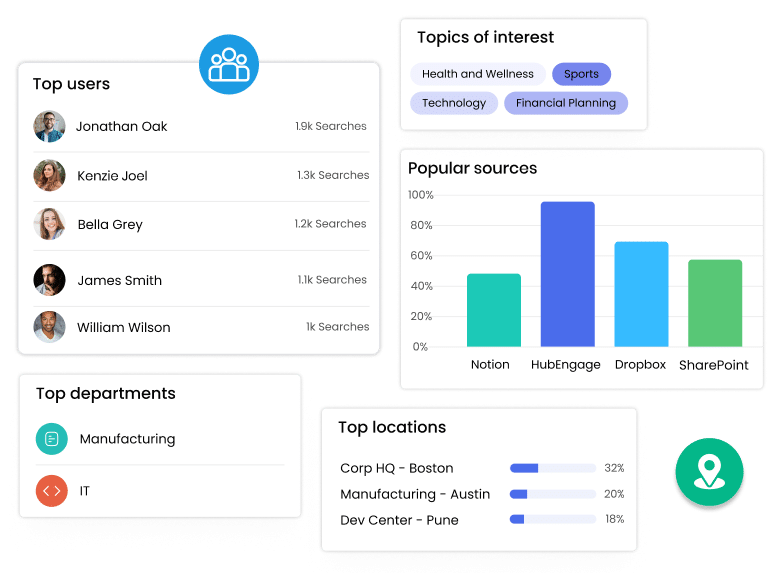 Get all the search insights you need including information on top users, locations and departments. Know the popular sources, questions and topics of interest. Find gaps in your data and drive communications to close the loopholes.
HubEngage's AI Search Bot can be accessed standalone on Desktop and Mobile, or embedded into your existing website, apps, SharePoint or MS Teams. Our AI Search Bot is available no matter where your employees are.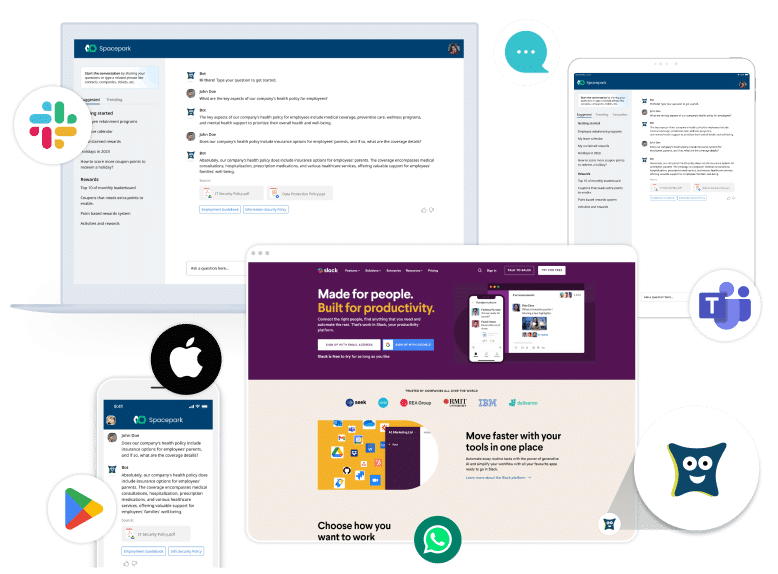 Your data is secure and backed up in a private enterprise grade cloud. Our AI Search bot comes with ISO 27001, SOC 2, HIPAA and GDPR compliance.
We were able to be aggressive and launch in about six weeks and from there the engagement with us for any issues, helping us get menus and content populated–it's been a great experience
Having the employee app, using HubEngage, has been a huge improvement in the company's culture and has improved communication as well. We have received a lot of feedback from employees saying that they absolutely love that we have the app.
There were a couple of times that we were breaking what the platform was meant to do–HubEngage did not look at it as a static product, here you have it–now go make the best of it. It's that type of partnership that goes along with the technology that really strengthens the buy in from our side, that the team supporting us at HubEngage wanted us to see what we've envisioned in our heads. You don't get that as much with companies we've worked with in the past. That was one of the reasons we chose HubEngage and stayed.
Learn more about instant messaging app