Employee retention is important in every industry, and the fitness industry is no exception. After all, finding an outstanding fitness trainer and keeping him or her on your team is no easy task. The costs of employee turnover are both immediate and long term, and the better you are able to recruit, hire, and retain your fitness trainers, the less those costs will affect your business. Employee mobile apps can help.
Competitive compensation packages are part employee retention, of course, but sometimes it is innovative extras that can make the difference in retaining excellent employees. Increasingly, employers are leveraging employee mobile apps to cut out bureaucracy and improve communication, motivating employees to succeed and stay on a team to help accomplish personal and business goals.
Fitness Trainers Rely on Their Mobile Devices
Fitness trainers, by definition, are on the go much of the time. They are not going to spend time behind a desk sorting through memos and filling out forms. Mobile devices and employee mobile apps are the keys to ensuring they can accomplish the necessary administrative aspects of their jobs without sacrificing time spent with clients. The options for employee mobile apps are almost limitless. You can push key notifications to devices, request feedback, and even deliver corporate training in "bite-sized" modules that your trainers can complete in those brief periods of downtime. This way, employees remain engaged and informed, without giving up time doing what they do best: training their clients.
Satisfy Their Thirst for Information
Employee mobile apps can be a terrific way to keep your fitness trainers informed and up-to-date on industry knowledge. Apps can push important industry news or results of fitness studies right to their devices, so they can fine-tune their knowledge, answer client questions, and provide the best possible services.
When work-related changes occur, like a change in holiday hours or the delivery of a new piece of equipment, employee mobile apps are perfect for keeping everyone in the loop and ready to use the information to its best advantage.
Remind Them of Key Benefits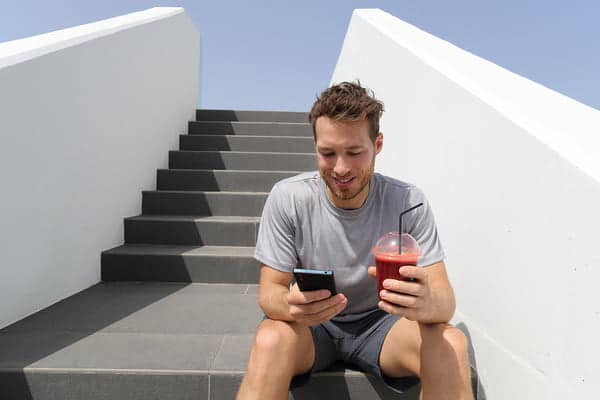 Employee benefits can help greatly with employee retention too, yet it is easy for employees to forget about things like employee discounts and other perks. Apps are excellent tools for communicating key benefits and reminding employees that you value them. You can use employee mobile apps to automatically collect and analyze data from app usage, so you can see right away which content your employees engage with most. App analytics allow you to improve apps so they answer the needs and wants of your particular employee mix, letting them know through your actions that they are important team members and their contributions to your company's success are meaningful and appreciated.
Inject Elements of Fun While Helping Them Keep Skills Fresh
Corporate training is a necessity for most businesses, yet nobody really looks forward to spending hours inside a dull classroom watching PowerPoint slides. That is one reason why using employee mobile apps to deliver training is so powerful and effective. The scope for creativity in mobile training apps is practically endless. You could, for example, develop a training game, complete with levels, scores, leader boards, and even prizes for certain accomplishments. The apps themselves gather critical data showing you where your training is effective, and where there is an opportunity for improvement.
Are you interested in sharpening your competitive edge when it comes to hiring and retaining the best fitness trainers? Maybe it is time to explore the possibilities for employee mobile apps. In fact, you can try the hubEngage app for free. It is a fully customizable employee app platform, designed to help you put your own custom blend of engagement features to work for your team.
Download The Ultimate Guide to Planning Your Employee Experience Platform
To truly empower employees and optimize productivity, you need more than a communications tool. This guide frames the employee experience platform planning process and how to create the work environment your organization needs.