Employee engagement leads to better safety in the workplace. Studies conducted by Gallup and the Queen's School of Business reported that disengaged workers have 49 percent more accidents than engaged workers. Less-engaged employees also have higher rates of absenteeism, make more errors, and are less productive overall.
Disengaged employees generally will not report minor accidents, injuries, or hazards. There will be minimal participation in safety committees or any meetings. And will rarely show any respect for any of the safety regulations that are in place.
Developing a custom employee app to improve workforce engagement has become a standard practice in many industries because it is a cost-effective method of improving communication, delivering training, and generally improving the sense of mission and cohesiveness among employees.
Employee apps are also an excellent tool for improving workplace safety. Since workplace injuries cost US employers nearly $62 billion in 2013 (the most recent year for which there are statistics), reducing safety violations is and should be a top priority throughout the economy. Here are six ways to promote safety with your employee app.
1. Use Your Employee App to Deliver Safety Training
Employee apps represent an effective, convenient method of delivering safety training (and many other types of workplace training as well). Learning science research has found that "bite-sized" training modules are more effective than the traditional "data dump" training programs of the pre-internet days, especially when learning content is delivered multiple times, at a decreasing frequency.
For example, you could present a safety training module for the first time on a Monday, then a slightly different presentation of the same material in another training module on Wednesday, then do the same thing the following Monday, and a week from that Monday to maximize the opportunity for your workers to assimilate knowledge and be able to recall it.
2. Ask for and Provide Feedback
Employee apps can be the ideal portal for receiving employee feedback on a variety of subjects, including safety. If part of your app allows an employee to, for example, report on an unsafe condition quickly and easily and be confident someone will follow up, you can make the workplace safer with a small investment of time and resources. An employee could, for instance, quickly report a burned-out light in a stairwell through their app.
Apps are great for delivering feedback too. Suppose employees end the workday between 5 and 6 p.m. and have about a 5-minute walk from their workstation to the parking lot. That is a terrific time to deliver "just in time" safety messages, like "Rain is moving into the area. Drive safely and be sure to turn your headlights on."
3. Use Your Employee App to Recognize Excellent Practices
When someone spots a small fire in the break room due to someone leaving a hot plate plugged in, but quickly grabs the nearest fire extinguisher to put it out, and then reports the situation, that kind of quick and responsible thinking can be recognized via the employee app. Not only could a safety officer thank that person personally, but the narrative could also be delivered to all workers to remind them of good safety practices and recognize the employee who acted quickly.
Positive reinforcement is highly effective, whether you want to encourage good safety practices or any other good workplace practices, and your employee app is the ideal medium through which to deliver positive reinforcement.
4. Use Push Notification to Deliver Safety Reminders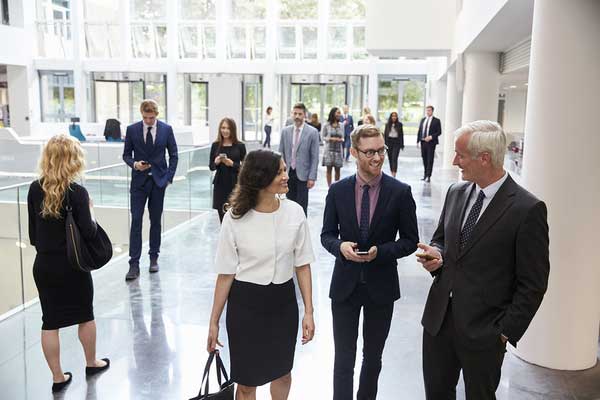 The strategic use of push notifications on employee apps is an amazingly effective way to deliver information and be confident that it is taken in by employees. Safety reminders sent as push notifications at strategic times can be a powerful method of passing along important information.
For example, say hardhats will be required in a certain part of the workplace starting the first of next month. This information can be transmitted to all affected employees at intervals in the preceding several weeks. Location-triggered notifications can also be issued when employees approach the affected part of the workplace to remind them that hardhats are required, at least until everyone is used to the new safety rule.
5. Offer Pop Quizzes with Prizes
If you have an excellent workplace safety record, then that is cause for congratulations. Still, it is important to intermittently bring up the topic of workplace safety to keep everyone alert to possible safety issues. One fun way to do this using your employee app may be to issue random pop safety quizzes. You could even offer prizes (like gift cards) for the first dozen people to successfully pass the quiz.
Sometimes all it takes to remind people of good safety practices is a simple, multiple-choice quiz that spells outright and wrong ways to handle unexpected safety issues. Incentivizing completion through offering small rewards can ensure that as many employees as possible participate.
6. Allow Your App to Act as a Portal to Specific Job Safety Apps
Finally, your employee app can serve as a gateway to more specific safety apps for employees who may need them. Today there are apps produced by respected organizations like the Red Cross on safety topics ranging from first aid to ladder safety to office ergonomics. You can even find apps that measure noise levels and advise whether hearing protection is needed.
An employee visiting a client site where hazardous chemicals are stored, for instance, could use the employee app to access the Chemical Hazards Pocket Guide for quick industrial hygiene information. When your workers can use their employee app to access job-specific information quickly and easily, they are more likely to take a moment to prepare than they might be if access to important information is more limited or harder to access.
The possibilities for the custom employee app are almost unlimited, and one of the best uses for employee apps is as a delivery method for critical workplace safety information. The fact that employee apps improve employee engagement, in general, makes the combination of apps plus safety content a powerful one. Not only can you deliver safety training via employee app, but you can also quickly inform workers of unexpected safety issues, periodically quiz them on safety practices, and connect them with job-specific apps that help them work more safely every day.
With HubEngage, you have the perfect platform to create your unique, customized employee app that can be the ideal conduit for providing your employees with the safety information they need. With the power, flexibility, and ease of use HubEngage offers, you can set the conditions for a workforce that is more engaged in their work, with the result being a more motivating workplace that is safer and more inspiring for everyone. Why not try the HubEngage employee engagement app for free? See for yourself what a powerful, effective, enjoyable engagement tool a custom employee app can be.
Download The Ultimate Guide to Planning Your Employee Experience Platform
To truly empower employees and optimize productivity, you need more than a communications tool. This guide frames the employee experience platform planning process and how to create the work environment your organization needs.