Employee Recognition Platform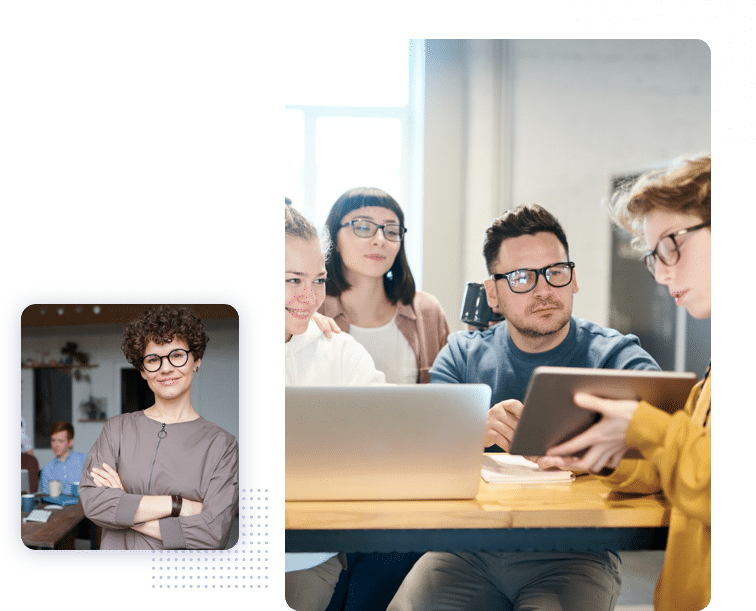 Employee Recognition Hub: An Employee Rewards and Recognition Platform
There is no better motivation for an employee than for someone to notice the hard work and dedication that they put into their job. Often, employees seek other employment because they feel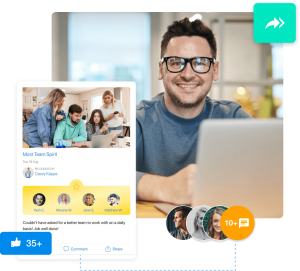 as though they are unnoticed or their extra work is not appreciated. Nothing will drive your employees out the door quicker than a lack of recognition.
What does it mean, in terms of employee engagement software, to reward and recognize employees? The solution to this problem is easier than it seems. Let's find out what HubEngage can do for your business and the rightful recognition of your employees.
How HubEngage Employee Recognition Hub Works
Recognition is an acknowledgment of someone or something. That doesn't mean that the HubEngage Employee Recognition Hub product can only be used for work-related recognition. The opportunities are endless in making your employees feel important.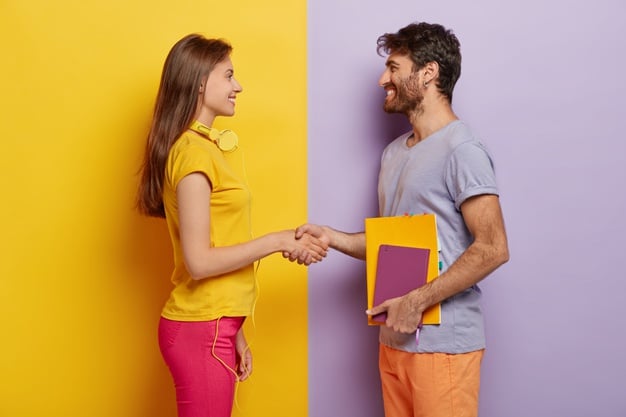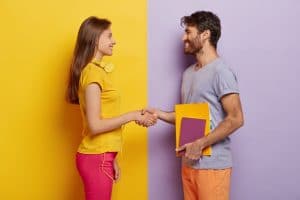 There are several different parts of the reward and recognition hub to explore. HubEngage makes it easy for you to consistently recognize your great employees while rewarding them for a job well done.
Platform Offering
The HubEngage Employee Recognition Hub provides you with the following recognition and reward opportunities:
Automate Milestones – Never forget an employee's birthday or work anniversary again with the automated milestone recognition feature. The automated platform will send out scheduled recognitions automatically, including points or enabled gift cards.
Recognize Achievement – Create your own great recognition program that aligns with your company's values and mission. Recognize the employees that contribute to those values or meet their goals.
Peer-to-Peer – Not only does your recognition go a long way, but so does peer recognition. When employees boost the confidence of their co-workers, it can change the atmosphere. You can enable your employees with the ability to recognize one another through the HubEngage platform.
Incentives for Recognition – You can add points to recognitions that can be accumulated and used to cash in for actual rewards.
Improve Morale – By including the other employees in the recognition process, you are essentially able to boost workplace morale. When employees congratulate and appreciate one another, there is a higher level of respect.
Notifications and Email – Allow HubEngage to send out push notifications and emails to those who are recognized. Pair with the display solution through HubEngage for a more public recognition process.
Analyze and Track – Use the reporting area of the platform to identify the employees who are recognized the most and see who is motivating their co-workers through the platform. You can easily learn who your top-performing employees are.
Why HubEngage Makes Recognition Easier
The power of recognition is not something to be taken lightly. Compliments and gratitude for a job well done, remembering a birthday, and telling someone happy work-a-versary can create a positive workplace culture and atmosphere. Don't you like it when your peers or higher-ups notice you?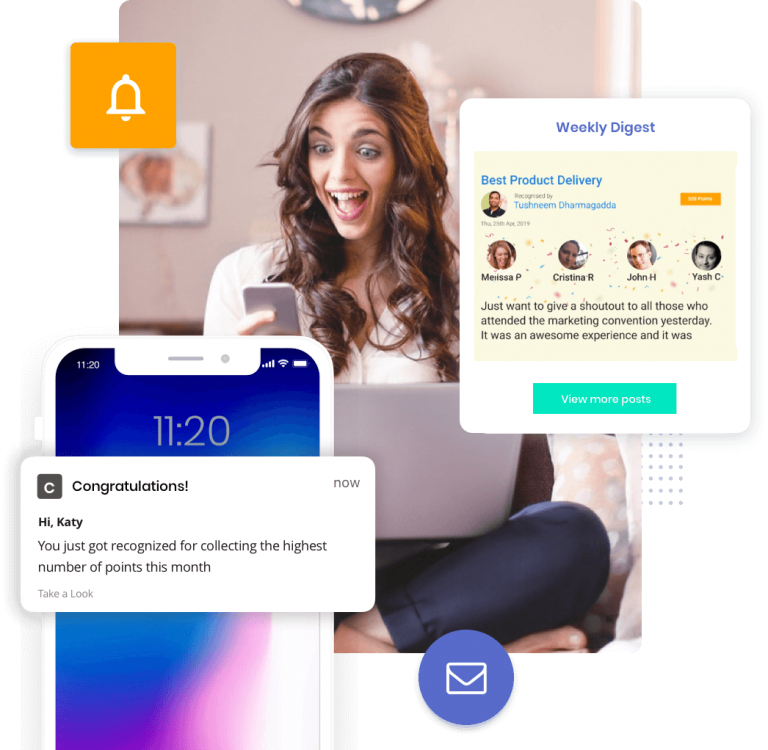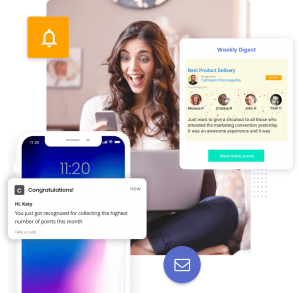 HubEngage makes recognition simple to engage. As a manager, you are busy, and you possibly oversee hundreds of employees. There is no way anyone can expect you to remember every single birthday, anniversary for date of employment, and see every good deed. You can automate the milestones, taking it out of your hand to remember (while remembering). The analytical side of the Recognition Hub can make it easier to see those who are being recognized by peers for a job well done, providing you with the list of those who should receive your praise and possibly be rewarded.
The ability for peer-to-peer recognition is a game-changer in the employee engagement software industry. Too often, employees don't even know who one another is, let alone want to talk to each other. With HubEngage, the playing field is informal with no stress. Employees can communicate with one another via the company's social interface. Recognizing each other on the platform breaks the barriers, facilitating a stronger workplace culture and better relationships within the office.
The Power of Recognition
When it comes to handling social recognition in the workplace, you might be tempted to hire someone to handle these types of tasks. What if we told you that using a pro level global employee engagement software solution like HubEngage was a more affordable solution? The Employee Recognition Platform has the ability to organize any data entry and report it quickly and efficiently at a moment's notice.
Don't take our word for it. Check out the reviews on our website of our satisfied customers.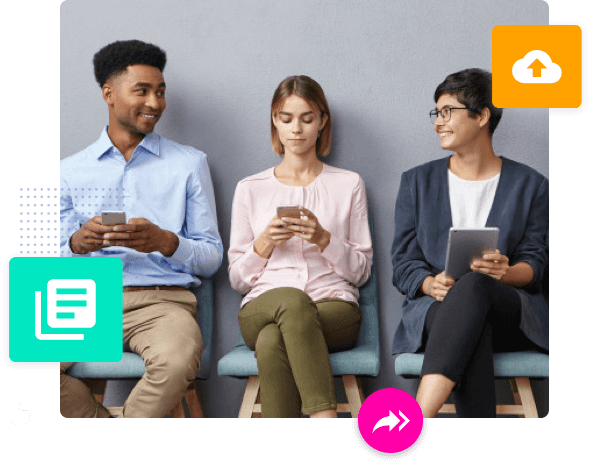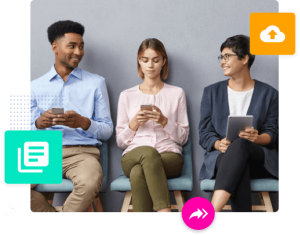 HubEngage lets you take your employee recognition to the next level when paired with more of our engagement solutions. Through the use of digital displays, you can showcase, announce, and stream throughout your company, letting everyone see the important information and updates from your social platform. Like all the other experiences, you can create rich content experiences for your employees, even while recognizing them.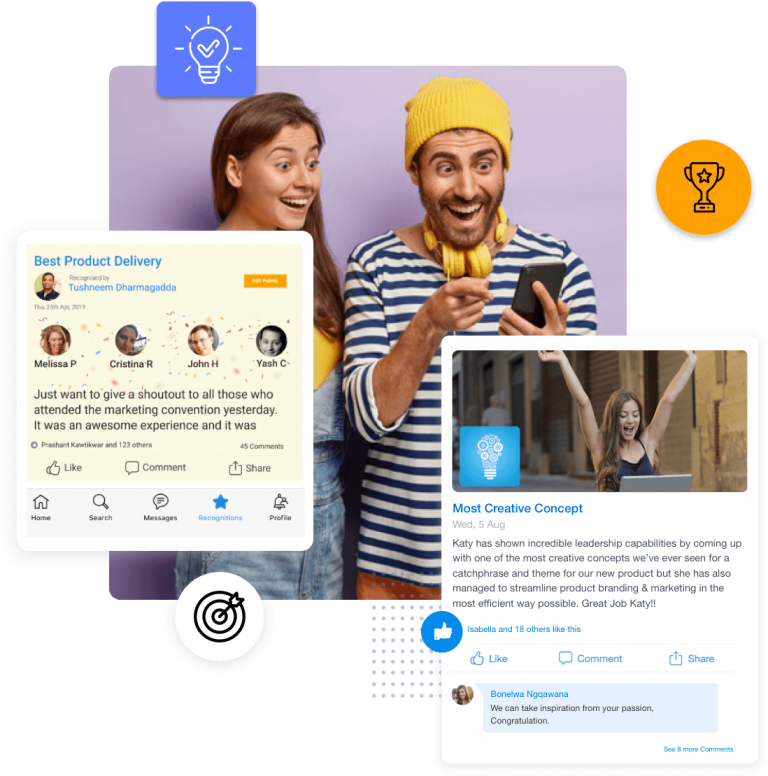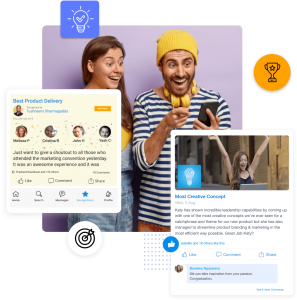 Let employees use their points that they accumulate through various tasks, such as surveys and recognition, and trade them in for great rewards. Recognition and rewards go hand-in-hand to create a positive working culture.
Ready to see what the HubEngage employee recognition platform can do for you? Sign up for your personalized demo today.
Trusted worldwide:
In our customer's voice
"HubEngage is always looking for the cutting edge things to do, are open to every idea, and are ready to implement in the next couple weeks or months. The customization is nice to have. We have a great personal relationship with a quick response rate for any issue."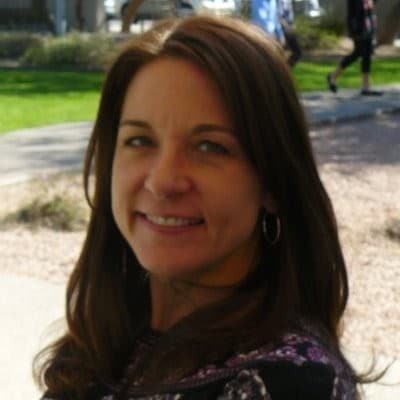 Alexis Strizich, Business Systems Project Manager
M-Culinary Concepts


"We know that each associate can have a huge impact on the overall guest experience and ultimately on the property's bottom line. Regular users of the app have better cultural awareness and help to drive hotel profitability. After all, happy, engaged team members create happy, engaged guests and a healthy bottom line."
Lizz Chambers, Vice President
Associate Engagement | Newport Hospitality Group, Inc.

"After evaluating a number of competitors, we chose hubEngage based on the quality of their user experience. They have been extraordinarily responsive to all of our questions (and we have a lot of them!). They take the time to walk us through everything."
Digital Marketing
Great Dane Trailers

"Their platform is incredibly well thought out, the back-end provides easy access for countless tasks, and their client service for any "out of the box" ideas we come up with is fantastic. Our retailers couldn't be happier with the app and we couldn't be happier with our decision in choosing hubEngage."
Brandon Lee
Retail Training & Engagement | Smartwool / VF Corporation

"The hubEngage app has been a wonderful engagement tool for our company. Not only is it easy to navigate, but it's also easy to measure the results of our initiatives and goals via the comprehensive reporting dashboard."
Sarah Schaffstall
Marketing and Sales | Pengate Handling Systems, Inc.

"With MyESA, our associates can learn more about the company they work for and how they can grow as part of it. We also believe that this app allows each of our associates to be ambassadors for Extended Stay America and is a great tool that will help us attract new associates."
Sid Levy
VP of Talent Management & Associate Engagement | Extended Stay America