Digital Signage for Internal Communications - The Best of 2023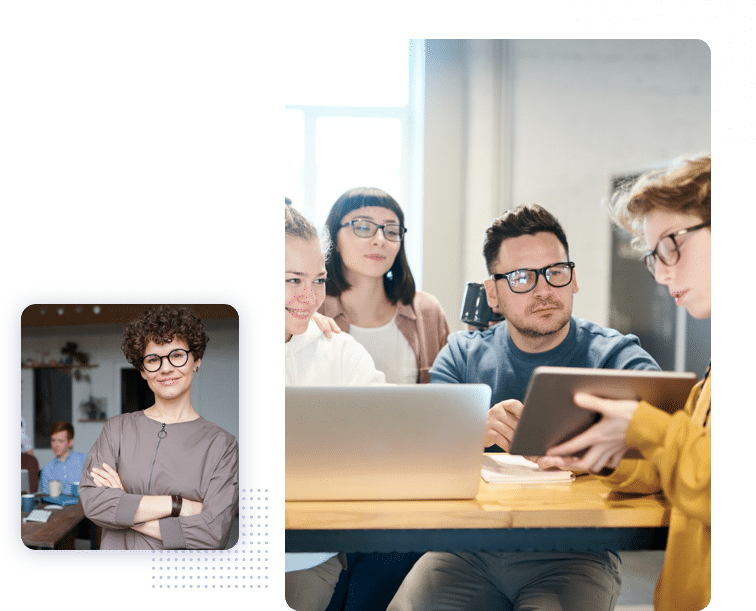 Digital Signage for Workplace Communication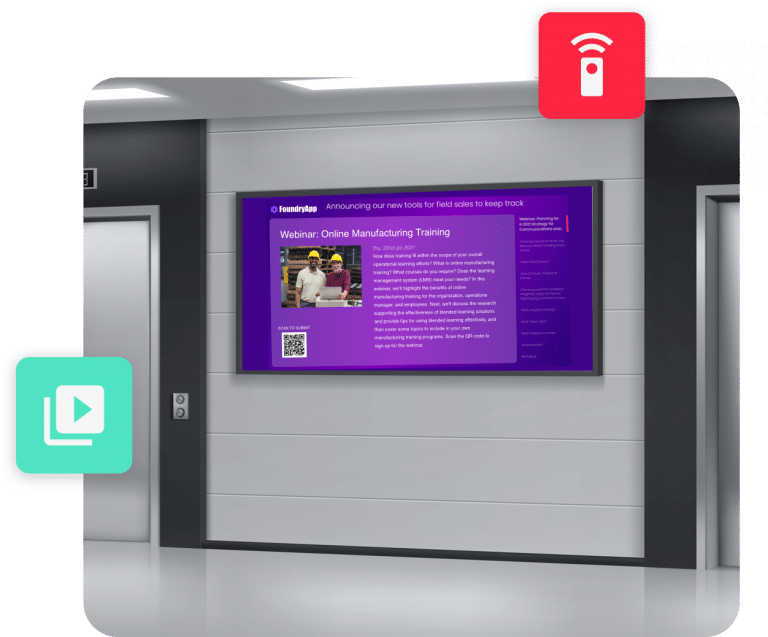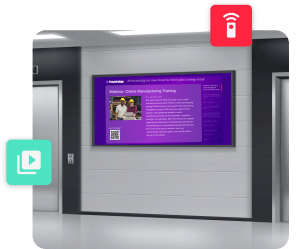 Do you struggle with relaying information to your employees across multiple sectors? Many managers and companies struggle to communicate, especially if they are a larger-scale corporation. The problem with ignoring this problem is that employees become disengaged, often feeling unappreciated in the workplace. You can change how your company information is relayed to your employees – by using digital signage for your employee communications.
Why Use Digital Signage for Employee Communications/Communication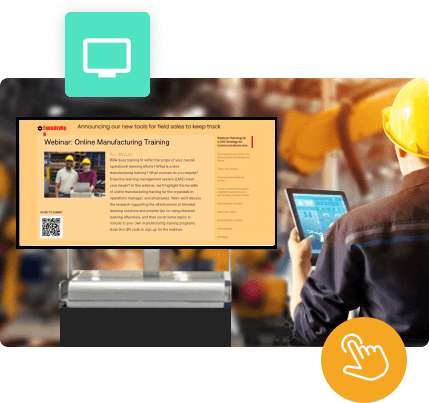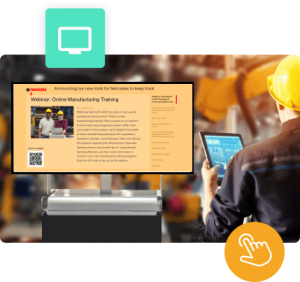 Digital signage for employee communication is a one-to-many approach to internal communication with your employees. Where many approaches to internal communication rely solely on speaking directly with one or two employees, digital signage addresses all of your employees.
Some argue that employees don't need to know everything, especially things they are not entitled to knowing. While there are pieces of information that they will not be privy to, they generally need to know the what and the why of the information for the employee to know.
How Digital Signage Works in Your Company for communication
The goal of using digital signage inside your company is to relay information to your employees so that the maximum number of individuals is reached. These signs are large digital screens that relay the information you want visible to all employees and visitors within your company.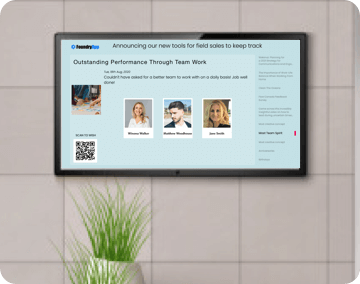 You may see these screens showing social media posts about the company, employee recognition, and other forms of engagement.
If you still aren't sure exactly what a digital sign is, think of an airport terminal. In an airport terminal, you often see large screens that show the current flights, the gate numbers, and the arrival and departure times. These are a form of digital signage being used by the airport to provide information to passengers and their families about incoming and outgoing flights.
Digital signage in your company can be used in the same ways – guiding, inspiring, and engaging.
Digital Signage for Employee Communications/Communication - Get More Than One Point Across
There are many different ways you can incorporate digital signage into your company's communication structure.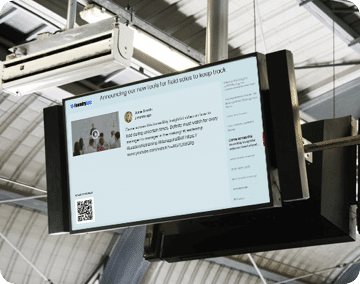 The use of these screens provides you with a way to showcase and stream content from anywhere with digital display signage. Use a scrolling news feed to provide news, social media feeds, announcements, and other information to your employees. Set them up in break areas or on main office floors.
You can also set up these types of digital signs in your reception areas and main lobby to ensure that visitors know where they need to go upon arrival and important news about your company. One platform can help with communications, social feeds, recognition, microlearning, and more.
Internal communications digital signage is a powerful tool for businesses looking to improve their employee communications. By using digital signage, companies can easily disseminate important information to employees in real-time, such as updates on company policies or upcoming events. This can help to keep employees informed and engaged, and can also reduce the need for printed materials, which can be costly and time-consuming to produce.
Internal communications digital signage can be used in a variety of ways, such as displaying company news and announcements on screens in common areas, or providing training and educational content through interactive kiosks. Additionally, digital signage can be used to communicate specific information to employees in different departments or locations, such as shift schedules or safety alerts.
Overall, internal communications digital signage can be a valuable asset for businesses of all sizes, helping to improve employee engagement and productivity, while also reducing costs associated with traditional forms of communication. By leveraging the power of digital signage, companies can ensure that their employees have access to the information they need, when they need it.
Using Internal Communication Screens is Beneficial
Digital signage for your communication with employees is a beneficial tool that increases engagement and provides a platform for more employee interaction.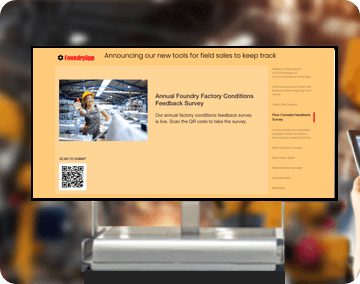 You may be handling multiple segments across your company, making it necessary to coordinate your digital signage to correspond with the correct segment.
With the right digital signage platform, you can direct your content to the areas you want it to go. Being a manager is already hard enough, but trying to make sure the right employees receive the right information in a timely fashion can be a lot more than you have time for. Many companies choose to turn to an employee engagement platform (like HubEngage) to handle the finer points of engagement and automated services.
Why Communicating with Employees Changes the Workplace Dynamic
Have you ever wondered why employees leave jobs that they seem to love? In most circumstances, it is the lack of communication and acknowledgment that pushes them to find an alternative work environment.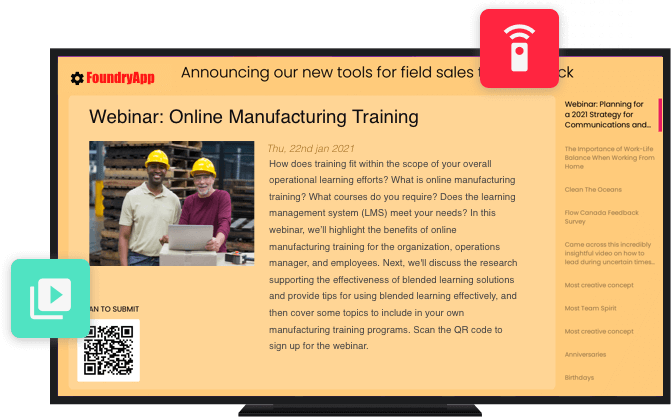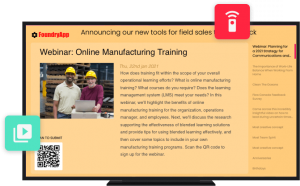 If you have ever meant to keep in contact with someone but ended up forgetting or the time slipped by you, that can be what it feels like when you are a manager – you have good intentions but no ability or time to follow-up and follow-through.
You would be surprised just how much communication within the workplace changes the entire dynamic. When employees are happy and engaged, they are more productive, and retention rates are higher. Why wouldn't you want to learn more about setting up an internal communications measure that can help inspire employees, increase morale, and your retention rate?
Why You Need HubEngage
HubEngage is your one-stop-shop for employee engagement software. We handle all of the various platforms you may find yourself in need of, including:
We bring this to you through a series of platform channels that can be intrinsically combined. From our software as a service (SaaS) product, you can gain access to tools such as:
Through HubEngage platforms and employee engagement software, you are opening your company up to a more satisfied employee pool. Our digital display platform brings all social feeds, company information, specialized communications, news, and more to your employees through targeted segment channels. Through the multi-channel approach, you can reach all of your employees, no matter where they are.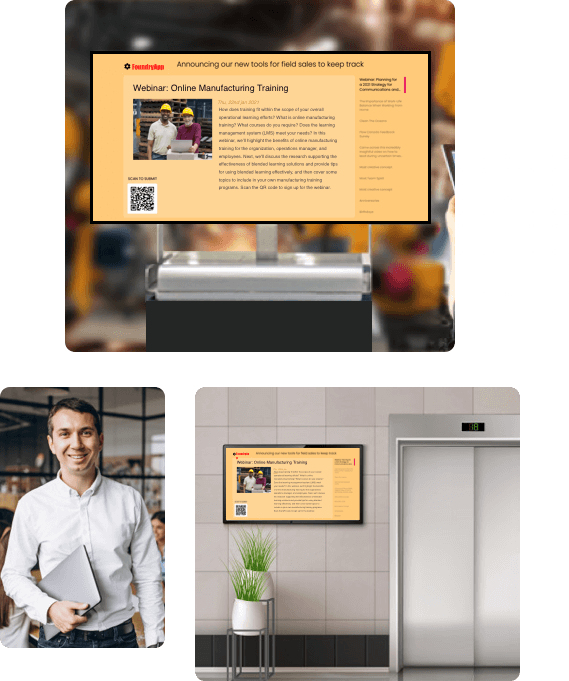 HubEngage experts are available to help train and answer questions when you subscribe. These experts train you on how to use your selected platforms for all areas of the employee communications experience. The customer success team at HubEngage is also available to help you 24/7 to assist with best practices and strategic support. Once you integrated and begun using the digital signage platform, you will see just how much more engaged employees become in a short amount of time.
If you are ready to experience HubEngage, schedule your personalized demo today. We provide you with a demonstration that is suitable for your industry, not a generic presentation. We handle all types of industries, including:
As you can see, HubEngage is compatible with almost any industry, making it possible to increase engagement among your employees. Let HubEngage take care of the different areas of engagement in your company – inquire about your demo today!
Engage across multiple channels
Our multichannel approach with mobile apps, web-based intranet, emails, text messaging and digital displays helps you reach and engage 100% of your employee population anytime, anywhere.
Pick the solutions you need to engage
HubEngage's employee engagement platform allows for companies of all sizes to solve for their unique needs from communications to recognitions to employee feedback.
Pick one or pick all based on your need.
Let's get your employees connected and engaged.