Using Digital Signage for Employee Communications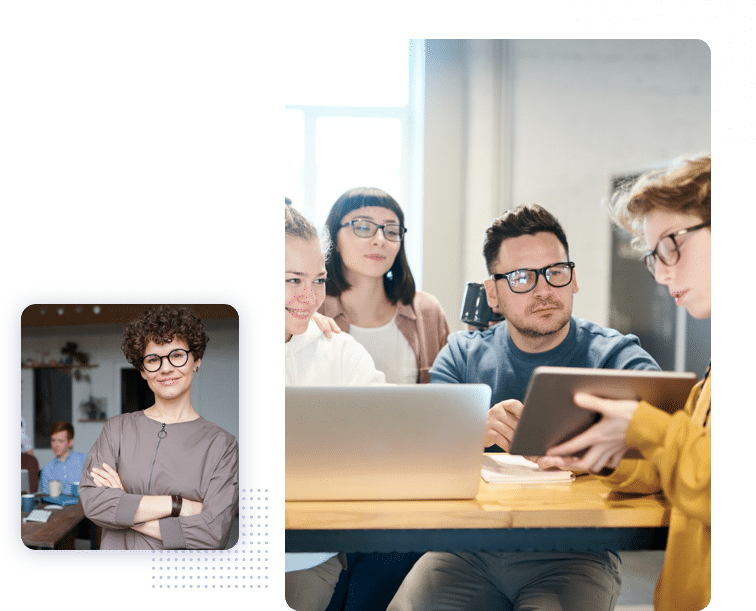 Digital Signage for Workplace Communication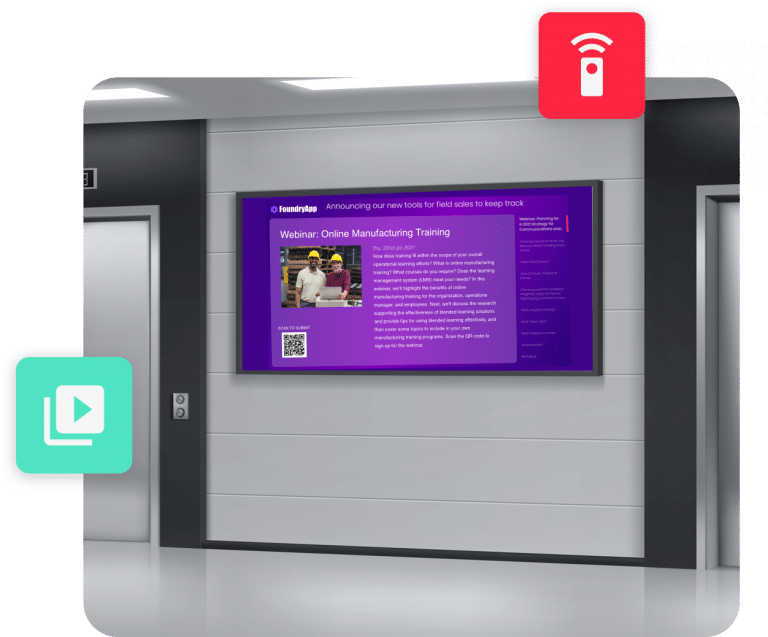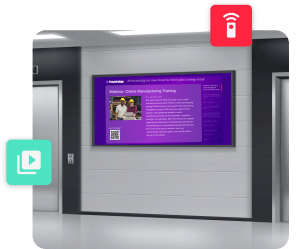 Do you struggle with relaying information to your employees across multiple sectors? Many managers and companies struggle to communicate, especially if they are a larger-scale corporation. The problem with ignoring this problem is that employees become disengaged, often feeling unappreciated in the workplace. You can change how your company information is relayed to your employees – by using digital signage for your employee communications.
Why Use Digital Signage for Employee Communications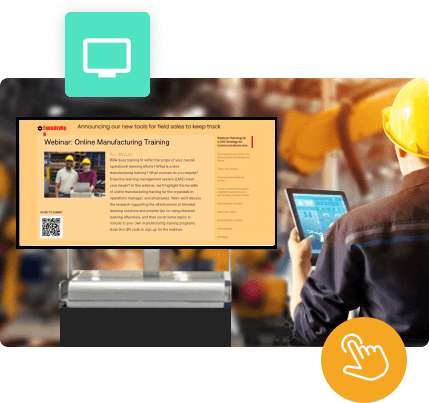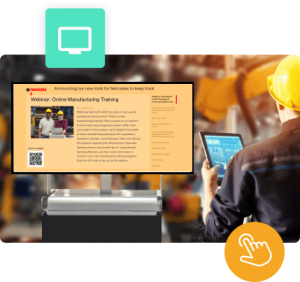 Digital signage for employee communication is a one-to-many approach to internal communication with your employees. Where many approaches to internal communication rely solely on speaking directly with one or two employees, digital signage addresses all of your employees.
Some argue that employees don't need to know everything, especially things they are not entitled to knowing. While there are pieces of information that they will not be privy to, they generally need to know the what and the why of the information for the employee to know.
How Digital Signage Works in Your Company
The goal of using digital signage inside your company is to relay information to your employees so that the maximum number of individuals is reached. These signs are large digital screens that relay the information you want visible to all employees and visitors within your company.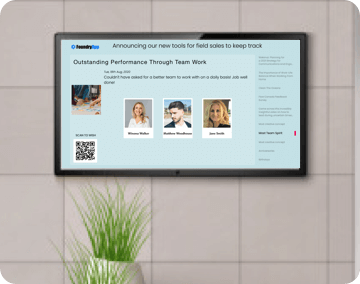 You may see these screens showing social media posts about the company, employee recognition, and other forms of engagement.
If you still aren't sure exactly what a digital sign is, think of an airport terminal. In an airport terminal, you often see large screens that show the current flights, the gate numbers, and the arrival and departure times. These are a form of digital signage being used by the airport to provide information to passengers and their families about incoming and outgoing flights.
Digital signage in your company can be used in the same ways – guiding, inspiring, and engaging.
Digital Signage for Employee Communications - Get More Than One Point Across
There are many different ways you can incorporate digital signage into your company's communication structure.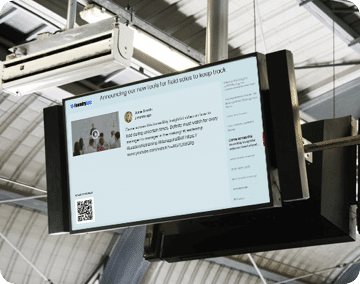 The use of these screens provides you with a way to showcase and stream content from anywhere with digital display signage. Use a scrolling news feed to provide news, social media feeds, announcements, and other information to your employees. Set them up in break areas or on main office floors.
You can also set up these types of digital signs in your reception areas and main lobby to ensure that visitors know where they need to go upon arrival and important news about your company. One platform can help with communications, social feeds, recognition, microlearning, and more.
Using Internal Communication Screens is Beneficial
Digital signage for your communication with employees is a beneficial tool that increases engagement and provides a platform for more employee interaction.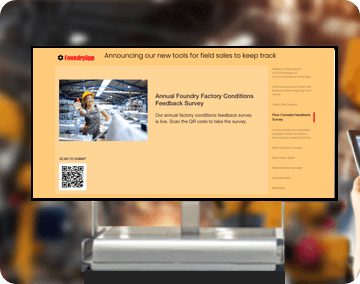 You may be handling multiple segments across your company, making it necessary to coordinate your digital signage to correspond with the correct segment.
With the right digital signage platform, you can direct your content to the areas you want it to go. Being a manager is already hard enough, but trying to make sure the right employees receive the right information in a timely fashion can be a lot more than you have time for. Many companies choose to turn to an employee engagement platform (like HubEngage) to handle the finer points of engagement and automated services.
Why Communicating with Employees Changes the Workplace Dynamic
Have you ever wondered why employees leave jobs that they seem to love? In most circumstances, it is the lack of communication and acknowledgment that pushes them to find an alternative work environment.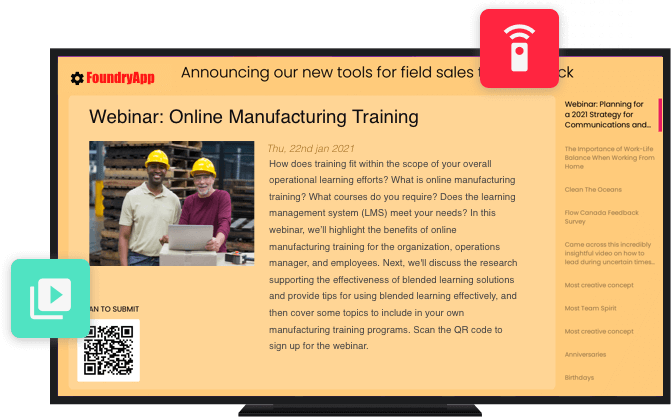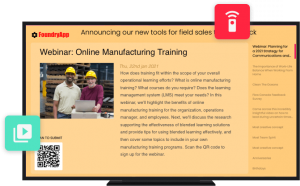 If you have ever meant to keep in contact with someone but ended up forgetting or the time slipped by you, that can be what it feels like when you are a manager – you have good intentions but no ability or time to follow-up and follow-through.
You would be surprised just how much communication within the workplace changes the entire dynamic. When employees are happy and engaged, they are more productive, and retention rates are higher. Why wouldn't you want to learn more about setting up an internal communications measure that can help inspire employees, increase morale, and your retention rate?
Why You Need HubEngage
HubEngage is your one-stop-shop for employee engagement software. We handle all of the various platforms you may find yourself in need of, including:
We bring this to you through a series of platform channels that can be intrinsically combined. From our software as a service (SaaS) product, you can gain access to tools such as:
Through HubEngage platforms and employee engagement software, you are opening your company up to a more satisfied employee pool. Our digital display platform brings all social feeds, company information, specialized communications, news, and more to your employees through targeted segment channels. Through the multi-channel approach, you can reach all of your employees, no matter where they are.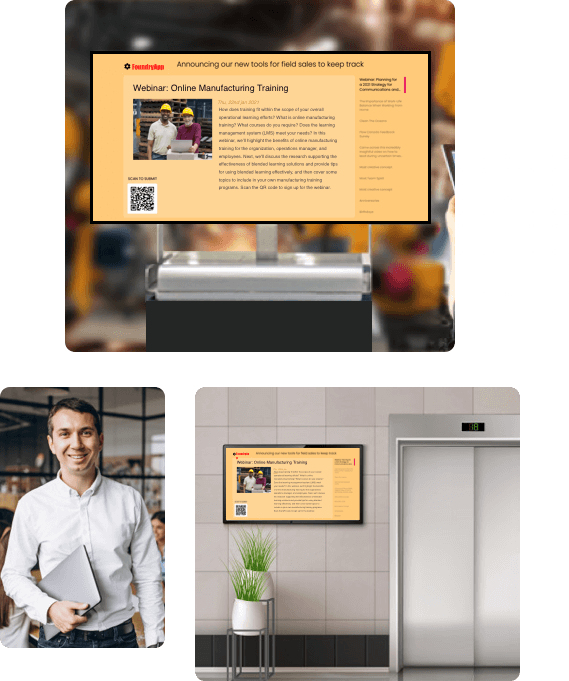 HubEngage experts are available to help train and answer questions when you subscribe. These experts train you on how to use your selected platforms for all areas of the employee communications experience. The customer success team at HubEngage is also available to help you 24/7 to assist with best practices and strategic support. Once you integrated and begun using the digital signage platform, you will see just how much more engaged employees become in a short amount of time.
If you are ready to experience HubEngage, schedule your personalized demo today. We provide you with a demonstration that is suitable for your industry, not a generic presentation. We handle all types of industries, including:
As you can see, HubEngage is compatible with almost any industry, making it possible to increase engagement among your employees. Let HubEngage take care of the different areas of engagement in your company – inquire about your demo today!
Trusted worldwide:
In our customer's voice
"HubEngage is always looking for the cutting edge things to do, are open to every idea, and are ready to implement in the next couple weeks or months. The customization is nice to have. We have a great personal relationship with a quick response rate for any issue."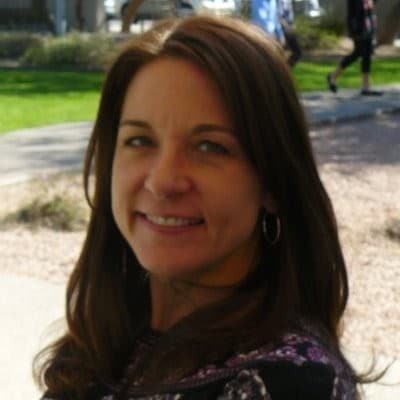 Alexis Strizich, Business Systems Project Manager
M-Culinary Concepts


"We know that each associate can have a huge impact on the overall guest experience and ultimately on the property's bottom line. Regular users of the app have better cultural awareness and help to drive hotel profitability. After all, happy, engaged team members create happy, engaged guests and a healthy bottom line."
Lizz Chambers, Vice President
Associate Engagement | Newport Hospitality Group, Inc.

"After evaluating a number of competitors, we chose hubEngage based on the quality of their user experience. They have been extraordinarily responsive to all of our questions (and we have a lot of them!). They take the time to walk us through everything."
Digital Marketing
Great Dane Trailers

"Their platform is incredibly well thought out, the back-end provides easy access for countless tasks, and their client service for any "out of the box" ideas we come up with is fantastic. Our retailers couldn't be happier with the app and we couldn't be happier with our decision in choosing hubEngage."
Brandon Lee
Retail Training & Engagement | Smartwool / VF Corporation

"The hubEngage app has been a wonderful engagement tool for our company. Not only is it easy to navigate, but it's also easy to measure the results of our initiatives and goals via the comprehensive reporting dashboard."
Sarah Schaffstall
Marketing and Sales | Pengate Handling Systems, Inc.

"With MyESA, our associates can learn more about the company they work for and how they can grow as part of it. We also believe that this app allows each of our associates to be ambassadors for Extended Stay America and is a great tool that will help us attract new associates."
Sid Levy
VP of Talent Management & Associate Engagement | Extended Stay America