Apple recently launched the Vision Pro at it's recent WWDC23. As with any launches in a completely new device category, the price point and form factor of Vision Pro may not appeal to everyone. However, as the technology evolves, price points of electronic gadgets come down and form factors become smaller, more ergonomic, and lightweight. If Apple is able to achieve this with the Vision Pro, it opens up enormous opportunities for enterprises. Let's see why…
Vision Pro blends the digital and real world
Unlike, Meta's Quest Devices which completely immerse you into the metaverse, Vision Pro brings combines both the digital and real world and the virtual world. What this means is that you can look at digital content like Apps or Videos while you are interacting with the objects and people in the real world. If you do not want to be disturbed, you can also immerse yourself completely in the virtual world like the metaverse. This powerful combination allows you to wear the glass for a much longer duration as it does not necessarily interrupt your regular activity. It in fact augments your day to day activities. opens up a lot of possibilities as you don't need to remove the device to experience 2 different worlds and let's you wear the glasses for a longer duration. As Tim Cook summed up – "Vision Pro blends digital content into the space around us."
Vision Pro replaces Macs, iPhones and iPads
Apple's long term strategy is likely to replace all their computing devices, like Mac, iPhones and iPads with Vision Pro. As Tim Cook says in this video, VisionPro is not an accessory but combines the capability of all these devices and more thus eliminating the need for these other devices eventually. Moreover, Vision Pro does not need any other additional accessories or controllers, making it easy to operate.

New possibilities in Enterprise with Vision Pro and AI
In an earlier blog post we talked about how AI can take enterprise search and knowledge discovery to the next level. Now when you combine a transformational device like Vision Pro with AI, you can supercharge employee productivity like never before. While many other blog posts including Apple in their demos have talked about how IT and tech companies can leverage Vision Pro in their workplaces, we take a look at other segments that can be transformed with this combination.
Improvements in Healthcare
Imagine a physician or nurse wearing Vision Pro. The camera recognizes the patient, brings up the patient's history, recent medications and other information. When the physician needs help with medications or other case studies, they can quickly pull up that information and also receive recommendations. And all the while as the physician is having a conversation with the patient, VisionPro takes notes, the AI then summarizes the interaction and saves it back into the medical records of the patient.

Increasing Productivity in Manufacturing
Imagine replacing safety goggles of all workers in manufacturing plants with Vision Pro. Now employees have easy access to information while they are working. Employees can with a flick of fingers or voice ask a question and see safety manuals, standard operating procedures, checklists and more relevant to that particular machinery. Unbeknownst to many Google Glass has seen a lot of use in factories for exactly this purpose but the Vision Pro would take this to the next level.

Transformation in Service Industry – Automotive / Construction / Oil & Gas
Service industries like appliance repair, car servicing centers, oil and gas, and more can also gain a lot from Vision Pro and AI providing technicians instant access to information. Imagine technicians not only looking up history of the vehicle, but information on specific issues, availability of spare parts and more, thus making them more productive.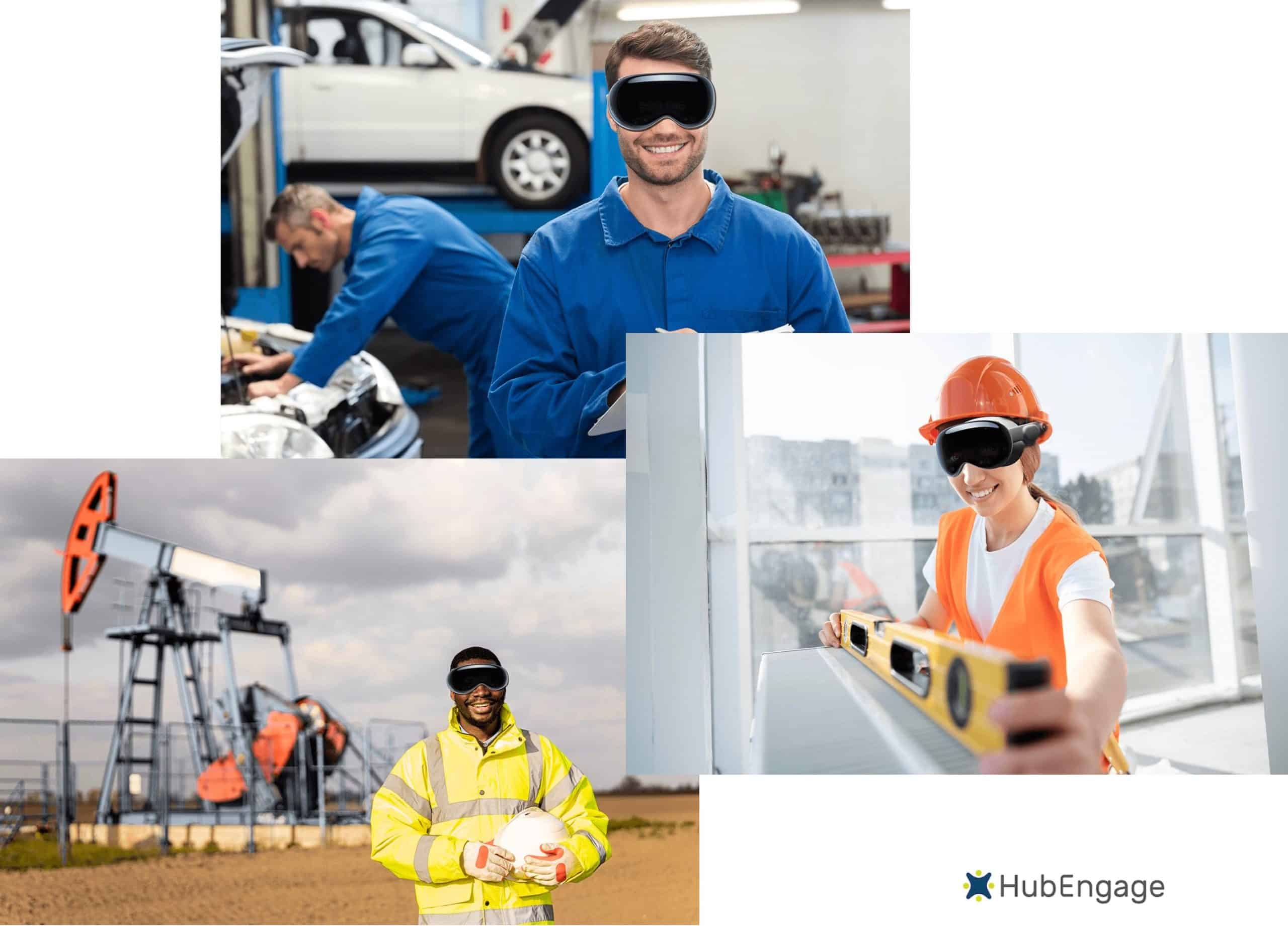 Conclusion
If Apple is able to get Vision Pro to a form factor so they are more comfortable to wear for longer durations and make the price point affordable, Vision Pro will move beyond the standard use cases for white collared workers and gaming. With Employee Communication platforms like HubEngage creating AI based Apps for easy information access on these devices, Vision Pro opens up a whole new set of possibilities.