The term "employee engagement" covers a wide variety of factors and potential solutions. However, using technology to boost employee engagement can give your organization a more specific goal. When you improve internal communications and encourage employees to communicate more with each other as well as with management, you create a more fulfilling workplace ecosystem.
From improving employee motivation to gaining buy-in for changes in your organization, the following tech-focused strategies will help you boost employee engagement and increase productivity in the workplace.
Get Useful Feedback
Most of today's organizations use surveys and other tools to get feedback from employees. What you might not know, however, is that the quality of the tool matters when you want your workforce to deliver useful insight. Gallup recommends crafting questions whose answers will provide actionable results.
For that, you need a tool that lets you customize your surveys. Ideally, you will also want a platform that lets workers talk directly with their leaders because, after all, employees often have feedback even when there is not a survey to circulate.
In terms of the questions themselves, focus on specific queries that you can use to improve the work environment.
Examples of Good Survey Questions:
Do you fully understand your job description and responsibilities?
What changes would you make to the work environment?
How often do managers show appreciation for your hard work?
How would you describe our corporate culture in 10 words or fewer?
Examples of Poor Survey Questions:
Are you happy at work? (Too vague to provide any actionable insight.)
Do you like your leaders? (Again, too vague. It is also confrontational.)
Do you have friends at work? (Irrelevant and somewhat vague.)
Does your manager care about your success? (Calls for the employee to make suppositions.)
As you can see from these examples, the best survey questions either allow employees to expound upon their yes/no answers or ask about specific facets of their jobs.
Make Learning Fun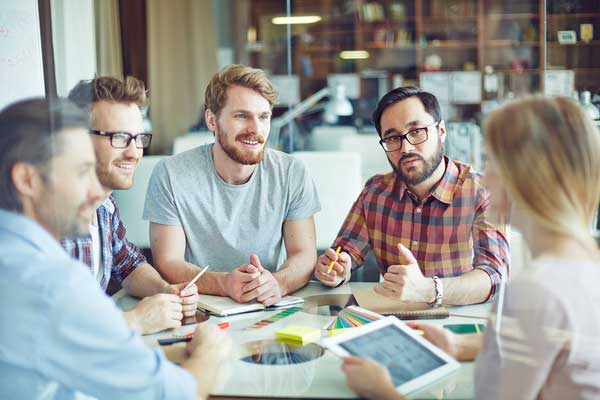 Technology can also help you engage with your employees during training exercises. Just like you, your staff appreciates training that takes less time and involves fewer speeches and tutorials.
Instead of using old-fashioned employee training models, consider shifting to a more fun alternative. Gamification turns learning into a game, such as scavenger hunts or trivia games.
There are currently nearly 200 million gamers in the United States. More than 69 percent of C-level executives use their breaks to play games, and 80 percent of respondents to one survey said that they would feel more productive at work if training involved gamification.
Those are important statistics to consider. Remember that employee motivation has direct ties to employee engagement. Games that incorporate learning and organizational messaging motivate employees to improve their scores, sharpen their skills, and engage in healthy competition with their co-workers.
Ways to Improve Learning Engagement
If you are not sure how to improve employee engagement through fun-oriented learning, you have several options to get started:
Create quizzes about job duties, organizational values, and other facts that you want your employees to know.
Set up a scavenger hunt with bar codes or augmented reality to encourage your employees to participate in hands-on learning.
Allow employees to unlock content as they progress to new levels in your learning system.
You can achieve all of these goals with the HubEngage internal communication platform.
Get Social With Employees
There is no rule that requires you to keep your employees at arm's length. In fact, engaging with employees via social media and other apps can make your organization stronger and more tightly knit.
Apps like HubEngage offer several features that encourage socialization among employees and leaders. Millions of people already use social media, so there is no reason you should not internalize the concept. Let your staff engage in social sharing via an internal app to protect proprietary information and to create an inclusive environment.
Social Interaction Best Practices
Before you start interacting with employees socially, set specific boundaries:
No sharing salary information or other confidential data.
No discussions between colleagues about other co-workers.
No negativity in the social sharing platform.
No sharing internal social posts publicly.
Deliver Push Notifications
Push notifications are not just for your customers. You can also use them on an internal communication platform to let your workers know about upcoming events and deadlines or to recognize employees who have excelled in specific areas.
Push notifications remind employees that they are part of a team. They can also help you deliver communications faster and more efficiently, especially when you automate them.
Many companies use email for this purpose. However, your employees check their email accounts at different times of day; some people like to check once an hour, while others prefer to check just once or twice per day. Most of your employees probably carry around their smartphones, however, so your messages will reach them faster with push notifications than if you used the traditional route.
Tips for Effective Push Notifications
Only send push notifications when you have an urgent, important message to convey.
Use proper grammar and spelling to ensure all employees understand the message.
Avoid bombarding employees with push notifications throughout the day.