Employee newsletters play a crucial role in enhancing internal communication within organizations. These newsletters serve as a vital channel for keeping employees informed about company updates, upcoming events, and industry news. Designing and creating an engaging newsletter can be time-consuming and challenging. Hence, the availability of ready-to-use templates makes the process much easier and more efficient.
In this article, we will explore the significance of employee newsletters and why using templates can be a game-changer.
What are Employee Newsletters?
An employee newsletter is a regular publication distributed within a company or organization to share relevant information and updates with its employees. Further, it serves as a communication tool to keep employees informed about company news, policies, employee achievements, upcoming events, and other important matters. Employee newsletters also help foster a sense of belonging and engagement among the workforce. This is because they enable employees to stay connected and updated with the goings-on in the organization.
What challenges do employee newsletters help address?
Employee newsletters can help address various challenges faced by organizations in terms of internal communication. These challenges include:
Lack of awareness
Many employees may not be aware of the latest company updates, initiatives, or events. Further, they may not even be aware of the opportunities they are missing due to this ignorance. Newsletters provide a centralized platform to disseminate information to all employees simultaneously.
Low employee engagement
In a fast-paced work environment, it can be difficult to keep employees engaged. And because of forced situations such as WFH and hybrid work cultures, engaging employees regularly needs a lot of manhours spent in planning. Employee newsletters help overcome this challenge by fostering a sense of community with automated and sustained interaction. Thus, they enable employees to stay connected and help establish improved engagement.
Poor internal communication
Inefficient communication can hamper productivity and collaboration. Newsletters bridge the communication gap by providing a consistent flow of information, ensuring everyone is on the same page.
Difficulty reaching remote employees
With remote work becoming more prevalent, reaching and engaging remote employees can be challenging. Employee newsletters can effectively reach remote workers and help them feel connected to the organization.
How to create an employee newsletter?
Creating an engaging employee newsletter requires careful planning and consideration. Here are some steps to help you get started:
Identify your objectives and target audience.
Determine what you want to achieve with your newsletter and who your intended audience is.
Select a visually appealing design and layout that aligns with your brand identity and the content.
Curate relevant content.
Gather information and updates that are relevant and interesting to your employees.
Include a mix of company news, employee spotlights, industry trends, and upcoming events.
Write engaging content
Craft well-written and concise articles that grab the reader's attention.
Use a friendly and conversational tone to make the content relatable.
Incorporate visuals:
Include images, infographics, and videos to make your newsletter visually appealing and informative.
Proofread and test
Ensure the accuracy and quality of the content by proofreading and testing the newsletter before distribution.
Is there an app or platform that offers ready-to-use employee newsletters?
Yes, there are several platforms available that offer ready-to-use employee newsletter templates. One notable platform is HubEngage, a leading employee engagement and communication platform. HubEngage offers a vast library of professional and customizable newsletter templates that are ready to use. These templates cover a wide range of industries and topics, enabling organizations to create impactful newsletters effortlessly.
Why is HubEngage the best employee newsletter platform?
HubEngage stands out as the best employee newsletter platform of 2023 for several reasons:
Diverse newsletter templates
HubEngage provides a comprehensive collection of contemporary, visually appealing, and customizable templates.
These newsletter templates suit various industries and communication objectives.
The platform features over 3 dozen ready-to-use newsletter and email templates
They are made more impactful and interactive with a combination of 15 question-answer types.
User-friendly interface
The platform offers an intuitive drag-and-drop interface, making it easy for users to customize their newsletters and tailor them to their specific needs.
Use existing shapes or create your own within the given parameters.
Whether, you want a clean text-only layout or a combination of text, image, and banners, it's all there for you.
You can also customize the spaces like padding around boxes or between lines.
Engagement-enhancing features
HubEngage incorporates several interactive elements in your mailer template
Create instant polls on current topics that are trending
Send out pulse surveys to gather verified feedback on decision-making matters.
Make announcements via custom forms and send them out only to those that need to see or act on it.
Analytics and insights
The platform provides detailed analytics and insights to help organizations measure the effectiveness of their newsletters and optimize their communication strategies.
Get real-time open, read, click, bounce, total views and unique view counts.
Trigger instant Read Acknowledgements to ensure your message is received by your TG
Automate push notifications till the user takes action on the mailer and be informed the moment they act.
Seamless integration
HubEngage seamlessly integrates with other communication tools and platforms, allowing for streamlined and efficient distribution of newsletters.
Other USPs that
only HubEngage

Newsletter Platform offers:
Access the App on Mobile Devices, Desktops, and Tabs… both on Android as well as iOS.

Contrary to popular notion, most of the players in the domain do not offer this advantage.

Create content in one language, and auto-deliver it to your multi-national employees in 14 international languages

As soon as you take the Product Demo, we will create a customized Demo App for you in your brand elements.

You and a few decision-makers from your organization can access the system for as long as you want.

Subscribe only when you are totally happy with the product.

And when you do subscribe, choose any one module or access the whole package in a cost that's incredibly attractive.

And if you are a small company or a startup with lesser employees, we have a real goodie for you.
Book a free demo today and acess the HubEngage Demo App within 72 hours!
Access 10 Employee Newsletter Templates for Free Only with HubEngage
Using professional templates can significantly enhance the visual appeal and impact of your employee newsletter. With HubEngage's wide selection, you can choose templates that suit your brand image, messaging, and communication objectives. By utilizing these templates, you can create newsletters that truly stand out and effectively communicate key information to your employees.
We are pleased to give you access to a library of 10 high-quality employee newsletter templates for free. Once you sign into Turn On Engagement (TOE), you will also be able to customize these newsletter templates as per your needs. HRMs and People Managers are always busy creating value for their companies. So, here is a small incentive from HubEngage that will help you save time and effort in creating visually appealing and engaging newsletters.
Just click on the titles to access these ready-to-use newsletter templates and start promoting effective internal communication effortlessly.
Some Interesting Generic Newsletter Topics
Keeping your workforce engaged and informed is crucial. Looking for ideas to make your employee newsletter more captivating? Here are a few creative ideas in brief that can help you revitalize your employee newsletters. Let's inspire meaningful communication!
Employee spotlights newsletter:
Highlight the achievements and contributions of outstanding employees.
Wellness and health tips:
Share tips on staying healthy, self-care practices, and maintaining work-life balance.
Team-building activities:
Provide ideas for team-building activities to foster a sense of camaraderie among employees.
Industry insights:
Share relevant industry news and trends to keep employees informed and up to date.
Also read: General Newsletter Topics That Every Organization Could Use.
Some Fun Employee Newsletter Ideas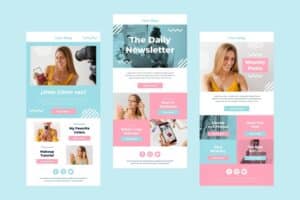 Add some fun elements to your newsletter to make it enjoyable for employees. Discover topics that foster connection, share insights, and promote a vibrant company culture.
Trivia questions:
Include fun trivia questions related to the company or industry, encouraging employees to participate.
Employee of the month:
Feature an employee of the month and include a brief interview or profile.
Employee achievements:
Recognize and celebrate employee achievements, both personal and professional.
Employee-generated content:
Encourage employees to contribute articles, photographs, or stories to promote inclusivity and employee engagement.
Also read: How to Create Fun Employee Newsletters that Work?
Conclusion: Having a feature-rich Employee Email Platform is Crucial
Employee newsletters play a vital role in internal communication within organizations. They help managers discuss challenging and serious topics with utter ease. Therefore, they help address common challenges such as lack of awareness, low employee engagement, poor internal communication, and difficulty reaching remote employees. By utilizing ready-to-use templates provided by platforms like HubEngage, organizations can not only create visually appealing communications but also engage employees effortlessly.
Additionally, these templates, combined with user-friendly interfaces, engagement-enhancing features, and seamless integration options, make HubEngage the best employee newsletter platform of 2023. So, take advantage of this opportunity and start creating compelling newsletters that foster engagement, and a sense of community among your employees.
Read more on how to make your employee newsletter stand out. Access the platform that offers many more ready-to-use professional employee email templates.