Employee Social Media Platform: Build a Great Work Culture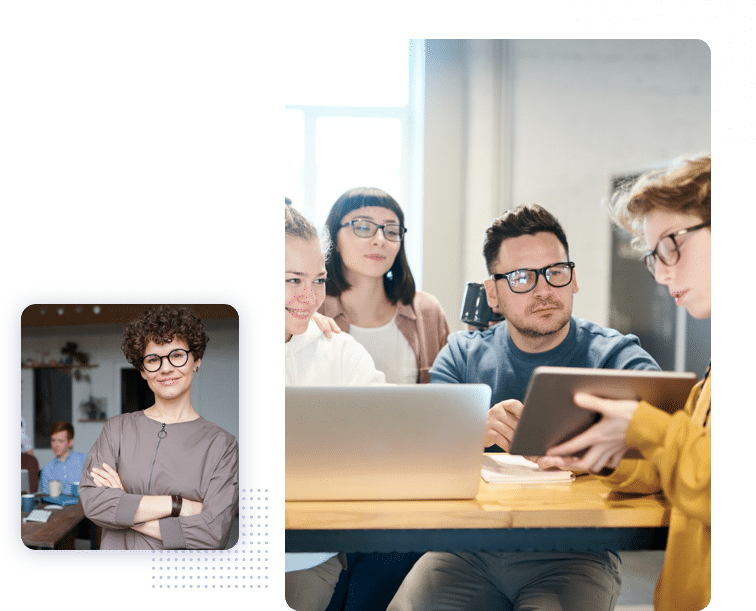 Harness the Power of Social Media in the Workplace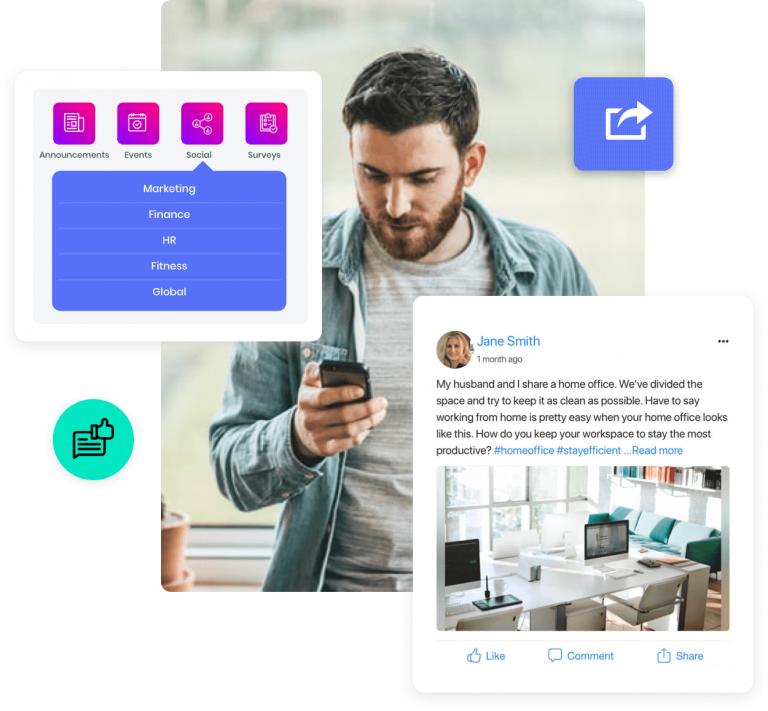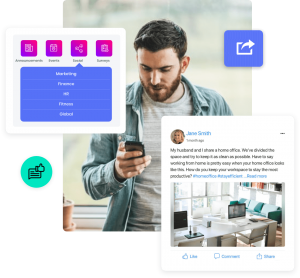 There is no doubt that social media and technology have influenced how we work, live, and even sleep. Employees, especially younger generations, are more likely to photo document EVERYTHING and comment about it on social media. These posts can be good or bad for your company, depending on the post. The overall goal is to receive as much employee advocacy as possible on these platforms. HubEngage makes it possible for you to integrate company social media and employee social media to pursue a great workplace culture and employee advocacy.
An employee social media platform is a digital tool that allows companies to connect their employees through different social networks and social media sites. These platforms allow employees to share information, collaborate on projects, and communicate with one another, regardless of location. Social networking sites such as Slack, Microsoft Teams, and Facebook Workplace are popular examples of employee social media platforms.
Employee social media platforms offer a variety of features, such as the ability to create and join groups, share documents, and participate in discussions. Some platforms also offer collaboration tools, such as video conferencing, screen sharing, and instant messaging. These tools can increase productivity, as well as improve communication and teamwork among employees.
Overall, an employee social media platform is a valuable tool for any company looking to improve employee engagement and collaboration. By providing a social platform for employees to connect and communicate, companies can create a more connected and engaged workforce. Social networks provide a great way for employees to stay connected and engaged, regardless of location. Employees can use the social networks to share information, collaborate on projects, and communicate with one another.
HubEngage Employee Social Media Platform / Software and Employee Advocacy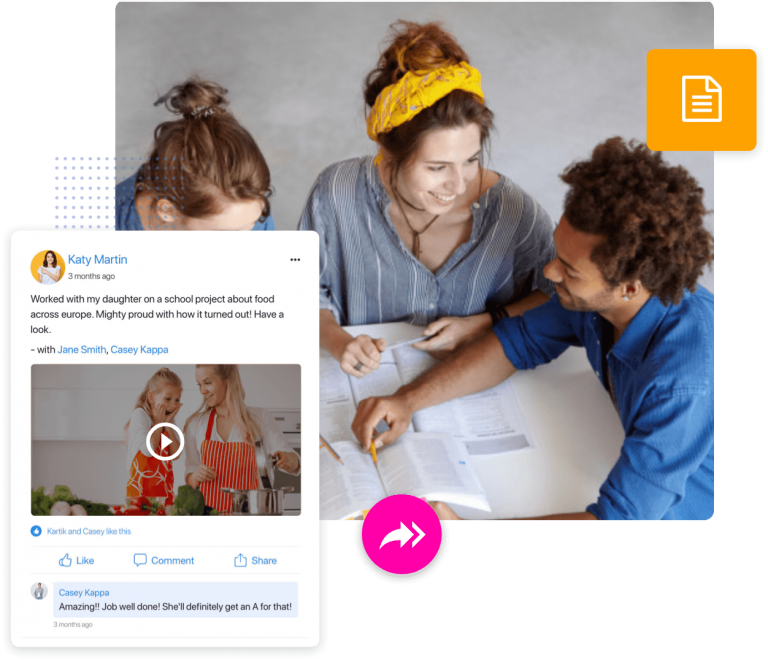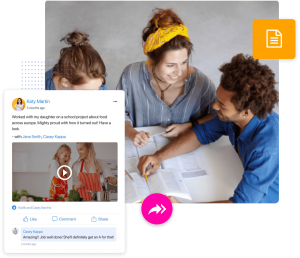 When you get down to it, employee advocacy is when your employees advocate for your company through their social media. You want these promotions to reflect the company in a positive light. When you encounter a negative social media post, it will take longer for you to recover from it. HubEngage makes it easy for the company's social media platform and the employee social media platform to mingle and make magic.
The social environment is built for enterprises. Enable a social platform for all or a specific segment of employees to share and interact with the controls required to enforce enterprise policy.
HubEngage solutions make it possible for employees to share updates, videos, and other media with emojis, hashtags, tagging, and other social media options to increase engagement.
You have the ability to control social channels. Create private and public channels where employees can interact on specific topics with or without the public view. As the administrator, you have control over the social media platform.
Overall, you want the social media platform to be fun. You can make commenting and posting fun by enabling likes, comments, and sharing. Gamify with points and rewards motivate employees to participate in social engagement.
HubEngage brings a powerful search engine to the platform. You can easily search users, hashtags, keywords, and more with quick results.
Employees can be notified through push notifications and reminders when they engage with a post. They can also be alerted to prominent posts. You can enable automated campaigns that allow you to send periodic push notifications about missed posts.
Use the HubEngage analyze feature to see the data on who is active on the social media platform and the sentiment of the employees.
Learn How to Improve Your Employee Engagement Strategies With Advocacy Metrics
Why is Employee Advocacy Important For Your Company?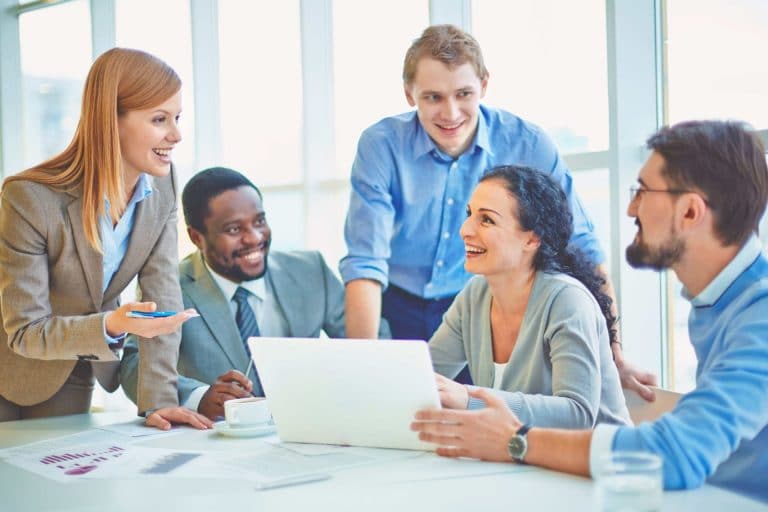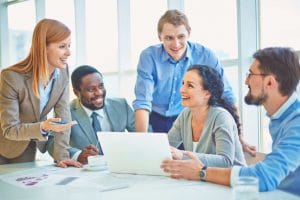 In case you hadn't noticed, social media makes a large impact on the opinions of the masses. If you have employees who are not advocating through the social media platform, you are missing exposure. You want to receive positive attention, obviously, but the best posts come from those who work for you – or customers who have purchased your goods or service.
Without the positive exposure through social media, you may not get the interest you need from the target audience you are trying to reach. That means your marketing suffers, making it a little harder (not impossible) to get the word out about your business.
READ MORE: Gen Z Has Arrived in the Workforce. Are You Equipped to Engage Them?
Using HubEngage's Employee Social Media Platform / App for Engagement
The more engaged your employees are, the happier they tend to be. Employees want to have a voice in the workplace, and what better place for them to have a voice than on a social media platform. Social media is also a great conduit for recognition. Peers and management can post about employees who are going above and beyond.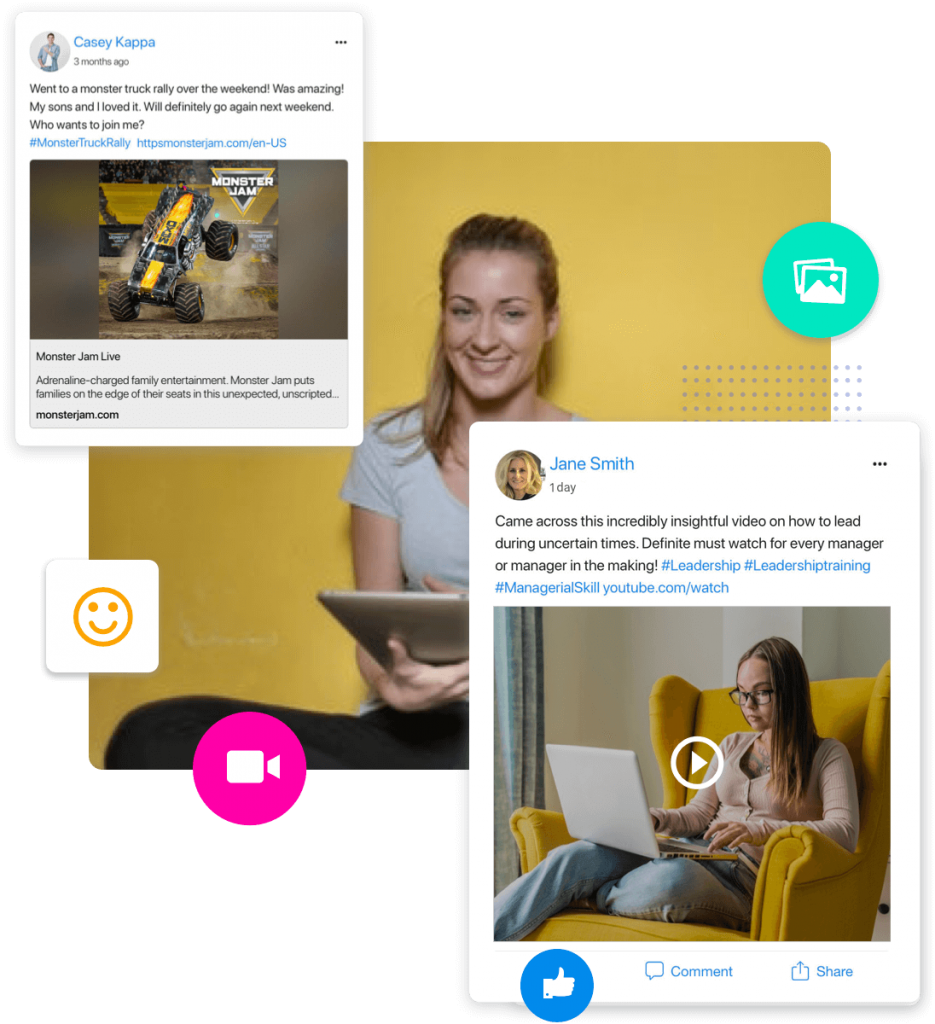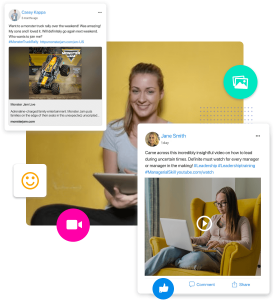 You can see that most of the HubEngage products work together to create a total picture. Subscribe to one or all of the products, make them work to your advantage – just like you can make the social media platform work to your marketing advantage.
Are you ready to take the next step with your company? HubEngage is ready to provide you with your personalized demo on all of our products, not just the employee social media platform. We want to show you just what we can do for you and your company.
For more information on the employee social media platform, visit the HubEngage website.
Engage across multiple channels
Our multichannel approach with mobile apps, web-based intranet, emails, text messaging and digital displays helps you reach and engage 100% of your employee population anytime, anywhere.
Pick the solutions you need to engage
HubEngage's employee engagement platform allows for companies of all sizes to solve for their unique needs from communications to recognitions to employee feedback.
Pick one or pick all based on your need.
Let's get your employees connected and engaged.