As a savvy business owner, you have an interest in investing in technology only if you can clearly see its benefit to your organization. If you are wondering whether or not your workforce will embrace employee apps, consider the following ways workers use employee apps so your staff can interact with a highly customizable mobile-first platform like HubEngage.
1. Communication With Coworkers
In today's increasingly mobile society, boosting employee engagement becomes increasingly difficult. You might have workers who spend most of their time in their home offices or out in the field, which leaves them little or no time to interact meaningfully with their colleagues.
An employee app adds a new way for your staff to collaborate. They can send private messages to one another and effortlessly engage in group discussions. From brainstorming to project management, an employee communication app allows your entire workforce to communicate via a single platform.
2. Expanded Training and Education
Demanding that employees attend yet another lengthy seminar might feel like an exercise in futility. That is because today's professionals lack the time and interest to participate in outdated training methods.
An employee app lets your workforce train in new ways. Instead of sitting in a classroom or working one-on-one with a manager, employees can access learning materials at a time and place convenient for them. From video tutorials to quizzes and memos, you can reach your employees at any time through the app.
If you have a broken employee training program, fix it with an app. Not only can you distribute training materials through the platform, but you can also solicit staff feedback and let colleagues compete against one another through gamification. Thus, training takes on a new life in your organization, driving success for a rapidly expanding core group of truly engaged employees.
3. Send and Receive Notifications
Memos are outdated and inconvenient. While email offers a more modern strategy, it is over-utilized and lacks the spark needed for real engagement. With an employee app, you can enable push notifications that send messages directly to your staff's phones. You might also employ user behavior notifications to help track employee progress and keep workers on task.
However, you do not want to treat notifications as mere memos. In fact, that is the fastest way to ensure your employees turn off their phones.
The best notifications incorporate humor, entertainment, and interesting information to keep your audience hooked. That way, your employees feel inspired to check their notifications and to respond in kind to the messages' content.
4. Encourage Balanced Competition
Humans are competitive animals, which means that employee engagement often depends on friendly competition. While you do not want to encourage animosity between colleagues, some competition can prove effective in increasing employee engagement and promoting better performance.
The best apps for employee communication include customizable features like quizzes, scavenger hunts, and other modes of competition that allow colleagues to prove their mettle. They also have leaderboards that reward employees for stellar performance and keep employees engaged.
5. Solicit Employee Feedback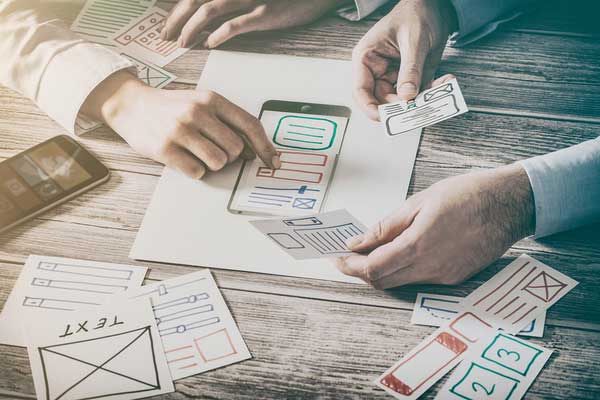 You ask your customers for their feedback, so why not ask the same of your employees?
Some of the most advanced brands in the world promote an entrepreneurial culture in their organizations. In other words, they invite employees — no matter their place in the hierarchy — to submit their ideas, thoughts, criticisms, and other feedback.
Most importantly, these brands care what their employees think. They want their staff to feel healthy, inspired, safe and appreciated. A single app can help you achieve those goals and increase the ways workers use employee apps.
When you publish unique, fresh content on your employee app, you drive engagement. This is especially true when you make the conversation a two-way street. Invite your employees to voice their opinions and create a culture that accepts constructive criticism. You may be surprised at the level of engagement you inspire deploying these ways workers use employee apps.
6. Get Social With Employees
You can also use an employee communication app to promote activity on social networks as well as in-house. Encourage employees to share positive messages about their work experience, for instance. Today's job seekers often check social media to learn more about the conversations that take place around a particular company or brand.
In this way, employee apps are not just useful for existing employees. They can also help you attract top talent when you need to fill a position.
7. Provide Access to Resources
If your employees have to access a particular file on a particular device to remind themselves about brand identity, customer personas, and other information, they might not bother.
However, if you make those resources accessible via an app, your staff will not have any reason to avoid checking the information before they finish a project or reach out to a customer.
Access to resources can help employees feel safer and more comfortable at work. Whether they are refreshing their memory of a recorded conference call or watching a training video, they know that they can rely on you to provide them with the information they need, at exactly the time they need it. Access to resources is just more ways workers use employee apps.
An employee communication app offers numerous ways for your employees to engage and interact with managers, trainers, and colleagues. You can experience these advantages first-hand. The more your employees interact with the app, the more they will come to rely on it for communication, rewards, information, and satisfaction. Do not miss out on the opportunity to bring your employee engagement to a new level. Try the HubEngage app for free today.
Frequently Asked Questions (FAQs):
What are some of the most popular employee communications apps?
Employee communication apps have become increasingly popular in the modern workplace as they allow for seamless collaboration and easy access to information. Popular employee communication apps such as HubEngage provide lots of features such as file sharing, employee directories, video conferences, employee onboarding, reminders and notifications, message boards, and much more. All of these employee communications apps help to increase efficiency and productivity in the workplace and make it easier for employees to collaborate with each other on projects. With their wide array of features and ease of use, employee communication apps are quickly becoming an essential part of most business operations.
What are the benefits of using an employee communications app?
Employee communication apps can be powerful tools for businesses looking to optimize employee communication. Such apps provide a streamlined way to keep all employees up-to-date on important information and aligned with company goals. With employee communication apps, business owners have the ability to create employee message boards for teams or certain employee groups in order to foster collaboration and discussion. Additionally, employee communication apps help businesses establish better relationships with their staff by providing centralized channels of contact, making it more accessible and easier for their employees when they need help or have questions. Furthermore, many employee communication apps are customizable and can be integrated into existing systems an organization has in place. All in all, employee communication apps offer numerous advantages that empower businesses with better employee interaction at every level.
How can I use an employee communications app to improve communication in my workplace?
An employee communications app can be an incredibly useful tool for improving communication within the workplace. Through an employee communications app, employees can streamline communication by uploading documents, responding to messages from colleagues, and easily collaborating on projects in one centralized location. With such features, employee communication apps make it easier for employees to connect with each other – leading to a more productive work environment as well as improved morale among workers. Furthermore, employee communications apps provide administrators with insights through analytics that can be used to help identify areas of improvement or potential bottlenecks in daily operations. When used correctly, employee communications apps have the potential to drastically improve workplace communication and efficiency.
What are some of the features of employee communications apps?
Employee communication apps are becoming an increasingly popular way for companies to stay in touch with their staff. They provide a variety of features that allow businesses to effectively disseminate messages, coordinate employee resources and tasks, and track employee performance. The most useful features of employee communication apps include instant messaging for casual chats, streaming services for real-time industry updates and policy changes, robust scheduling capabilities to better manage employee availability and goals, and comprehensive analytics to gain insights into employee data. By taking advantage of the benefits of employee communication applications, organizations can maintain up-to-date communications which in turn helps them remain productive and efficient.
How do I choose the right employee communications app for my business?
Finding the right employee communication app for your business can be a challenge. It's important to determine which features and functions are the most important in order to effectively communicate within the workplace, while also taking into account employee preferences and company objectives. To maximize employee engagement, consider an employee communication app that offers real-time messaging, intuitive collaboration tools, and easy mobile access. Additionally, employee surveys can help identify the best fit by providing feedback on which employee communications app is meeting employee needs. Choosing the right employee communication app is no small task, but with careful consideration, it will lead to increased productivity and better overall employee engagement.