How An Employee Engagement Software Can Improve Your Workplace Results Effortlessly?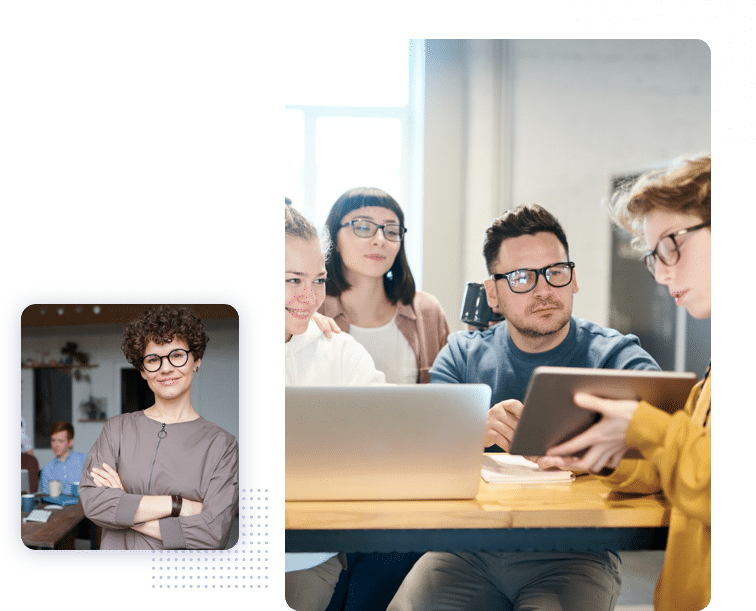 Change the way you communicate and engage your teams using our Employee Engagement Software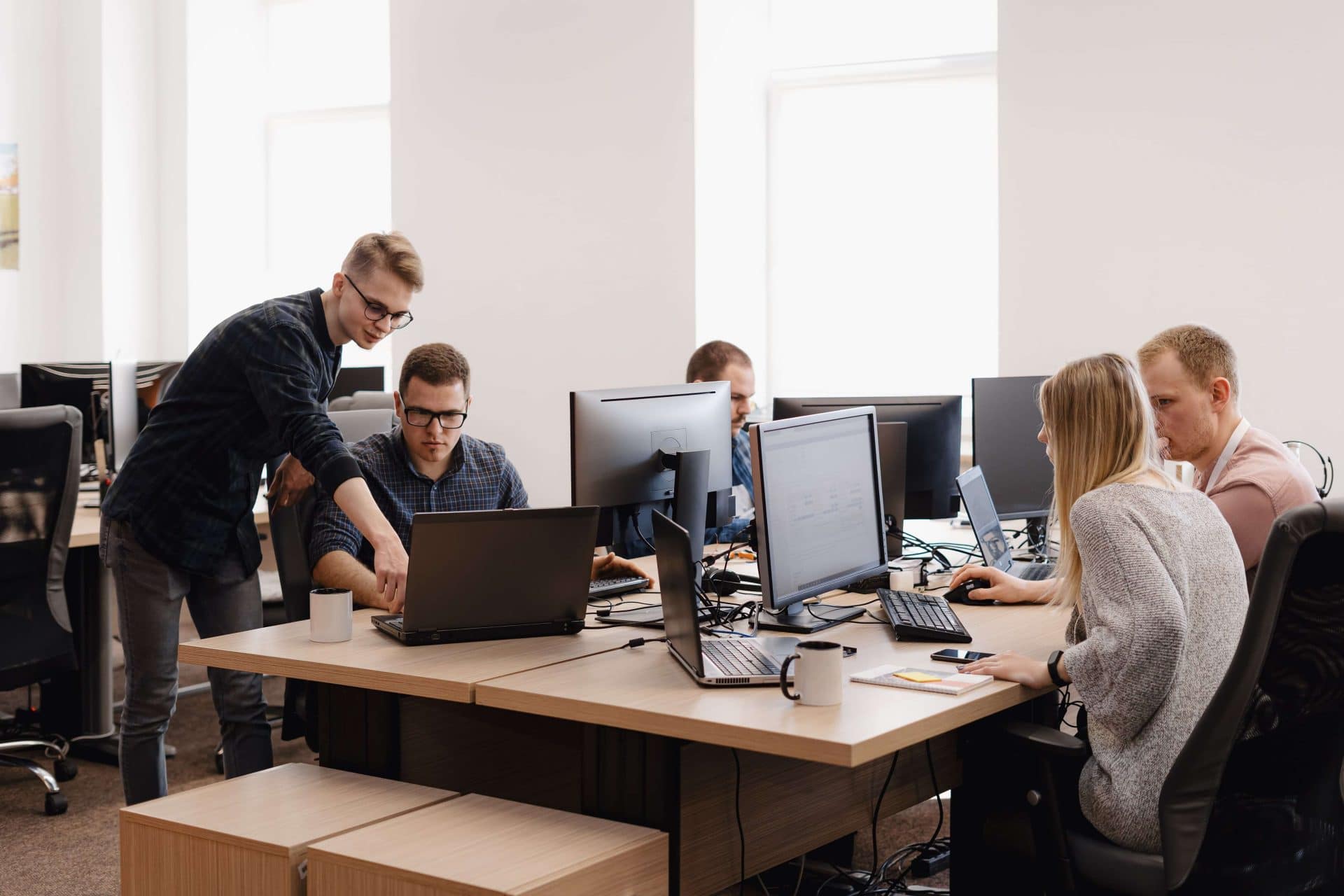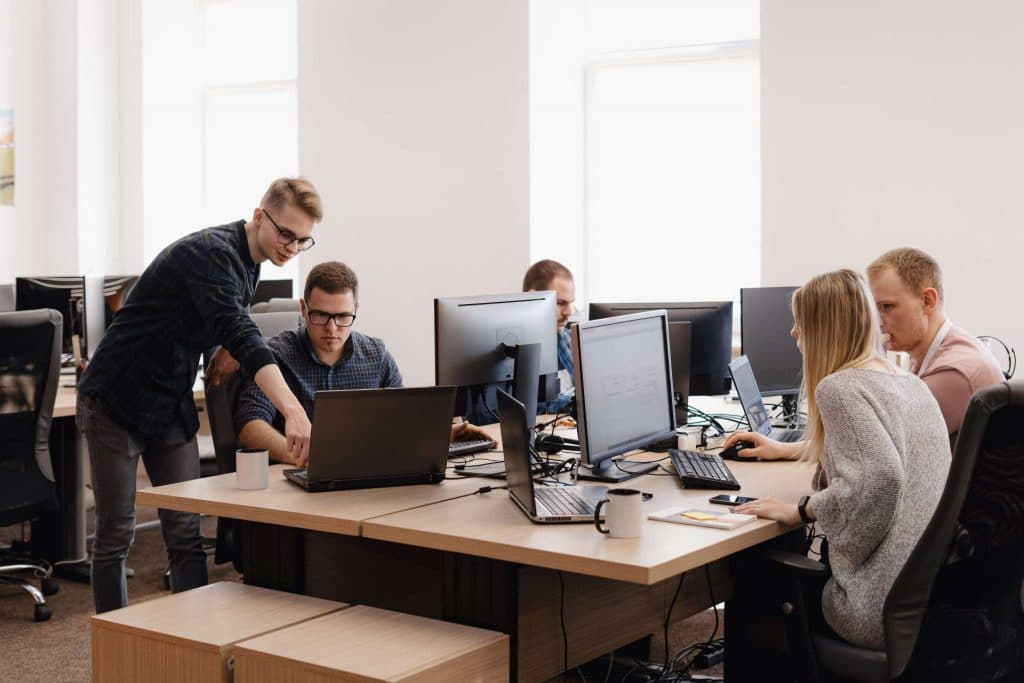 When was the last time you checked how your employees felt about their work, work conditions, and peers?
Honestly, many of us don't have or make the time to check on our employees to see if they are satisfied with their current environment or not. On the one hand, we invest all our time and attention in individual productivity. And on the other, we don't make time to understand what drives them. Even then, we act surprised when they quit for better avenues or migrate to the competition. Although exit interviews say it as it is, we tend to overlook our role (as custodians of the brand) in the reasons that stop our employees from taking ownership of their work or from becoming organic brand ambassadors. HubEngage changes this. With our modern employee engagement software, you have a robust and streamlined way of communicating and engaging your employees. So, no more surprises, and no more guessing work to do.
The employee engagement software is specifically designed to help organizations improve employee engagement and drive better people and business results.
Our employee engagement software includes features such as surveys and forms, email campaigns and text messaging, chat forums and internal social media, and digital signage. It also features a range of other tools to help organizations better understand the needs and concerns of their employees.
Furthermore, you can leverage our feature-rich Employee Engagement Software to identify employee pain areas and come up with timely measures that convert lost opportunities into pleasant surprises. 
The HubEngage Employee Engagement Platform is a powerful tool for large, medium, and small organizations. If you are looking to improve employee satisfaction and retention, HubEngage is all you need. By providing employees with a way to express themselves, and by actively listening to their ideas and suggestions in a streamlined mode, you can create a more positive work environment. Additionally, by listening to them, you can foster a stronger sense of belonging among your employees.
By investing in employee engagement platforms like HubEngage, organizations can effortlessly achieve all of the above and more.
What is Employee Engagement Software?
Why Employee Engagement?
HubEngage employee engagement software addresses various employee motivation challenges that exist within a company. With consistent leveraging of its multi-channel features, you can reap rich benefits like better employee job satisfaction, increased employee happiness, positive work culture, lower employee turnover, higher retention rates, enhanced productivity, more innovation and creativity, better staff alignment with organizational goals, and greater leadership development, amongst others.  That's precisely why you must choose the right employee engagement software and provide your employees with what they need to be successful in the workplace.
Communication Hub
Our employee communication hub is a three-way interaction highway. It facilitates top-down, bottom-up, as well as peer-to-peer communications. In essence, you can push your content (top-down) to your employees. This includes targeted announcements, news, e-learning, videos, events, knowledge bases, documents, and more.
Similarly, your Employees can also communicate with the management (bottom-up) through various inbuilt channels. They could make suggestions, submit error discoveries, competition analytics, market trends, special requests, and more. Furthermore, employees from any department can interact with their immediate colleagues or with staff in different departments or even across different locations (peer-to-peer). They can collaborate on projects, share updates, request support, and even push for speedy resolutions to ongoing projects or challenges.
Overall, the biggest secret to achieving workplace success is maintaining seamless 3-way communications. Foster the free flow of ideas, opinions, and collaborative decisions. And our employee engagement software gives you the tools you need to do this successfully from the start.
Survey Hub
Harness the power of our engaging survey platform to gather valuable input from your team. Staff from anywhere can create or take surveys on pulse topics of the moment. Trust us; it's a lot more enjoyable than it may sound initially. Your employees will certainly agree, and it's a surefire way to boost their engagement. You can even add incentives to the surveys you create, increasing the likelihood of receiving the vital employee feedback you seek.
Unlock the Potential of our Employee Engagement Software with Customizable Surveys:
Leverage our customizable survey templates and effortlessly collect invaluable insights from your team. Rest assured, it's a much more sorted process than you might think.
Your employees will not only find it enjoyable, but also see it as a valuable opportunity to share their thoughts.
Maximize feedback collection by offering incentives for completing surveys. This additional motivation ensures a higher response rate and more comprehensive data collection.
Address Employee Concerns with Employee Surveys:
Amplify Employee Voices: Many employees often feel unheard by management. And that can lead to challenges like quiet quitting, performance drops, less job satisfaction, and brand alienation. You can easily avoid this by automating the distribution of feedback surveys at regular intervals.
Friendly Reminders: Our system gently nudges employees who may have forgotten to complete surveys. This ensures you receive more comprehensive and timely feedback.
Streamlined Data Collection: Create, distribute, and effortlessly collect data, with simplified automation built into the system. Leverage over 3 dozen ready-to-use templates. Customize them or use them as they are. A few clicks is all it takes.
Drive Positive Change: Establish customized employee engagement programs that address specific concerns of your workforce. You can refer to the knowledge base repository and even contact us for ideas on how to get this done. We can share industry best practices that will help you plan ahead for predictable outcomes.
Empower Your Employees: Give your team the opportunity to influence positive changes within the organization. Foster a culture of collaboration and continuous improvement. Help your employees talk to each other as often as possible and as freely as possible. You may monitor their activity from day to day and use specific insights to keep the engagement ticking.
Forms Hub
From employee onboarding to exit processing, award nominations to event ideation, and from announcements to suggestion seeking and more, our employee engagement software handles it all. Furthermore, your employees can complete the forms from anywhere on their desktops, mobile devices, or tabs, both Android and iOS. Access dozens of ready-to-use form templates. Anytime you have a new form available, you can send push notifications, or emails, or provide a QR code to help connect them to the forms on your employee engagement platform. In addition, you can access the information from the forms, get comprehensive analytics, and actionable insights, and see where an employee stands in different company segments. Effective employee engagement has never been easier.
Harness the Power of an Employee Engagement Software that fosters an Employee Experience better than any other.
Rewards and Recognition in Employee Engagement Platforms
It's no secret that employees in every sector like to be appreciated as well as recognized for their contributions. Be it a thank you note in private or an award in front of the extended employee community, every appreciation counts. And when employees know you notice their good work, they are motivated to do better consistently. Additionally, recognition helps employees take ownership of their KRAs and KPIs. It also helps them bond emotionally with the organization and the Brand. Overall, with such positive motivation, your employees will remain both happy and productive. What's more… HubEngage employee engagement software helps you achieve this incredible result within a few months after installation. Our employee rewards and recognition module has all the tools required. All you need to do is make a few clicks periodically and enjoy the benefits regularly. 
Here's how it works: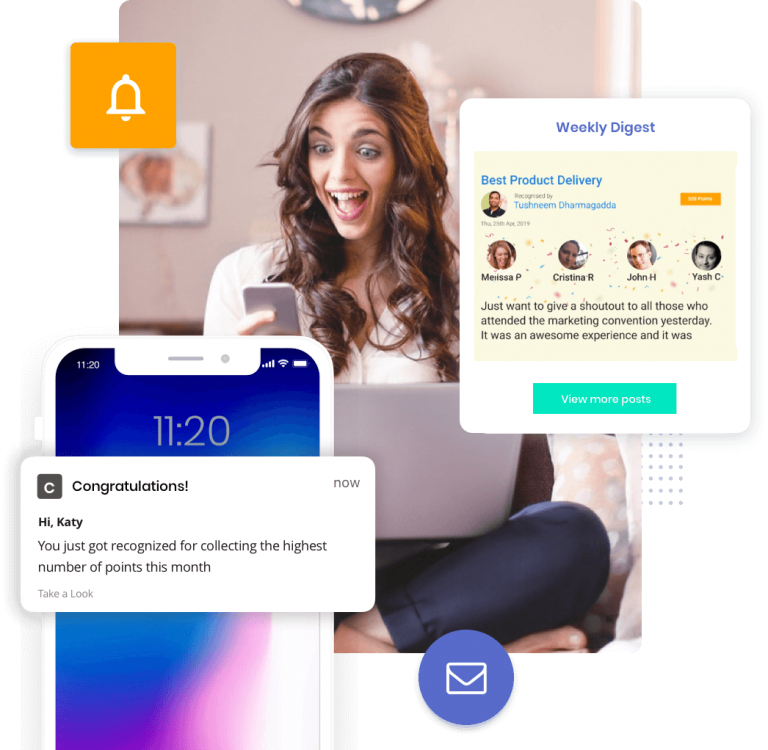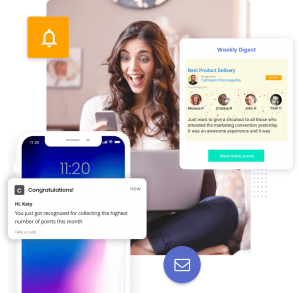 Firstly, you can custom-create performance-based campaigns and award points at each level of achievement.

Secondly, you can seek employee feedback via forms and surveys and reward them with points for every submission.

Thirdly, you can encourage your teams to socialize beyond department lines and reward them with more points for every post, post likes/shares/comments.

Fourthly, you can reward both, the contributors as well as the consumers of content. Furthermore, you can reward points to employees for just viewing the posts, even without submitting any other reaction. 

Fifthly, you can automate greetings plus points for recurring milestones like birthdays, wedding and work anniversaries, project completions, and so on and so forth.

You can say well done (with points) to every employee who thanks a colleague, and say thank you (with points) to every team leader who says well done to their teammates. 

Add badges or profile icons to all of the above
Likewise, you can enter different point values for different types of recognitions and centrally control all permissions.
Offer a range of point redemption options like gifts, vouchers, vacations, treats, and even cash. Or you can do it more effortlessly with the Tango Cards integration in our employee engagement platform.
Last but not least, analyze employee behavior in every interaction and make informed decisions that yield better people and business results.
Having a co-worker or superior publicly comment on a job well done can go further than any reward you could possibly give as a company. Because peer morale is extremely important in the workplace, employee engagement platforms like HubEngage offer that on a platter. The future of highly engaged workplaces is here. Welcome aboard.
Learning and Development with Employee Engagement Platforms
HubEngage lets you make learning fun and instantly gratifying for your employees. Create a centralized location for them to access the knowledge-base repository from any device, anywhere in the world, and anytime.
Our learning hub makes it possible for you to incentivize your employees to complete periodic learning assignments and planned submissions. The higher the score, the better the reward. You can further create instant leaderboards, and track analytics in minutes to know who understands the material and who needs more training.
You can also accommodate remote workers, extended associates, contract consultants, and vendors if you like. They can even have access to the same quizzes, workshops, guides, and training that your in-office teams have. Furthermore, you can freely give and revoke access to each document, both individually or in groups.
In other words, this is your opportunity to take your employee engagement initiatives to a whole new level. Keep everyone on the same page through the same learning platform, and help them remain them happy, inspired, and productive.
Instant Messaging Hub
Instant messaging is the new email. Send instant messages simultaneously to both in-office teams as well as to remote workers. You can also leverage our messaging templates to go out automatically at a scheduled time later. By incorporating a secure messaging experience on a feature-rich employee engagement platform, you not just multiplying employee value, you are also creating spaces for growth without much ado.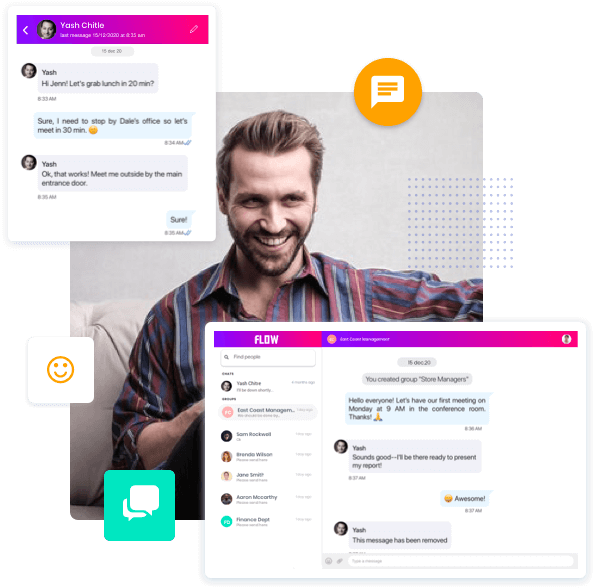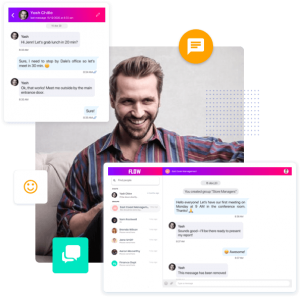 in other words, many companies try to cut costs and use free online apps or even WhatsApp. But are these platforms truly secure? Isn't your information up for grabs to anyone who decides to dig in? With secure employee engagement platforms like HubEngage, your information stays yours – forever. We are compliant with the latest cyber security standards and measures. Additionally, we are constantly investing in resources to be market leaders (not followers) in platform security implementations. The bar is set, and we are moving it up with our innovations week after week.
Internal Socializing with Employee Engagement Platforms
As proven by multiple surveys, the modern employee spends a great deal of their work time on some form of social media or another. Besides losing out on precious man hours, there is also the risk of careless leak of company information, and of course, poaching by the competition.

Why not provide a social media experience internally?
Why not drive all that traffic in a secure environment where the employee enjoys stress-free socializing, while the company gets valuable employee analytics?
Why not invest in helping employees literally live the company ethos and become brand ambassadors in turn?
Having an internal social forum allows you to share information and helps your employees interact with each other with no pressure.
Trust HubEngage to help you turn your employees into engaged employees.
Firstly, create specific channels for different employee segments

Secondly, let every team have its own discussion forum

Thirdly, establish public channels for beyond-work interactions

And fourthly, create content in one language and deliver it in the employee's preferred language.
With the HubEngage employee engagement platform, the possibilities are truly endless.
Choose the style you like. And implement it at your own pace. 

Gamify the entire experience. And motivate your teams to actively participate for points and rewards.

 

Send automated push notifications And keep reminding them automatically until they make their submissions. 
Understand your employees at a level and depth like you never knew was possible.
And use that understanding to offer them opportunities and experiences that are mutually beneficial, both in the short and long run.
What added advantages does Hubengage offer as part of its employee engagement promise?
Intranet
HubEngage offers a customized intranet that connects your entire organization and integrates seamlessly with all of your existing legacy systems. These include, but are not limited to, website builders like WordPress, any HCM, payroll or HR software, all HRMS systems, SharePoint, ADP, Oracle, Jive, Workday, Google Apps, and more.
The intuitive solution makes getting information faster and easier to decipher and segregate. And you can access it whenever needed. HubEngage partners with your company's IT team to ensure that the integrations and the consolidation of your existing tools are a quick, easy, and seamless experience.
Let your modern intranet reach 100% of your employees, no matter where they are at. Plus, the multichannel approach from HubEngage lets you engage your employees through mobile apps, intranet, emails, and on-site display screens to stay in the eyes of your employees. Push content on any or all channels simultaneously, without having to monitor each individually. This is modern employee engagement at its finest.
Digital Displays
Showcase and stream your content using HubEngage's digital displays throughout your company. Be it many screens at one location or display systems spread across regions and countries, HubEngage lets you push content published on different hubs, simultaneously and instantly to all the displays. This not only saves precious manhours but also ensures that all your employees have equal access to company information.
Digital displays make it easier to keep your target audience in the loop of the goings on within your organization. This is a key factor in determining the quality and impact of your employee engagement. The recommended way to use digital signage is to integrate it with all the hubs (communication, recognition, social) and witness the magic of a no-holds-barred and streamlined employee engagement platform.
Email Campaigns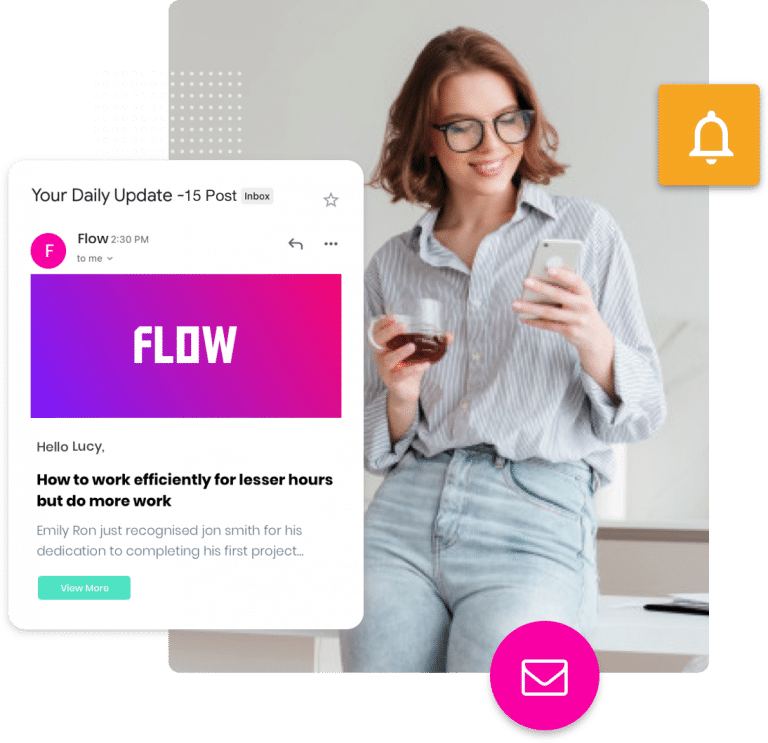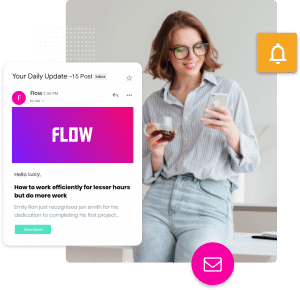 Employee engagement platforms like HubEngage have become essential tools for fostering a thriving workplace culture. Especially due to the inclusion of Email Campaigns as part of its unified offering. This significantly enhances the capabilities of our employee engagement platform and offers the following advantages to our patrons:
1. Targeted Communication:
HubEngage allows organizations to tailor their messages for specific employee groups or individuals. Whether it's recognizing top performers, sharing important updates, or addressing department-specific concerns, targeted communication ensures that messages are relevant to each recipient.
2. Consistent Engagement:
Schedule and automate messages, ensuring a consistent flow of information and engagement efforts. This consistency helps keep employees informed and connected over time.
3. Personalization:
Include personalized greetings, content, and even recommendations based on an individual's preferences and interests and foster a deeper sense of connection among your employees.
4. Metrics and Analytics:
Access valuable insights into the effectiveness of your cumulative communication efforts. Track open rates, click-through rates, and other key metrics to gauge employee engagement with each piece of content. Activate data-driven decision-making and optimize future campaigns.
5. Integration:
Ensure all emails are aligned with other engagement activities like surveys, contests, polls, quizzes, or recognition programs. This holistic approach enhances the overall employee experience.
6. Real-time Feedback:
Interactive elements within our emails, such as surveys or polls, allow organizations to collect real-time feedback from employees. This instant feedback loop empowers organizations to address concerns promptly, leading to a more responsive and agile engagement strategy.
7. Scalability:
Scale effortlessly to manage communication with a growing workforce without sacrificing the quality of engagement.
8. Compliance and Security:
Transmit confidential messages and data securely, aligning with all regulatory requirements and organizational data protection policies.
HubEngage employee engagement platform enables organizations to deliver targeted, personalized, and consistent messages while providing valuable analytics for continuous improvement. By leveraging the advantages of this module, you can create a more connected, informed, and engaged workforce, ultimately contributing to mutual success and growth.
The Best Employee Engagement Software to Interpret Employee Data
HubEngage Employee Engagement – Software Analytics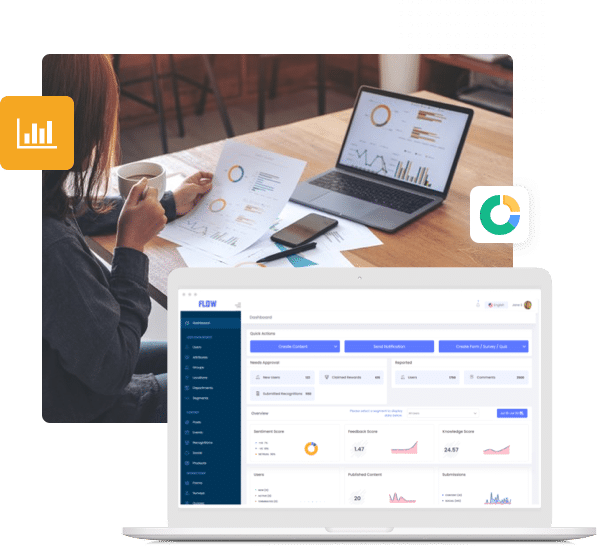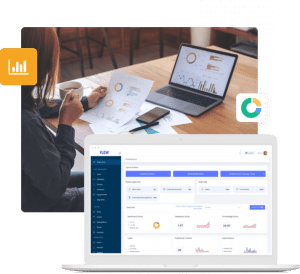 HubEngage helps you capture the big picture of your employee engagement endeavors,  quickly and effortlessly.
Instantly, track different metrics for different types of content.
Content and social posts:

Views, unique views, view times, response times, like/share/comment analytics, topic segmentation, vocabulary analysis, employee motivation, camaraderie, and knowledge.

Email Campaigns:

Open rates, click rates, bounce rates, views, unique views, click journeys, response times, geographical consumption, actions taken, positive sentiment, content understanding, and much more.

Applies to all modules:

Employee behavior analysis, employee motivation factors, employee job satisfaction levels, employee loyalty levels, employee brand advocacy watch, employee retention rates, understanding employee tendencies to loud quit or quiet quit in the near future, employee sentiment analysis, net promoter scores, etc.
HubEngage's employee engagement solution makes it easy to measure every employee's skill and knowledge level, allowing you to keep track of their progress throughout the employee lifecycle. Use the built-in analytics to gauge employee feedback and whether they are truly satisfied and engaged in their position. 
Employee Engagement Software – Administrative Dashboard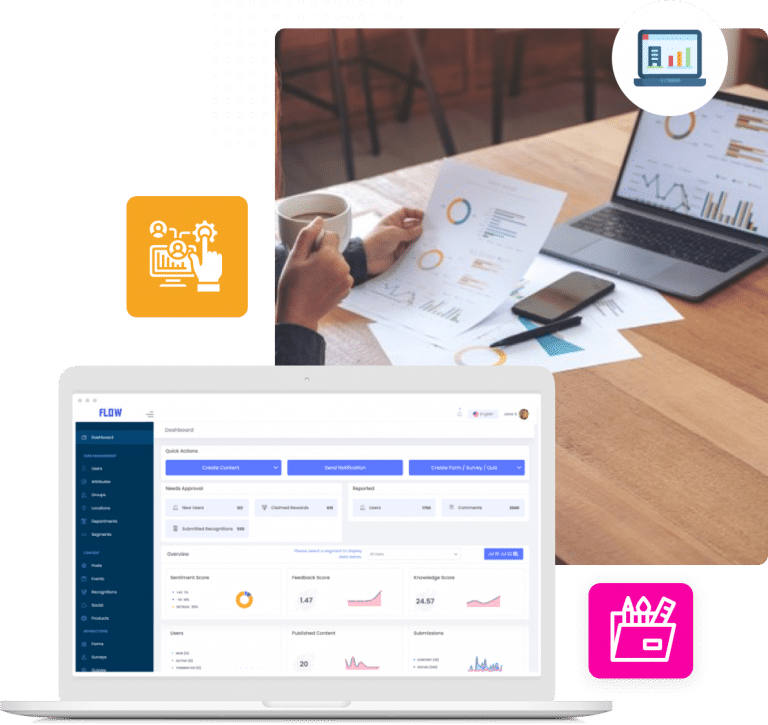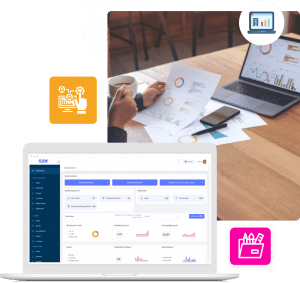 Stay in control of your employee engagement platform at all times. Share dashboard access with one or more admins and access it anytime, anywhere, on any desktop, tab, or smartphone.
Using the WYSIWYG (what-you-see-is-what-you-get) tools to manage all of your content in a customized dashboard. Create, modify, publish, unpublish, share, reserve, push notify, ask for read receipts, send reminders, send email notifications, send text messages, share on digital displays, recognize with points, make announcements, send instant updates, create pulse surveys, contests, quizzes, polls and access in-depth analytics for all of the above, in one dashboard within a few clicks.
An easy-to-use dashboard that requires zero tech capabilities. Anyone can handle it and perfect it in less time. Control the dashboard to streamline content and ensure you achieve planned results, every time.
Engage across multiple channels
Our multichannel approach with mobile apps, web-based intranet, emails, text messaging and digital displays helps you reach and engage 100% of your employee population anytime, anywhere.
Pick the solutions you need to engage
HubEngage's employee engagement platform allows for companies of all sizes to solve for their unique needs from communications to recognitions to employee feedback.
Pick one or pick all based on your need.
Let's get your employees connected and engaged.