The term "employee engagement" covers a wide variety of factors and potential solutions. However, using technology to boost employee engagement strategies can give your organization a more specific goal. When you improve internal communications and encourage employees to communicate more with each other as well as with management, you create a more fulfilling workplace ecosystem.
From improving employee motivation to gaining buy-in for changes in your organization, the following tech-focused strategies will help you boost employee engagement and increase productivity in the workplace.
Get Useful Feedback
Most of today's organizations use surveys and other tools to get feedback from employees. What you might not know, however, is that the quality of the tool matters when you want your workforce to deliver useful insight. Gallup recommends crafting questions whose answers will provide actionable results.
For that, you need a tool that lets you customize your surveys. Ideally, you will also want a platform that lets workers talk directly with their leaders because, after all, employees often have feedback even when there is not a survey to circulate.
In terms of the questions themselves, focus on specific queries that you can use to improve the work environment.
Examples of Good Survey Questions:
Do you fully understand your job description and responsibilities?
What changes would you make to the work environment?
How often do managers show appreciation for your hard work?
How would you describe our corporate culture in 10 words or fewer?
Examples of Poor Survey Questions:
Are you happy at work? (Too vague to provide any actionable insight.)
Do you like your leaders? (Again, too vague. It is also confrontational.)
Do you have friends at work? (Irrelevant and somewhat vague.)
Does your manager care about your success? (Calls for the employee to make suppositions.)
As you can see from these examples, the best survey questions either allow employees to expound upon their yes/no answers or ask about specific facets of their jobs.
Make Learning Fun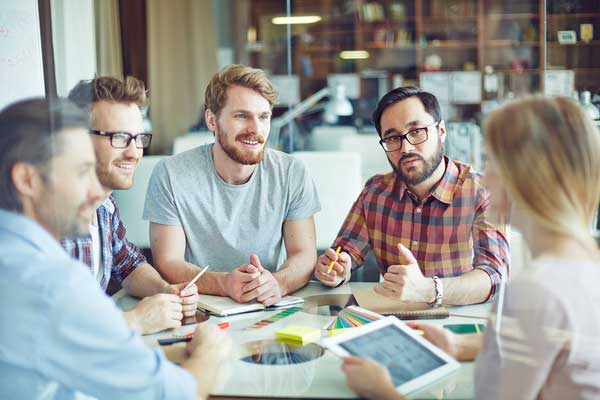 Technology can also help you engage with your employees during training exercises. Just like you, your staff appreciates training that takes less time and involves fewer speeches and tutorials.
Instead of using old-fashioned employee training models, consider shifting to a more fun alternative. Gamification turns learning into a game, such as scavenger hunts or trivia games.
There are currently nearly 200 million gamers in the United States. More than 69 percent of C-level executives use their breaks to play games, and 80 percent of respondents to one survey said that they would feel more productive at work if training involved gamification.
Those are important statistics to consider. Remember that employee motivation has direct ties to your employee engagement strategies. Games that incorporate learning and organizational messaging motivate employees to improve their scores, sharpen their skills, and engage in healthy competition with their co-workers.
Ways to Improve Learning Engagement
If you are not sure how to improve employee engagement strategies through fun-oriented learning, you have several options to get started:
Create quizzes about job duties, organizational values, and other facts that you want your employees to know.
Set up a scavenger hunt with bar codes or augmented reality to encourage your employees to participate in hands-on learning.
Allow employees to unlock content as they progress to new levels in your learning system.
You can achieve all of these goals with the HubEngage internal communication platform.
Get Social With Employees
There is no rule that requires you to keep your employees at arm's length. In fact, engaging with employees via social media and other apps can make your organization stronger and more tightly knit.
Apps like HubEngage offer several features that encourage socialization among employees and leaders. Millions of people already use social media, so there is no reason you should not internalize the concept. Let your staff engage in social sharing via an internal app to protect proprietary information and to create an inclusive environment.
Social Interaction Best Practices
Before you start interacting with employees socially, set specific boundaries:
No sharing salary information or other confidential data.
No discussions between colleagues about other co-workers.
No negativity in the social sharing platform.
No sharing internal social posts publicly.
Deliver Push Notifications
Push notifications are not just for your customers. You can also use them on an internal communication platform to let your workers know about upcoming events and deadlines or to recognize employees who have excelled in specific areas.
Push notifications remind employees that they are part of a team. They can also help you deliver communications faster and more efficiently, especially when you automate them.
Many companies use email for this purpose. However, your employees check their email accounts at different times of day; some people like to check once an hour, while others prefer to check just once or twice per day. Most of your employees probably carry around their smartphones, however, so your messages will reach them faster with push notifications than if you used the traditional route.
Tips for Effective Push Notifications
Only send push notifications when you have an urgent, important message to convey.
Use proper grammar and spelling to ensure all employees understand the message.
Avoid bombarding employees with push notifications throughout the day.
Offer Rewards
Everyone likes to know that he or she is appreciated. That is why sporting events and other competitions give out medals, certificates, and trophies.
You can take that same strategy into your business. Use an internal communications app that lets you generate custom certificates for your employees. When they reach milestones or work particularly hard, share the certificate with your team so your employee experiences organization-wide recognition. These types of rewards can breed loyalty among your top talent.
Reward and Recognition Options
In addition to digital certificates that commemorate your employees' achievements, you can also carry the recognition outside the digital space. Every month, for instance, you could give shout-outs to the best-performing team members during a meeting. Alternatively, you could add incentives, such as monetary bonuses, gift cards, or free swag.
Train Your Managers Well
Unless your managers know how to engage properly with your employees, your employee engagement strategies will fail. You need buy-in from the top down, which means that C-level executives need to adopt the program before the clerks in the back office.
Managers should understand the importance of helping employees feel safe, valued, and appreciated in the workplace community. If you find that managers do not exhibit proper behavior according to your company's core values, you might take away their managerial privileges or send them through additional training.
Improving Management Training
Make learning fun, just like you do with regular employee training. Create quizzes, scavenger hunts, and other learning-based games that help them understand your expectations. Give managers regular performance reviews so they know how they can improve.
Promote Flexibility
An inflexible workplace inevitably leads to disgruntled employees. While you do not have to let your workers overrun the office, you can make small changes to allow for more flexibility.
For example, you might use HubEngage to communicate with remote workers. Giving employees an opportunity to work from home can help them maintain their work-life balance and retain the motivation that gets them up in the morning ready to work.
Mobile employee engagement strategies proves particularly valuable because you can communicate with employees no matter their physical locations. Just because an employee is working from home does not mean that he or she is separated from the team or its goals.
Options for Improving Workplace Flexibility
Allow employees (even salaried ones) to work shifts that mesh with their lifestyles, such as coming in early and leaving early or vice versa.
Compress meetings into shorter, less frequent chunks to encourage focus among employees.
Encourage employees to collaborate or to work on their own, in whichever ways they work best.
Focus on Building Relationships
Workplaces are not just hubs of commerce — they are communities. If you can build relationships between employees, leaders, managers, and even the C-suite, you stand a greater chance of boosting employee engagement and retention.
Writing for the Huffington Post, Dr. Michelle Rozen states that "…good relationships are the material out of which great companies are made." In other words, without strong relationships, your company cannot reach its potential.
Internal communication strategies can help employees foster relationships with each other. As discussed above, social activities like social sharing, gamification, and push notifications can all create a sense of community in the office.
However, you can also take it a step further. For instance, if you want to cross-train employees on different tasks or responsibilities, consider having your workers create videos for the other workers. In other words, team members in each department create educational but entertaining tutorials or instruction videos which are then passed around to everyone else.
Improved employee engagement strategies do not happen overnight, and it rarely occurs without the right tools. At HubEngage, we are committed to helping our customers build strong, relationship-based organizations that thrive in all economic conditions. Try the HubEngage app for free if you are interested in boosting employee satisfaction with a convenient, feature-loaded tech solution.
Frequently Asked Questions (FAQs):
1. What are some employee engagement strategies?
Employee engagement plays a vital role in the success of an organization. With engaged employees come increased productivity, better customer service and greater satisfaction within their work experience—all resulting in improved bottom-line performance. Achieving employee engagement isn't always easy, but with thoughtful strategies and deliberate practices, organizations can help cultivate a more connected workforce and create an overall positive culture that supports innovation, collaboration and growth. I
2. What are some ways to measure employee engagement?
Employee engagement is a key indicator of an organization's success and overall viability in the marketplace. It encompasses everything from satisfaction to commitment, and organizations that actively measure and foster employee engagement have higher rates of productivity, innovation, employee retention and customer satisfaction. As an HR professional it is essential to determine which metrics are important to accurately measure employee engagement as part of your strategy for success. 
3. What are the benefits of engaging employees?
Employee engagement is key to the success of any organization. Not only does it allow your staff to feel more connected and motivated, but having a well-engaged team can improve performance, customer service, job satisfaction, innovation and retention rates. By creating an environment which emphasizes employee engagement you are investing in the future health of your business. Understanding what benefits come from engaging employees is essential for building successful teams with strong morale.
4. How can managers improve employee engagement?
As a manager, employee engagement is an important metric to evaluate the job satisfaction and productivity of your team. When employees are engaged with their work and environment, they are more likely to adhere to organizational goals and objectives and cultivate strong relationships with coworkers. However, keeping up worker enthusiasm can be difficult – especially in times like these when traditional dynamics have shifted significantly due to remote work situations. By implementing thoughtful tactics geared towards engagement, you can foster a positive workspace that motivates motivation among employees for improved productivity levels overall. 
5. What are some common employee engagement challenges?
Effective employee engagement is essential for any business that wants to foster a positive work culture and drive results. While some companies may find it easy to engage their employees, many face unique challenges in this area which require specific strategies to overcome. In this blog post, we will explore some of the most common employee engagement hurdles that HR teams must tackle on a regular basis — from poor communication between departments through to procuring meaningful feedback. By learning how other organizations have met these obstacles head-on, you can start implementing best practices at your organization to improve workforce morale and job satisfaction.